a.k.a Blue Green Cauldron
Caldeirão Verde (PR9) is a popular Madeira Island walk that will take you deep into the São Jorge Valley, offering you great views of green hills and small waterfalls. Almost 6 km and 4 small tunnels later, you will arrive at the approx 100m high Caldeirão Verde waterfall falling into a beautifully colored lagoon.
Why am I saying blue Green Cauldron? The time we walked it (August 2020) the first kilometers of the hike were a sea of beautiful blue hortensias. A perfect mix of blue and green is how I will always remember this hike.
Caldeirão Verde – Video Impression
Here is the video taken during our walk:
Caldeirão Verde – Map & location
The official map of the Caldeirão Verde hike (route PR 9) all the way to Caldeirão do Inferno can be downloaded HERE.
The hike starts at the Parque Florestal das Queimadas, famous for its frequently photographed fairy-tale like houses. You will find there a big parking lot, toilets and a small café.

When driving, use: Queimadas Parking Lot
Caldeirão Verde – By bus?
You won't reach the start of the Levada do Caldeirão Verde with public transport. The closest bus stop seems to be CAM da Silveira 7A Stop ID: S405, located approx 3km/45 min walking away from Queimadas. See bus lines 103 and 138 HORÁRIOS DO FUNCHAL. You can get by bus to Santana, and then take a taxi or hitchhike to the start of the levada. Or, simply choose one of the organized tours, where you will be picked up and dropped back at your accommodation. READ BELOW
Caldeirão Verde – Difficulty
The Caldeirão Verde Walk has a distance of approx 2 x 6 km, which should take an estimate of 3-5 hours. Officially classified as moderate, although there aren't many altitude differences (min altitude 877m, rising up to 925m). There are a couple of low tunnels, some of which require a flashlight.
Except for some steps at the beginning, it is mostly a flat walk. Just before the lagoon, you will find a small picnic place with some places to sit on, get a bite and relax before you start to walk back.
Caldeirão Verde – Why so famous?
It is a quite popular levada. We walked Caldeirão Verde during 2020 pandemic, so it was half as busy as normal (according to our guide), but it was already way too busy for us. If you start your hike in the morning, on your way back you will need to frequently stop to let others starting the hike pass you by.
What brings so many hikers to Caldeirão Verde? Most probably the last part of the hike – the lagoon. But there is a small "but"…
Caldeirão Verde – Watefall lake
Once you reach the end of the hike, you will see a majestic, tall waterfall… from a distance.
Why only from a distance? Access to the lagoon/waterfall itself has been restricted following some serious and unfortunate accidents with falling rocks.
It is impossible not to notice the safety signs; restricted access signs are announced at every step of the hike, even at the very start at Queimadas.
We advise you to respect the safety regulations and if you have a crazy urge to get a beautiful shot inside a waterfall lagoon, we would like to recommend another, harder, but shorter walk: Lagoa do Vento.
Here is our video of the Lagoa do Vento Walk:
As you can see, Lagoa do Vento is more difficult than Caldeirão Verde, but just like Caldeirão Verde, at the end of the hike, you will find a lagoon with a very high waterfall. Just as beautiful, if even not more beautiful, than the Caldeirão Verde Waterfall. It is not unusual to see a beautiful rainbow under the Lagoa do Vento Waterfall, which is simply spectacular.
But… We will describe Lagoa do Vento on our blog very soon, make sure you follow us! Meanwhile, back to Caldeirão Verde…
Caldeirão Verde – Pictures
Caldeirão Verde – My Review
How did you like the Levada do Caldeirão Verde? Was it worth it? – I have been asked a couple of times. Levada walks are always worth it, that is for sure. But how would I rate this hike compared to other hikes on Madeira?
I would recommend this hike if you are looking for a nice, long walk that has almost no incline, but I won't probably give it more than 4 stars in 5. It is a pretty hike, but also rather monotonous. The fact that access to the lagoons is prohibited, is also kind of a bummer. What I did like about it were the views on green hills, the flowers, and the charming Queimadas houses/park.
It is a beautiful hike – do not get me wrong – but was not as jaw-dropping like for example, the Lagoa do Vento or Veredo do Larano. In my humble opinion, walk the Levada do Caldeirão Verde if you have enough time, but if your time is limited, I would recommend you other walks, for example:
25 Fontes & Risco / Alecrim / Lagoa do Vento
Pico Arieiro – Pico Ruivo Walk
King's Levada Walk (Levada do Rei)
Caldeirão Verde – Hikes In the area
If you are an experienced hiker, once you reach the Caldeirão Verde lagoon, you can continue the hike to Caldeirão do Inferno.
Optionally, you can start your day with a sunrise over Pico Ruivo, taking the PR1.2 Vereda do Pico Ruivo (from Achadas do Teixeira to Pico Ruivo). After seeing the magical sunrise above the clouds, drive either:
a) directly to Queimadas and Walk the Caldeirão Verde walk
b) or to Pico das Pedras and first walk the "Um Caminho para todos" followed by the Caldeirão Verde walk
If you aren't as experienced, after a short break in the Queimadas Cafe, finish your day with one of the easiest hikes on the island: "Um caminho para todos" which means "A walk for everyone". Here is the video from this short walk:

It starts right by the famous Queimadas houses, so leave your car parked at Queimadas.
"Um Caminho para todos" between Pico das Pedras and Queimadas is an easy and short walk (2 x 2km) which should take you less than an hour. Another easy hike in this area is Levada da Silveira (easy / 3-4 hours).
Caldeirão Verde – With children?
Although we passed a couple with a baby, I believe that doing the entire walk with a baby/child will be a challenge. Personally, I would not walk Levada do Caldeirão Verde with a child, no matter what age.
An alternative day plan for parents, especially with older children, might be to split for a couple of hours while reaching the Queimadas park. While one parent starts the Levada do Caldeirão Verde, the other parent may walk the "Um caminho para todos" which is even suitable with an outdoor stroller. Then the other parent can use the chance to visit the child-friendly attraction Parque Temático da Madeira, located less than 3,5 km away.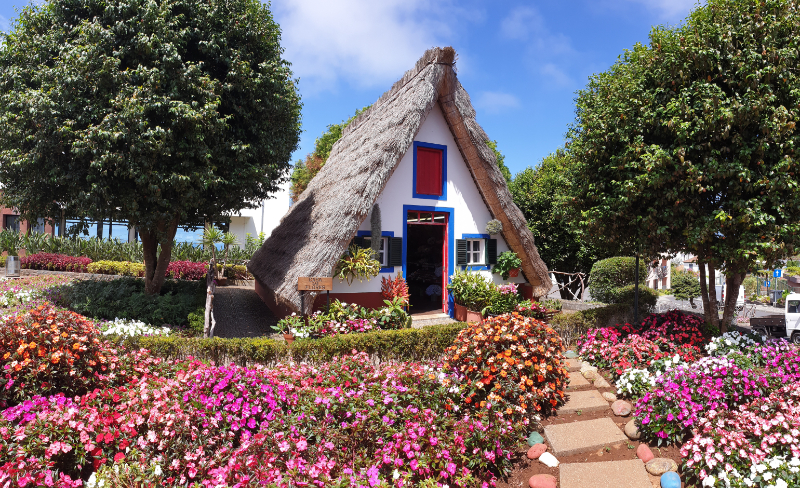 Caldeirão Verde – By yourself or with a guide?
Sometimes I hike alone, sometimes with friends and sometimes I take organized levada tours. See also other levadas we walked and described so far:

When we talk about technicalities, if you are a solo traveler or do not have a car, organized tours are definitely a good option. For around the same price as the price of a (very basic) rented car, you have a chance to walk with a local guide. It is more convenient, as you are being picked up and dropped off at your accommodation.
A local guide will not only take care of your safety but also tell you about the area, history of the levada, and types of plants and animals you are able to see during the walk.
Hiking by yourself is nice, but sometimes it is nice to go on a tour with a certified guide. It's not as much about safety, but sometimes it's simply fun to just listen to the guide's stories and learn something new about the island… If you walk with a guide, you will experience the hike differently.
This time, we walked Levada do Caldeirão Verde as a part of an organized tour with a really special tour guide…
Caldeirão Verde with Explore Nature
Our complimentary tour was provided by Explore Nature. What makes this tour special? Your guide will be no one else than… the trail running athlete Luís Fernandes.
Luís has won two victories in MIUT® (the main trail running event organized in Madeira), for the 85 km and 115 km distance. He represented Portugal in the World and European Championships of Trail Running and Skyrunning, participated in competitions in the Pyrenees and in the Alps.
If you are an active explorer, into trail running & skyrunning, Luís will be your best choice if you need first-hand tips and tricks. Levada walks and hikes is not the only thing that Explore Nature does. They also offer trail running tours – from beginner to experienced ones.

Not a trail runner, not an experienced hiker…? No worries, Luís will help you choose the right levada for your abilities. For any kind of organized tour or private hike/tour, feel free to contact Luís via Explore Nature website or socials:
Loved this hike review? Share it with others! ⮋
Weddings or photo shoots on Madeira? Contact
Do not miss our new posts – follow us:
We arrived at 1905 Zino's Palace hotel impressed with its architecture and design, and we…