Levada do Alecrim is a relatively easy, family-friendly levada. Are you looking for something more challenging? On your ways back turn right and see the stunning Lagoa do Vento.
Levada do Alecrim – Video Impression
Levada do Alecrim – Highlights
The two highlights of this levada are:
1) the famous "levada-stairs" – a very steep section of the levada
2) and of course the very end of the route – a small waterfall with its Lagoa Dona Beja. The waterfall, despite not being very high, has beautiful colours and looks very lovely. You may try to swim in it, if you are not scared of low water temperatures.
On the other side of the lagoon, you will see the edge, where the stream turns into another waterfall. If on your way back, you will decide to take on the difficult Lagoa do Vento trail, you will see that same waterfall, but this time, from below.
!Stay safe! No matter how beautiful it is, be careful and do not come too close to the edge as it is definitely not safe.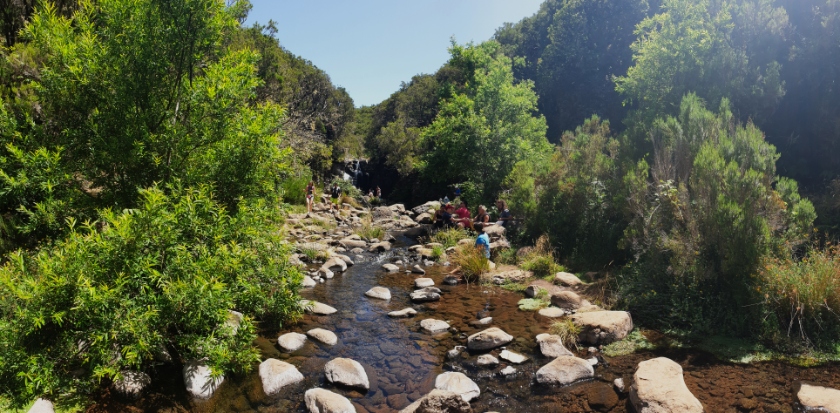 From levada do Alecrim you will be able to enjoy views of the greeen Rabaçal and Ribeira da Janela Valleys.
By the way, did you know that Alecrim means Rosemary in Portugese?
Levada do Alecrim – Map, route & difficulty
Levada do Alecrim is about 7 km (2x 3.4) long. It is an out and back trail and the difficulty level is easy. It should take you about two hours to complete the route easily.
The trail is flat, though pretty bumpy at times, so you should watch your steps. There are no high altitude differences, the lowest point is 1290 m and the highest point is 1321. It is known to be one of the most family-friendly levadas, however, as levadas are never 100% safe, you should never stop being careful.
The map and practical tips on Levada do Alecrim and other hikes in the area can be found on WalkMe or Calheta Viva.
Levada do Alecrim – Location / how to get there?
You won't reach Levada do Alecrim by public transport. You can either get there by car, book one of the available guided tours or private transfers.
However, what's nice is that this trail starts in Rabaçal – the exact same spot where you start the famous Levada das 25 Fontes/Risco. At least four popular hikes share the same parking. If you are an experienced hiker, walk the Levada do Alecrim + Lagoa do Vento together with Levada das 25 Fontes + Levada do Risco. Other, less popular hikes in the area re: Levada do Lajeado & Levada do Paul II.
Once you park your car at the free parking, you will need to head east. You will see a lot of people taking the road down, but do not follow them – they are probably heading to the 25 Fontes & Risco hikes. Take the path going slightly up and very soon you will reach a levada.
The entrance is frequently "guarded by" local cows, and this was also the case in our case. Do not be afraid to slightly chase them away , otherwise you might stand there waiting for hours.
This is what I mean with "a bumpy levada":
Levada do Alecrim – Our rating
🅢🅗🅐🅡🅔 🅘🅣
Did you like this post? Help others find it & share the beauty of Madeira:
Weddings or photo shoots on Madeira? Contact
Do not miss our new posts – follow us:
Madeira hikes and levadas – Category
Reviews, pictures, locations, tips and GoPro videos of the best hikes and levada walks on Madeira Island >