a.k.a an unforgettable stay in Achadas da Cruz
I really love Funchal, but sometimes I also like to leave it for a few nights, stay in an unusual place surrounded by nature and wake up to an amazing view. This unique cabin/tent in Achadas da Cruz was immediately one of my favourite choices. How did we like the stay, what are our tips and do we recommend it?
This cabin/tent is one of the 10 options for unusual Airbnbs outside Funchal mentioned in the post:
Cable Car in Achadas da Cruz
The cable car station in Achadas da Cruz is a place with a nice vibe. In this north-western area of the island you won't find many tourists. And if you do, you will probably meet them nowhere else than around the cable car station.
Some of them buy tickets and take the cable car down, while others do not have that much courage and only watch it from above – from the amazing observation deck or from the balcony of a small café nearby.
This cable car – Teleférico das Achadas da Cruz – takes you down to the even smaller and even more remote Fajã da Quebrada Nova.
This is where we stayed for two nights – in a secluded, but comfortable cabin/tent behind the café on top of the cliff:

Tent = adventure
I fell in love with this place at the first sight. Something between a wooden cabin smelling of wood and a tent. In addition, a nice terrace/patio with a comfortable swing.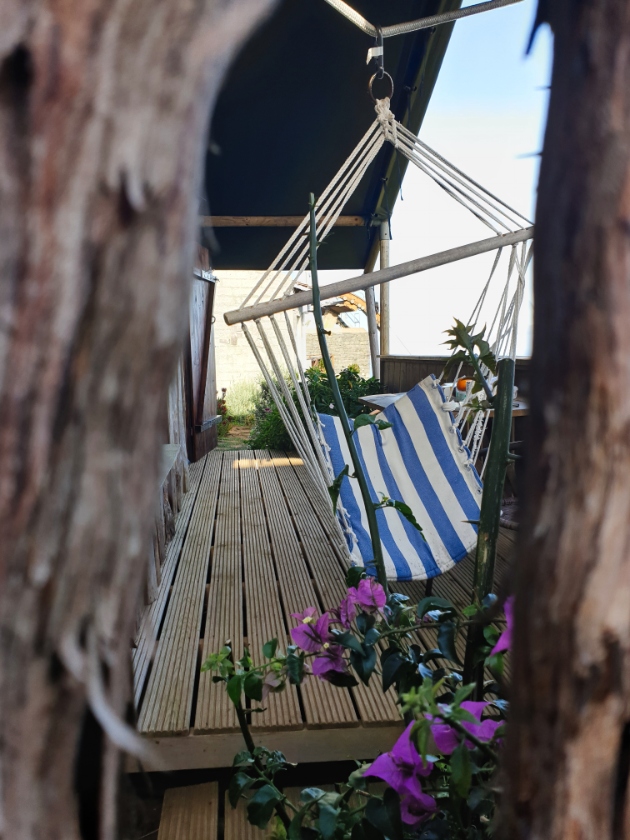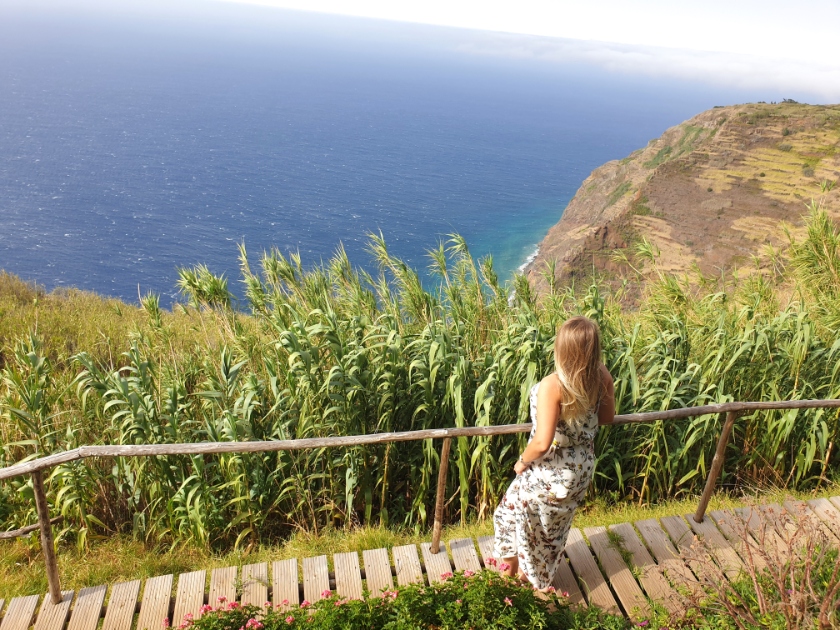 You could see the cable car station and the beautiful setting sun without leaving the patio. On the other side, you could see the famous viewpoints: Miradouro Ponta da Ladeira and Miradouro dos Pombais.
When we arrived, the owner, Albert, greeted us warmly, showed us around, and at the end warned us "if after the first night you decide that it is not for you, it will be absolutely no problem to leave earlier". It sounded a bit scary, but during the first night we found out why.
During the night, a strong wind picked up, flapping the tent around the hut. On top of that, there were strange sounds of someone trying to get into our tent from below …
The little rascal turned out to be a sweet homeless dog, which the operator of the cable car called Botas, which means "boots".
This cute and well-mannered dog was unfortunately abandoned by someone at the cable car station. The operators of the cable car took care of him and other abandoned animals. Botas, having no owner, treated the cable car station as his home, once in a while visiting tourists living in the huts. During the day, he entered the property only when called and invited by guests. Botas was definitely very welcome on our patio and really made our trip unforgettable.
Note: Botas has already found a new home, and you won't probably meet him when renting these tents.
When it comes to the second cabin/tent, it was almost identical to ours. The main difference was that it had a hammock farther away from the house, instead of a patio swing.
… but also comfort
Staying in those cabins is a mix of adventure and comfort. Inside you will find everything you need for a comfortable stay including a small but equipped kitchen, a large bed and an extra fold-out bed in the living room. The bathroom is also new and very comfortable.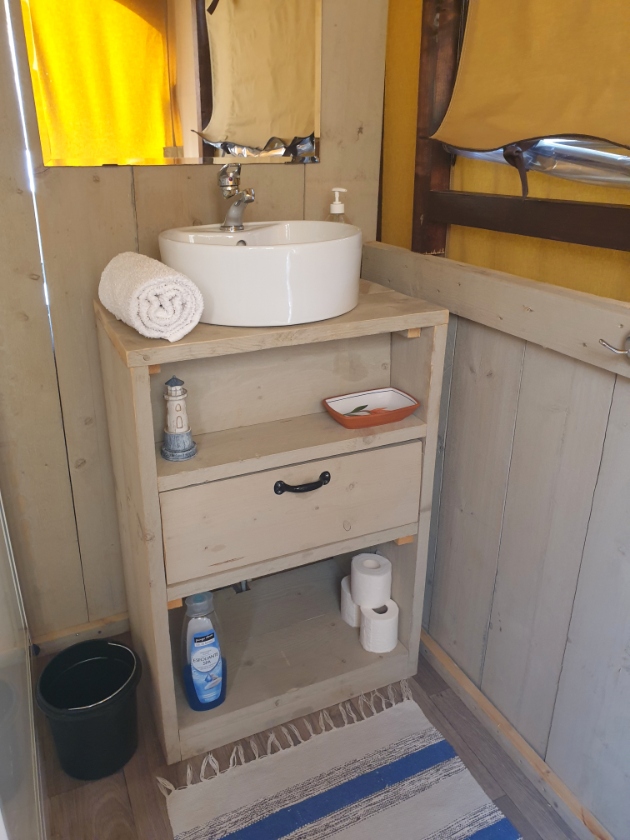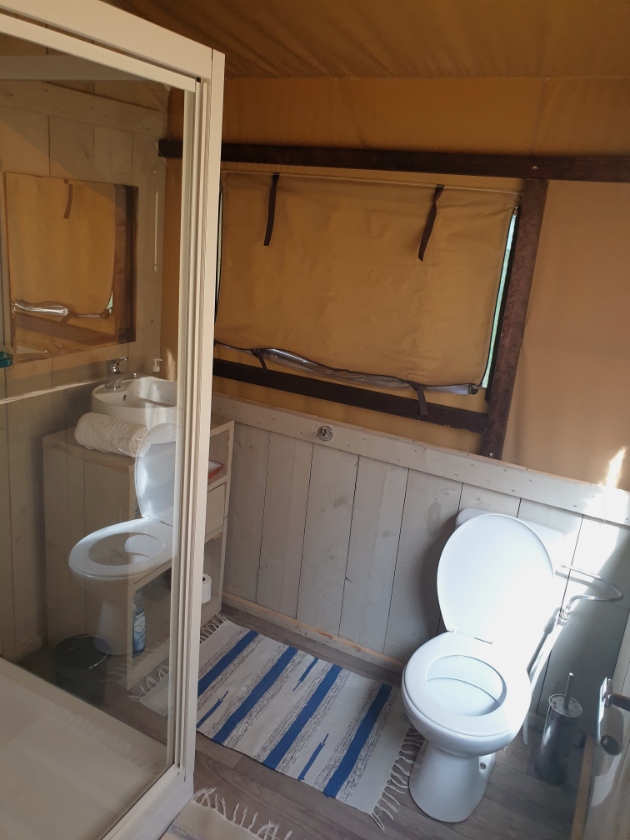 There is usually a WiFi in the cabin, but the cell phone coverage was rather poor. It is the perfect place to rest and forget about the whole world.
Tip: The nearest grocery stores are rather basic and the closest restaurants around 20 minutes driving away . Therefore, if you plan to stay in these huts, take enough food and drinks with you.
There will be nothing more beautiful than your own dinner and wine sipped on a terrace, a swing or a hammock overlooking the sunset.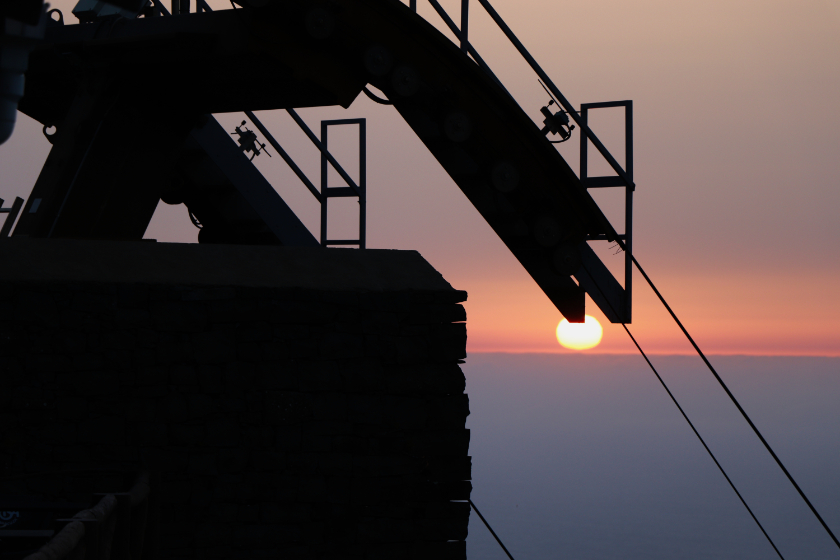 Other unusual stays in the area
At the time of our stay, we had a chance to choose either one of those cabins above, or…. a village cottage down the cliff on Fajã da Quebrada Nova. The last one is unfortunetely not available at the moment.
Would you dare to spend the night in the village below? Knowing that the cable car is not operationg at night? We, as two women, did not, but the tent / cabin upstairs was an ideal option for us.
All options in the area:
Achadas da Cruz attractions
The closest attraction is the cable car Teleférico das Achadas da Cruz – taking you down to the quiet and secluded Fajã da Quebrada Nova.

Visit also the viewpoints: Miradouro Ponta da Ladeira and Miradouro dos Pombais, from which you have a beautiful view of the Fajã da Quebrada Nova from the north.

You will also be just 20 minutes away from the famous Porto Moniz Natural Swimming Pools.
More about those lava pools in our post:
You won't be far from the Levada Ribeira de Janela trail and definitely very close to the Levada do Moinho (PR7) hike. Do not confuse it though with the Levada do Moinho located in Ponta do Sol.
This place is an excellent base for exploring the rather less developed, western part of the island: Garganta Funda Waterfall, Miradouro do Fio, Boa Morte or Pico Vermelho viewpoints and especially the lighthouse in Ponta do Pargo (the westernmost place, popular for sunset watching).
Recommended for…

I don't know if it was the sunset views, peace, great company or Botas, but there was something amazing about our stay.
There is usually internet in the cabin, but exactly during our visit there was an internet failure in the entire village. So we had neither internet nor coverage and …. it was a blissful 2 days detox during which I rested and recharged my batteries for the next few days.

We recommend this place to anyone looking for cabins in nature on Madeira.
Whether it is suitable for solo travelers – I am not sure. In my opinion it's always nice to have good company in a place like this.
It is also not a good option for people without their own transport, because it is a hard-to-reach place. In those parts of the island, public transport is very limited. You can reach the center of the village (45 minutes on foot from the cable car) with the Rodoeste bus lines 80 i 150, which run rarely and only on weekdays.

I don't think I would like to stay in this cabin for more than 3-4 nights. After a while, I would probably miss "civilization", well-equipped shops and cafes nearby.
However, it is perfect for a short escape. We loved every second of our two-days stay and we recommend it to anyone who is looking for cabins on Madeira and interesting stays in the area of Porto Moniz and Achadas da Cruz.
RELATED POSTS
CHEAP STAYS AND FREE CAMPSITES ON MADEIRA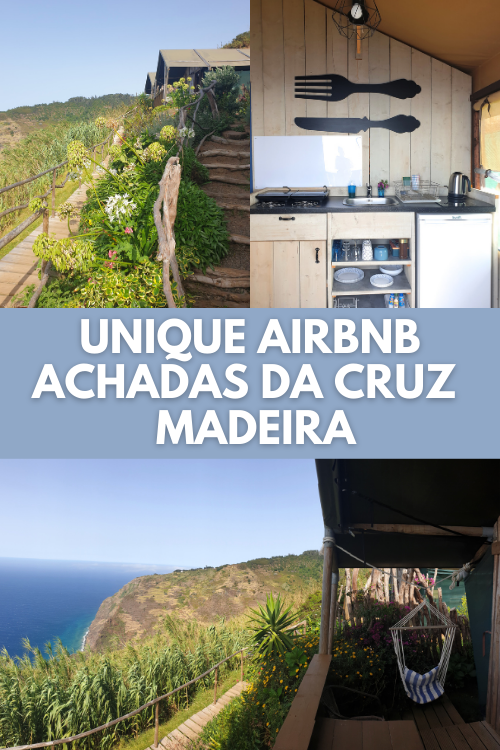 Weddings or photo shoots on Madeira? Contact
Do not miss our new posts – follow us: