Are you looking for unique stays on Madeira? Stays with priceless views, locations, designs or something that gives them a WOW-factor? So are we.
Yes, we made our homework, so please enjoy. Here are our favourite ideas for unique, usually secluded homes and stays in nature:
8 unique stays on Madeira Island…
-1-
We spent two nights at the Achadas da Cruz tent/hut in the autumn of 2020, and it was one of the most memorable experiences on Madeira. Whether it was the location, the views, a homeless dog who decided to keep us company… I do not know, but there is something special about the place… Read more: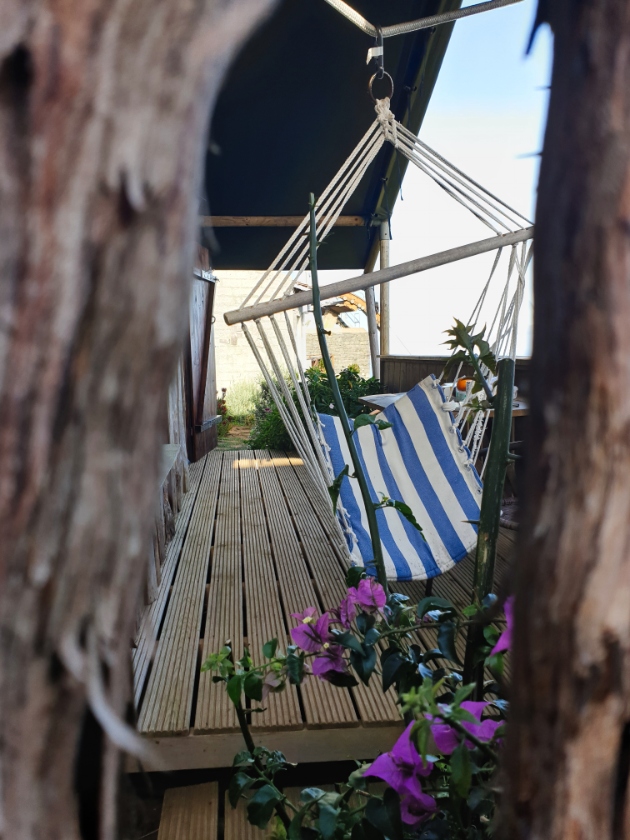 At the time of our stay, we had a chance to choose either one of those cabins above, or…. a village cottage down the cliff on Fajã da Quebrada Nova, which you can only reach with the cable car.
Would you dare to spend the night in the village below? Knowing that the cable car is not operating at night? We, as two women, did not, but the tent / cabin upstairs was an ideal option.
That adventurous option isn't unfortunately available at the moment, but keep an eye on this area, as it might appear again one day.
ATTRACTIONS NEARBY:
Teleférico das Achadas da Cruz (right next door)
Porto Moniz Natural Swimming Pools
Hike Levada do Moinho (PR7) – please do not confuse it with the Levada do Moinho in Ponta do Sol
-2-
Ponta do Sol is one of the sunniest areas of the island, and for some, it is the most beautiful area to stay. This is where some of the most amazing villas are located as well as one of our favourite design hotels. But there is one more amazing way to stay in Ponta do Sol… glamping!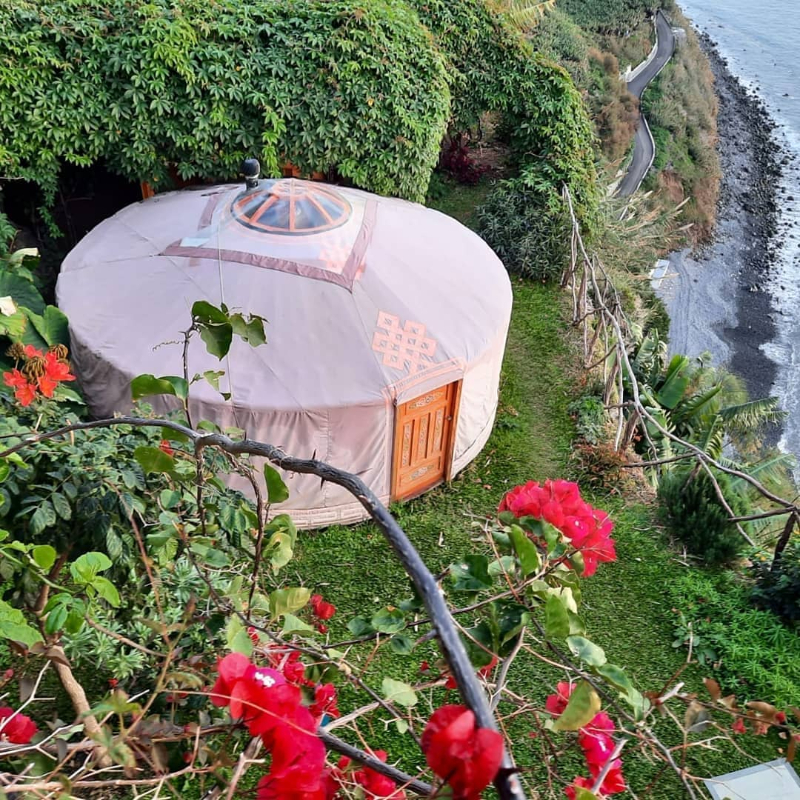 Smaller tipi or a bigger yurt – it is up to you. A unique location, among green banana trees and a priceless sunset view.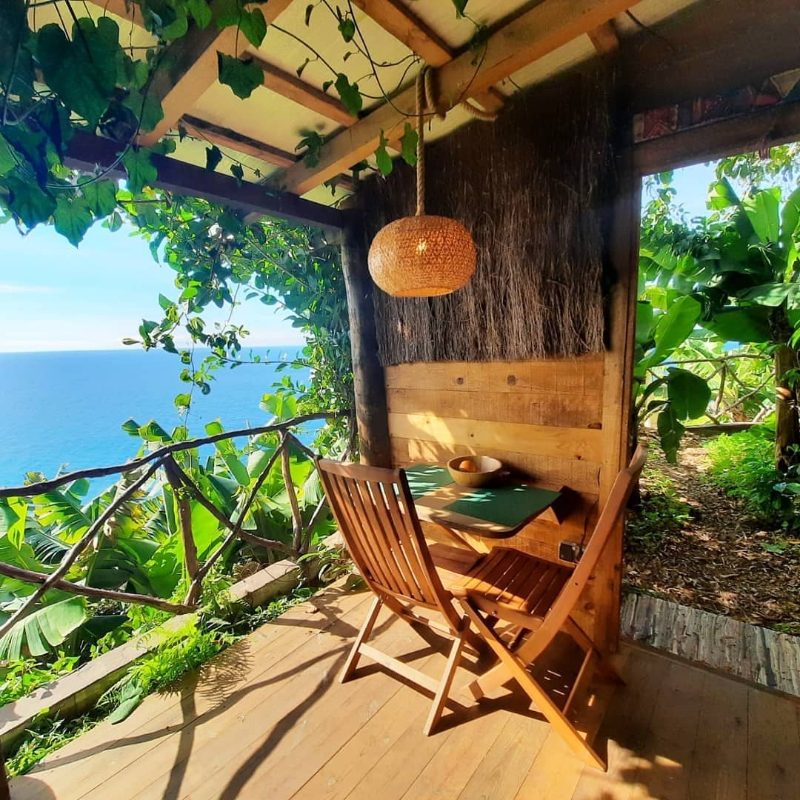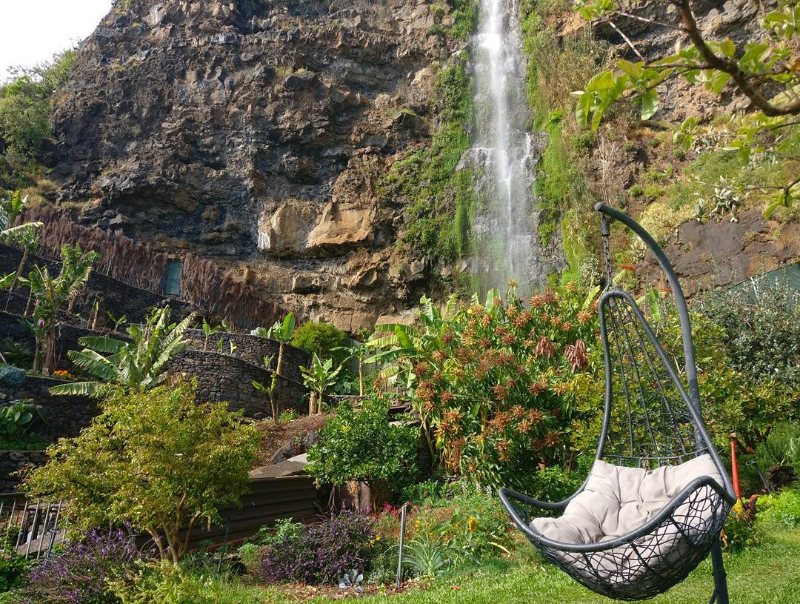 RECOMMENDED ATTRACTIONS NEARBY:
Ponta do Sol Beach, Town & Pier
The famous Anjos waterfall falling on the road
Hike Levada do Moinho – Levada Nova
Levada do Moinho – Levada Nova
The most popular picture from Levada do Moinho – Levada Nova is a picture of a characteristic waterfall carved in the rock. This part of the hike is definitely…
-3-
Currently unavailable.
-4-
As well as try soul glamping in a luxury dome in Estreito da Calheta:
-5-
And now something completely different – uniquely located house right by the most stunning beach of Madeira Island – the Seixal beach. It will be a great option for entire families and groups travelling together and it is one of the most interesting options in that area.
RECOMMENDED ATTRACTIONS NEARBY:
Seixal Beach & Seixal Lava Pools
-6-
Of course, Fajã dos Padres houses is also something that must be included on our list. Why?
Staying on Fajã dos Padres means nature, ocean, silence, peace, and… seclusion. The only ways to get to your accommodations are: by a cable car or by boat.
Fajã dos Padres is not a typical place to stay at all…
Fajã is a Portuguese term which does not have an English equivalent. It describes a piece of flat, fertile land, which is located at the bottom of a high cliff, cut off on one side by the cliff, on the other by water.
We have already described this unique spot in our previous posts:
Yes, if you would like to elope there – it is possible! One of the cottage houses is famous for being also an off-the-beaten-path wedding venue – affordable and able to accommodate intimate events. After the wedding, you are free to stay on Fajã dos Padres overnight.
The last cable car leaves in the afternoon, so if you do not have a boat, you won't always be connected with the mainland. If this sound like a perfect place to stay, check it out.
-7-
Currently unavailable.
-8-
Looking for cool designs and a WOW- factor? We really loved this extremely Instagrammable accommodation with a unique bed:
This accommodation is located in Canhas – a parish in the municipality of Ponta do Sol, the area known for the best weather on Madeira. The main eye-catcher of this property is the beautiful, restored and iconic VW T2 camper in the living room, which now serves as a bed.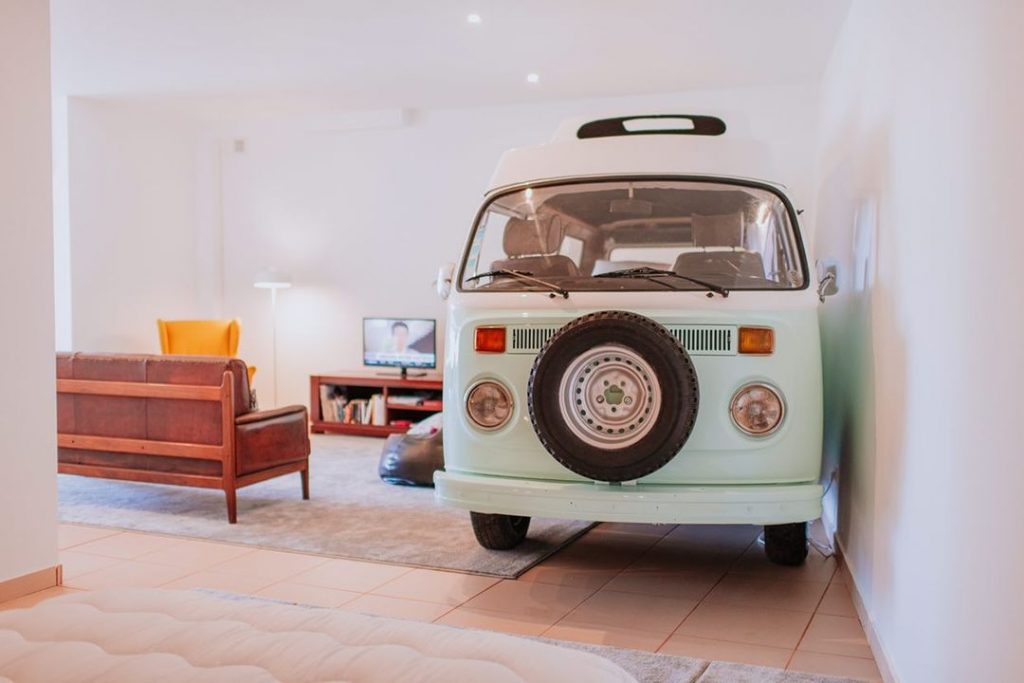 Talking about van's and RV's – Madeira Island offers quite some options for those who would like to rent an RV on Madeira:
… and 2 unique stays on Porto Santo
Porto Santo Island does not (yet) have domes, glamping, tents or many other unique stays, but we would recommend you two nice options. The first one is a modern, cool stay with direct access to the beach – Barracão 23 Beach House:
The second one is a place with probably the best view on the island: The Balcony View House.
For the snorkeling fans – this stay is also located very close to the rock pool, where snorkeling is possible:
Snorkeling on Porto Santo
Snorkeling and kayaking are two of our favourite activities on Porto Santo, Portugal. All about rockpool snorkeling on Porto Santo…
All unusual stays & free campsites
This was our TOP10, which we will be updating any time we discover awesome new stays on Madeira and Porto Santo. We are still, for example, awaiting news about sleeping in a luxurious, hard-to-reach cave on Calhau da Lapa:
Madeira hidden gems: Calhau da Lapa
Madeira less travelled – the unique hidden spot called Calhau da Lapa. What is it and how to get there?
If you ended up here because you were looking for free campsites on Madeira, please visit:
Madeira on a budget – Part II – Cheap or free accommodation in Madeira
Cheap hotels, hostels, free campsites and tourist shelters in Madeira, Portugal.
When it comes to finding unique places and attractions on Madeira, you will find a long list of our favourite Madeira gems in our post:
Madeira – Hidden Gems [2021]
Looking for hidden gems on Madeira Island? Here is the list of our 20 favourite finds: secluded places and unusual, less-known attractions off the beaten path.
And you? Have you discovered any other cool, unique and memorable places to stay? Let us know in the comments!
Weddings or photo shoots on Madeira? Contact
Do not miss our new posts – follow us: