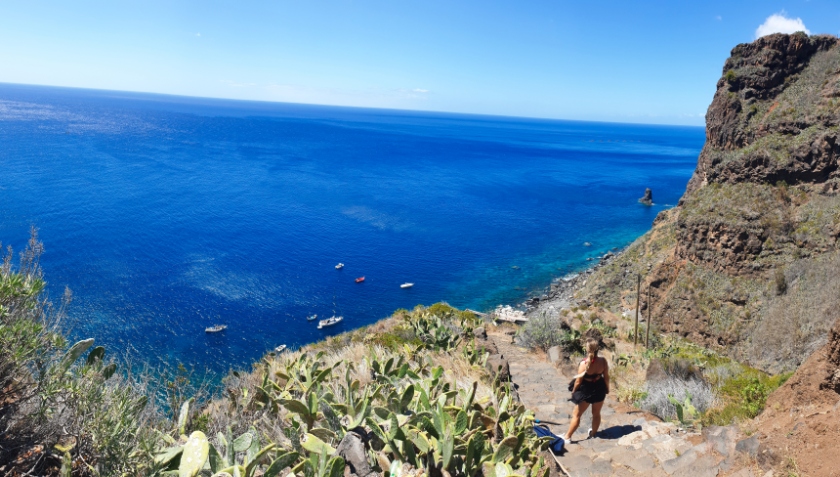 Calhau da Lapa is a place that would be difficult to describe in just one sentence. This hard to reach gem of Madeira should be on a bucket list of every active explorer loving off-the-beaten-path places, swimming and diving in crystal clear waters.
Calhau da Lapa – What is it?
Calhau da Lapa is a piece of land by the ocean, located under a high cliff. There is a pebble/rock beach with a pier and a waterfall, where you can stay overnight in one of the… old caves. When I say that, it does not seem very unusual, but once you get there on a sunny summer day, you will see that this is quite a peculiar place.
Maybe after a couple of visits, it becomes ordinary, but when we arrived at the bottom of the cliff for the first time in our lives, we felt like in another dimension. We were stunned with what we saw, and I believe we were the only tourists.
We walked slowly, trying to figure out its dynamic, while everyone around us seemed busy doing their own things in their provisional cave houses as if staying at such a peculiar place was one of the most usual and normal things in the world…
It is said to have the clearest waters on Madeira. Crystal clear waters and the brown of rocks and caves make for a stunning color palette.
We have already mentioned Calhau da Lapa in our popular post about places to swim in Madeira:
Where to swim in Madeira – part I – Beaches in Madeira [2020 update]
You won't find beautiful, snow-white, natural sandy beaches in Madeira Island. So, where to swim and what are the beaches like in Madeira?
Getting there is also an adventure in itself and you will be able to enjoy great views on the way. What makes it special, is that it is pretty hard to reach. People with mobility issues may only be able to see it from the board of a boat, but won't be able to get there by car.
Calhau da Lapa – Video
See for yourself what Calhau da Lapa is and how difficult it is to get there:
Calhau da Lapa – Where is it located?
Calhau da Lapa is located in Campanario, approx 20 minutes by car from the centre of Funchal. HERE you will find a pin marking the exact beginning of the path.
When you drive towards Calhau da Lapa, you will pass by a similar place – Fajã dos Padres – which is actually Calhau da Lapa's eastern neighbour, easily visible from its pier.
Fajã dos Padres is one of our favourite secluded spots on Madeira – perfect for relaxed walks, lunches, swimming, diving and even… eloping!
See our posts about Fajã dos Padres:
People who go by boat, usually stop at both of these places during the same tour. Would I advise it if you were coming by car? If your time is limited, yes, but if you have enough time to visit both, I would suggest splitting it, and taking your time to explore both places well on separate days. They both have a great vibe and you should just enjoy it…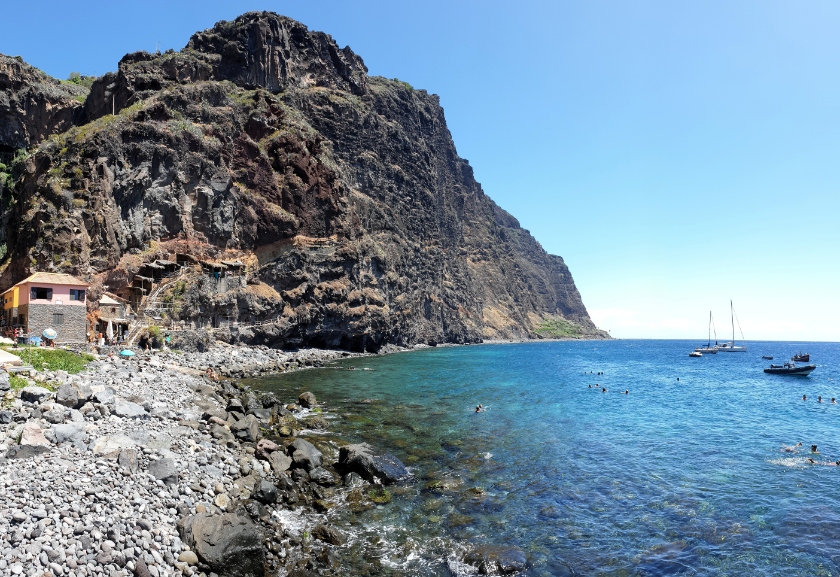 Calhau da Lapa – How to get there?
Yeah, that's the most interesting part – how to get to Calhau da Lapa…
Calhau da Lapa – By Boat
You can get there by boat, either on your private or rented boat/yacht or by booking one of the boat transfers. This option is only available between June and the end of September, because that's the only period when the disembarking platform is available.
While we were on Calhau da Lapa, we had a chance to quickly talk with Márcio Fernandes, who offers such boat transfers. His tours/transfers cost 8 € per person there is a minimum of 5 people. Boats depart from the nearby town Ribeira Brava.
You can contact him via his Facebook account or call him at +351 912170836 or +351 969093999.
Calhau da Lapa – By Car + Walking
Calhau da Lapa is accessible from the land. It is not an easy or relaxed walk though…
As you saw in our video, it was difficult to get to, and especially back from Calhau da Lapa. The path offers amazing views but is very steep. Some parts of the hike are newly renovated, but some seem more like a … dangerous pebble slide down the cliff 🙂 . At times, the stones are slippery so you need to walk slowly and minding every single step:
I would only advise this hike to fit people visiting without small children.
The path starts by the bridge in Campanario, and it can be easily seen from the road:
The first part of the hike is wide and comfortable, but do not let it trick you. The closer to the shore, the path gets steeper: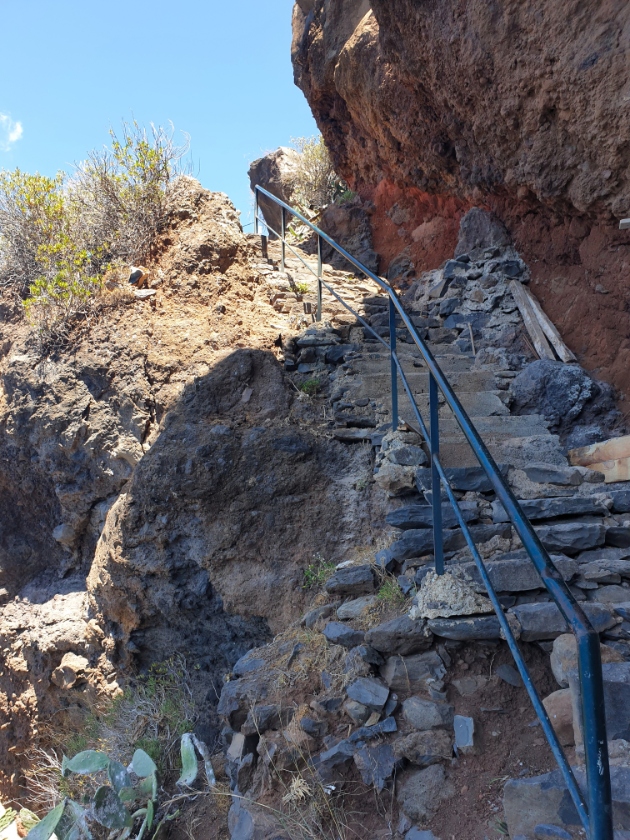 Calhau da Lapa – By Bus + Walking
You can reach the village of Campanario with the bus company Rodoeste.
HERE you will find a useful schedule, list of all bus lines connecting Funchal and Campanario as well as the map showing the location of the bus stop in Campanario.
Calhau da Lapa – Overnight Stays
Just as we were about to leave Calhau da Lapa, we noticed people doing renovation works in one of the caves by the main stairs. We started chatting, and they invited us to see the accommodation they were working on.
Although it was not yet ready, it already looked promising, and unique. We can not wait to see it ready for the public.
Have you also visited Calhau da Lapa? What are your tips and impressions?
🅢🅗🅐🅡🅔 🅘🅣
Did you like this post? Help others find it & share the beauty of Madeira: