Finn (Ireland) & Huib (The Netherlands) tied the knot on Madeira, Portugal in February 2021 – during a period with pretty strict COVID-19 regulations that affected both travel and weddings. But as we saw, nothing could stop their love…
We really enjoy interviewing couples about their weddings on Madeira, but today, something we have not yet done – a guest post written by no one other than the beautiful bride – Finn. We are so happy she took the time to share their lovely Madeira #coronaelopement story, recommend our English-speaking wedding planner and give us a couple of practical tips on sustainable elopements.
To contact the wedding planner who organized Finn & Huib's elopement on Madeira:
Our Madeira #coronaelopement story…
GUEST POST WRITTEN BY:
Finn van der Aar
Sustainable Living 🌱
Plant Based Recipes 🍉
Marine Scientist 🐋
Ambassador @cleancoasts
Author – @gillbooks
We had always planned on getting married just the two of us and then having a big party to celebrate with friends and family later. With the current pandemic though, we never realized how much this plan would be a necessity. In Ireland (where I am from) the amount of people allowed at a wedding in 2020 was from a max of 100 people to as little as 25 with no reception. The thought of the stress of constantly moving dates and numbers was just not something that appealed to us.
It had been a long-standing dream to move to Madeira after visiting for a few weeks in early 2019. We'd never expected it would be possible in 2020, but when restrictions were relatively eased in both countries in December it suddenly became possible! We moved just in time to experience the amazing fireworks over Funchal for New Year's Eve. And before restrictions tightened again loved exploring our favourite city day and night under the twinkling Christmas lights.
We had talked a lot before coming to Madeira about how it would be the perfect place to get married. We were looking for something low-key and relaxed where we could be warm, by the beach and just spend most of the day eating good food, drinking good wine and laughing with friends!
We spent the few months or so before we left for Madeira trying to get paperwork shorted (I'm Irish and my husband is Dutch, so it felt like it would be a mountain of paperwork to get us there). The day before we left things we'd ordered months before still hadn't arrived.
We ended up having a bit of a nightmare with paperwork and a bunch of other things I can't even go into (but certainly gave me a few grey hairs to be sure!) and ended up missing our original wedding date.

To say the wedding planner turned everything around in one morning would be an understatement (I have since taken to calling her my angel!). With just a few phone calls she sorted out all our problems! When we met we clicked instantly.
Everything turned around when we contacted Say Yes to Madeira and got chatting to Edyta, she put us in touch with an English-speaking wedding planner. To say she turned everything around in one morning would be an understatement (I have since taken to calling her my angel!). With just a few phone calls she sorted out all our problems! When we met we clicked instantly (and it even turned out we'd been sitting side by side a few weeks earlier in a restaurant and remembered each other, it was meant to be). We'd found out in the days leading up to meeting her that Ireland was possibly going to close its borders and suddenly our plans to stay several more months in Madeira were thrown out the window.
Could our wedding planner arrange everything in essentially under a week?
Of course she could (while even making it look easy!). She met us again, got our paperwork and from there it all fell into place and ran so smoothly.
We also reached out to the Madeira Island- based wedding photographer Miguel Ponte to see if there was any chance he'd be available at short notice (he was!) considering usually being booked out so long in advance. We went to Hotel Castanheiro to see if they had a nice room available, they got us booked in (and upgraded thanks guys!) and the staff were amazing. So on February 16th we checked in (my birthday!), on the 17th we got married and early the morning of the 20th we flew back to Ireland. A whirlwind week!
In my own work (on www.saltwaterstories.me) I typically talk about sustainability and my work as a marine biologist, not as much about my friends or family, so it's a little hard (for me anyway) to describe such a personal day, but it was perfect! Exactly what I'd hoped for, but so much better than I ever could have imagined.
17-02-2021!
I woke up and went for a swim on the rooftop pool (while himself snoozed on) then we both went down for a big gorgeous breakfast (if anyone is coeliac like myself or gluten-free in general Castanheiro Boutique Hotel was absolutely the best place on the island food-wise!). He then went off into town to grab a few last things (like the sunglasses you see us wearing in the pics) and I went to buy flowers. It had always been a dream for me to make my own bouquet and I made it using a mix of foliage from the local flower sellers on the street near the hotel, flowers from a local flower shop Tulipa and some roses pulled out of a bouquet my dad had sent us.
Then back to the hotel where I did my own hair and make up, though the lovely Monica in Funchal Hair and Beauty had done my manicure and pedicure in the days running up. By having such a chilled out time line there was some time too to chat to parents and friends before the wedding planner picked us up.
In another town called Santa Cruz we met our wonderful registrar as well as the photographer Miguel. From there we picked the perfect spot under some palms trees right on the beach. Considering I'd always assumed we'd be married in a registry office this was just the most magical things to be outside and by the sea (we're both surfers and love this ocean, so this was more than perfect). Our wedding planner was also our translator for the ceremony, and we were all laughing so hard (the husband and I, our full names are both impossible to pronounce) and having it in Portuguese and English was really cool as we both love languages (speaking English, Irish, Dutch, Spanish and French between us).
While many people choose to write their own vows we didn't feel the need. We've been together a long time and in a way have already said those things and made those promises. But that said we actually loved the vows during the ceremony that were all based around mutual respect, support and love!
From there Miguel whisked us off for the photos (our mothers said they would kill us if we didn't get pictures!). I think it must have been so funny for him that we weren't too fussed on getting tons of photos, but were very excited to get a Poncha (sure you can't get married in Madeira and not stop for a good Poncha) but this also led to some absolutely hilarious photos that we'll treasure forever.
After getting dropped back to Funchal, we quickly changed and met our friends at the rooftop bar of the Se Boutique hotel (one of my absolute favourite spots on the Island). It was so lovely to relax and chat, enjoying a nice drink and good company in the sunshine.
We finished off with the day with champagne by the pool in Castanheiro Boutique Hotel and dinner just the two of us, and it could not have been a more perfect day!
Sustainable wedding tips
As I mentioned a little earlier, a bit part of my job is writing about sustainability and I always wanted that to reflect in the wedding too. Some key things we did to make the wedding more sustainable;
Elopement: a smaller wedding typically means a lower carbon footprint (and less waste being generated). I know that's not for everyone though, and we will be mindful of this ourselves when we throw our big party later.
Outfits: For him – he already had the belt, sunnies and boots, and we just picked up the jeans, jacket and t-shirt around Funchal. For me – I ordered both my dresses (one for the ceremony and the more casual dress I wore later) second hand from the Depop app (it was only €25 for the dress!). I sewed the black ribbon onto the dress the morning of the ceremony. My boots were vegan leather from a boutique in Funchal. For the afters drinks the necklace I wore was a lend from one of my best friends ("something borrowed, something blue"), my bracelet was also new (but second hand) from Depop (from the Irish designers Newbridge Silver) and my bag was from Indiazinha in Funchal.
Flowers as I said came from a local florist and the flower sellers in the area. My engagement ring is by an Irish designer called Chupi – all their pieces are made from recycled gold. The other rings were heirlooms from my grandmother and my mother.
Picture credits ♡ Miguel Ponte Photography
Miguel Ponte is not only a great person to work with, he is also an award-winning wedding photographer based in Funchal. The availability of amazing local wedding photographers like Miguel is yet another reason for choosing Madeira Island for a wedding, elopement or a honeymoon. Check out Miguel's work:
A friendly reminder: All pictures in this article are © Miguel Ponte Photography and just like all pictures on our site, shall not be reproduced, copied, published elsewhere or edited without the author's & the couple's permission.
We would like to thank Finn & Huib for sharing their lovely corona elopement story, recommendations & wedding day pictures.
Would you like to organize your own wedding on Madeira or Porto Santo?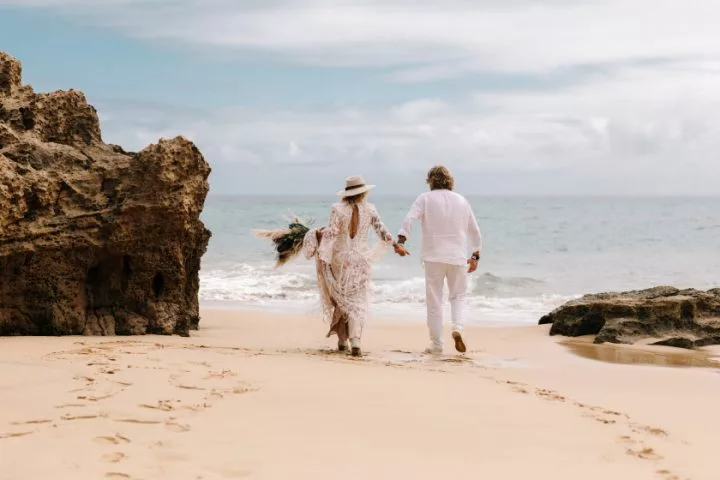 Beautiful Boho Beach Wedding on Porto Santo, Portugal
Their original plan was a boho wedding in Greece, but they ended up exchanging vows on a beach in Porto Santo, Portugal.
Stunning Sunset Photo Shoot on Madeira Island: Pico do Arieiro
Pico do Arieiro is one of the top couple, engagement and wedding photoshoot locations on Madeira Island…