Looking for active ways to spend your time on Porto Santo? How about kayaking?
If you enjoyed discovering the famous Portuguese Benagil Caves by kayak, you will love the kayak tour on Porto Santo… probably even more. It is definitely less touristy and you can admire the beauty of caves and hard to reach beaches in your own tempo and in peace…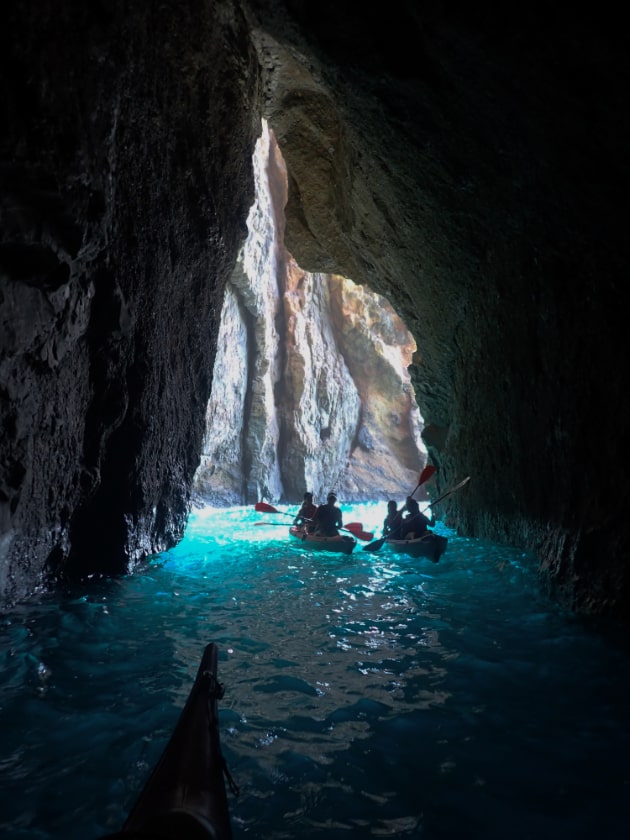 Porto Santo Kayak Tour – Brought by…
The tour is provided by Porto Santo Destination Tours. If their name seems familiar, you are right – you might remember them from the snorkeling trip we took some time ago. They have recently added kayak rentals and kayak tours to their offer and when they invited us to join them, we simply could not say no to that!
I am a big supporter or Porto Santo Destination Tours and all that they are doing to attract especially young and adventure-seeking travelers to the island. For snorkeling, kayak tours, or any other type of tour, do not hesitate to contact them, as they are real experts on Porto Santo.
Who stands behind the Porto Santo Destination Tours is Matias, and he loves helping visitors have a great time on his beloved island.
If you are ever on the Calheta Beach in Porto Santo (Ponta da Calheta), pass by to say hi… and possibly book a tour.
Porto Santo Kayak Tour – About the tours
You can choose either from kayak rentals, or, organized kayak tours. When opting for an organized tour, you can choose one of these two locations:
Option 1: Cal Islet Tour
The first tour is "Visit the Cal islet on a kayak". Cal is the famous islet facing the Calheta Beach, which is also where the tour starts.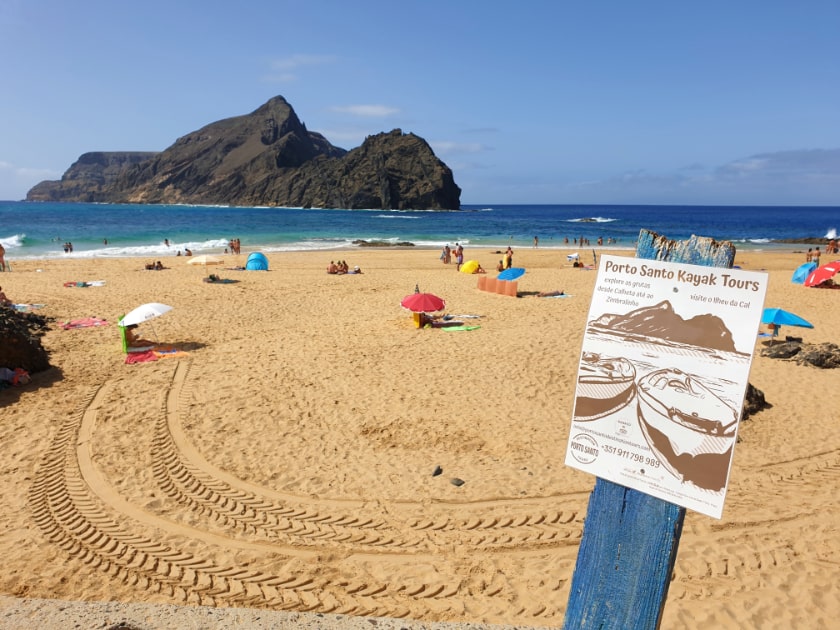 During this tour, you will pass the strait and head straight to the Ilheu Da Cal. You will visit its deserted beach, continue along the shore in order to see some of the galleries used in the past for the extraction of limestone and admire the islet's volcanic formations.
Cal Islet Tour Pictures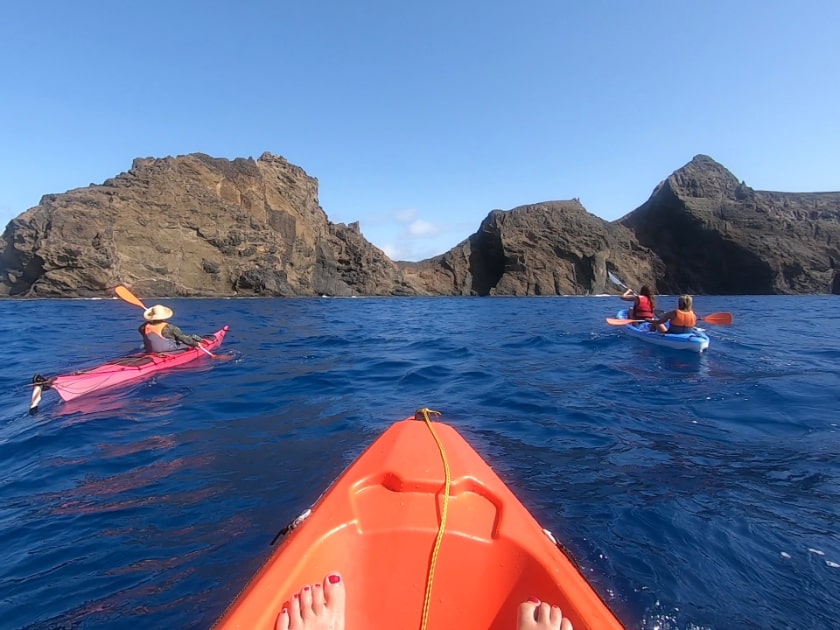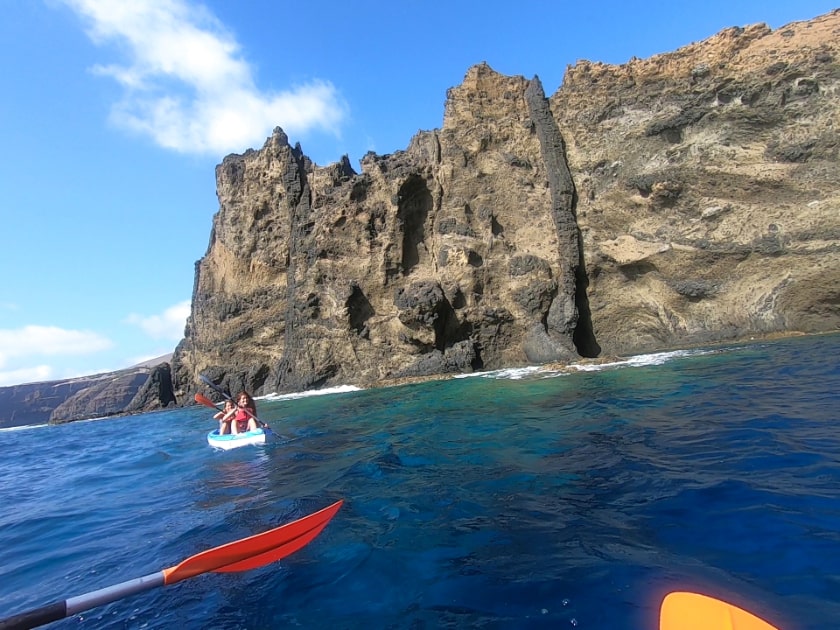 Option 2: Zimbralinho Tour
Or, you can choose the second tour, which is called the "Zimbralinho Kayak Tour".
The highlight of this tour is the beautiful, secluded pebble beach called Zimbralinho. On the way there you will have the chance to enjoy the beautiful volcanic rock formations and pass by some beautiful caves. This tour is more suitable for children. The starting point of this tour is the Calheta Beach as well.
Zimbralinho Tour – pictures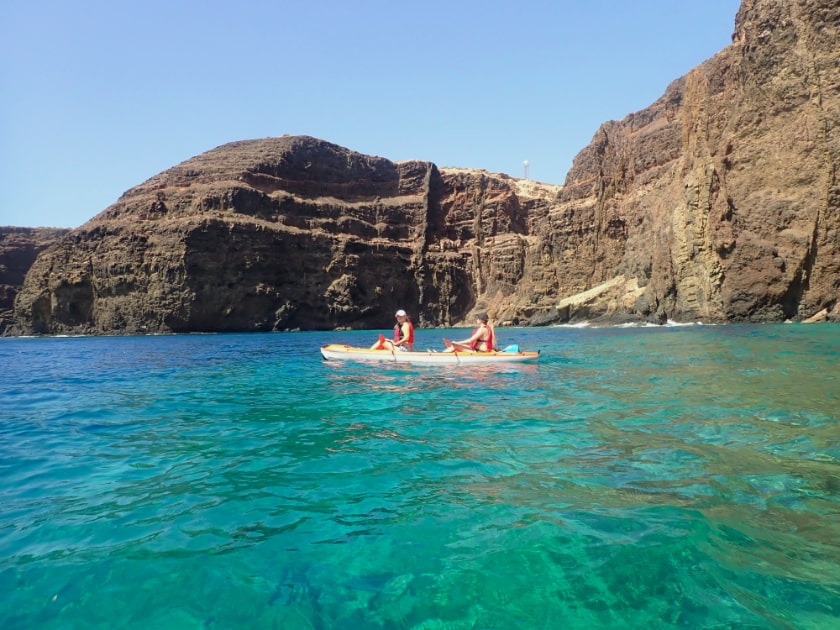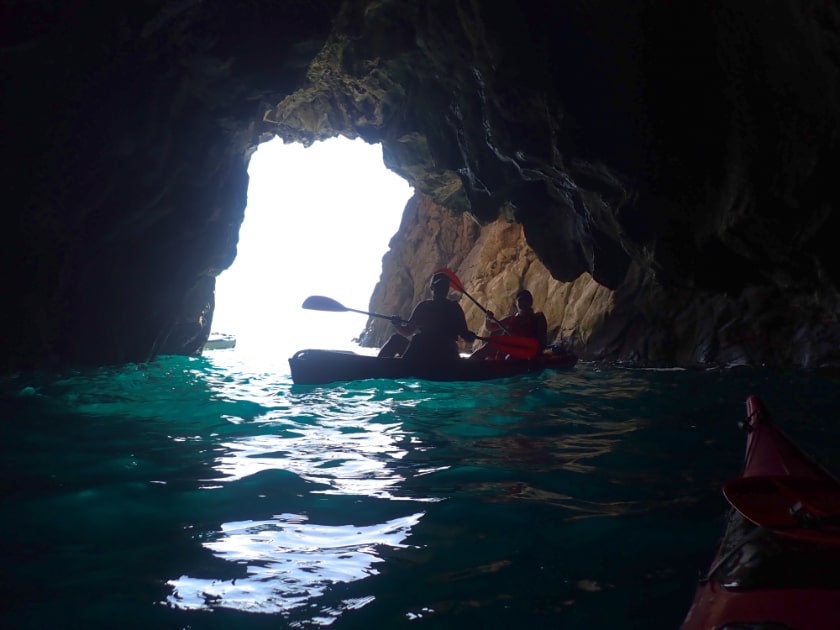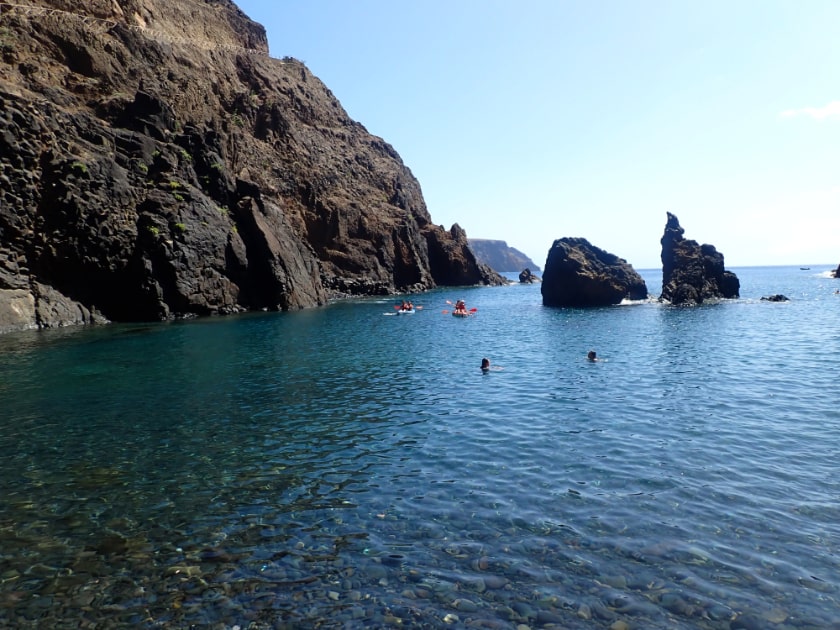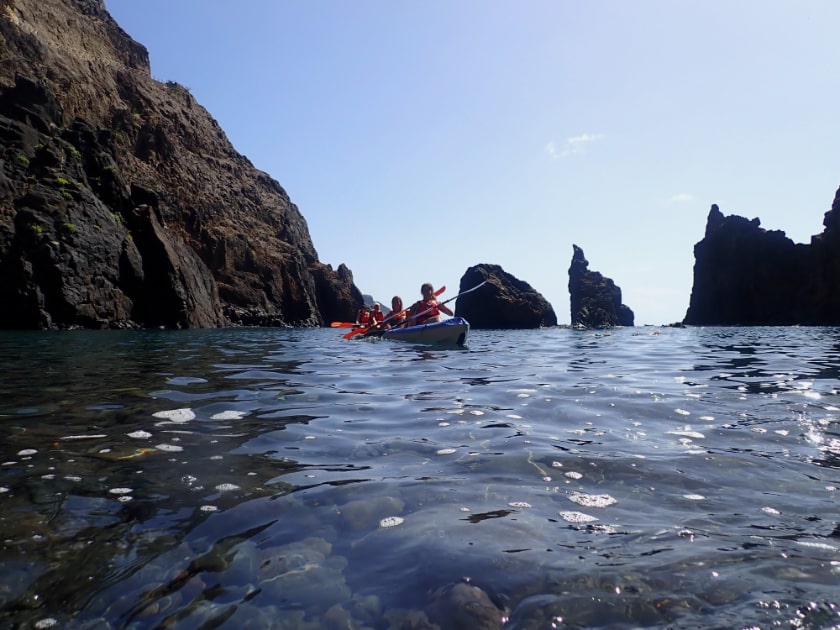 Here is an amazing done shoot by EagleView presenting kayaks leaving the secluded Zimbralinho Beach
Both tours start from the Calheta Beach (ER111, 9400 Ponta) and both last 1,5 hours.
What's also included in the price are: a kayak, paddles, life vest, bottled water, and insurance. Both tours are beautiful, and it is up to you which location would you like to see more. If you are traveling with kids, we would recommend the Zimbralinho tour, as it is slightly easier.
Porto Santo Kayak Tour – Videos
This is a nice inspirational drone by EagleView video letting you see the tour from above:
Any one more by @jackson.groves:
And last but not least our more down-to-water and practical video of how the typical tours look like and what you can expect from both:
It is a bit long, but it helps you see and compare two tours and decide for yourself which kayak tour is the one you would prefer.
If you have no action cam, no worries. Matias has one and if you only wish, he will take pictures, while you can just focus on enjoying the tour.
Porto Santo Kayak Tour – What's it like?
If you love kayaking, there is no way you can skip this tour on Porto Santo. If you have never tried, this is your chance. Matias will take good care of you and teach you how to kayak safely.
Personally, I enjoyed the Porto Santo Kayak tour more than visiting the Benagil Caves in Algarve. Overcrowded by rushing tourists caves, time limits and traffic jams on water? Nothing like this on Porto Santo. Here you are still able to enjoy the beauty of nature, crystal clear waters, and hidden caves and beaches in peace…
It is a great adventure for an entire family, safe for children. Next to snorkeling, it is one of the best things to do on Porto Santo, hands down.
Porto Santo Kayak Tour – Contact
You can find more info about Porto Santo Destination Tours on their social media pages:

Porto Santo Kayak Tours on TripAdvisor
Porto Santo Kayak Tours on Facebook
The easiest and most flexible way to book tours is, however, direct contact with Matias and Iza by phone/WhatsApp:
Telephone / WhatsApp: 00351 911798989
or via their own website: PORTO SANTO DESTINATION TOURS.
Planning to stay on the Island for a couple of days? See also these awesome stays:
We hope you will have an awesome time kayaking on Porto Santo!
RELATED ARTICLES:
FERRY MADEIRA TO PORTO SANTO – OUR TIPS
SNORKELING & SWIMMING ON FAJÃ DOS PADRES (MADEIRA)
Weddings or photo shoots on Madeira? Contact
Do not miss our new posts – follow us:
Looking for self-guided tours in Madeira? Easiest ways to reach the most popular (and unreachable…