Are you looking for ideas for an easy but unforgettable day trip from Funchal? 
The day trip I would like to suggest today is a perfect option for those both with and without a car. You can also easily adjust the degree of difficulty, by either walking back or taking a bus.
Everyone must have heard and seen pictures of the amazing Nun's Valley in Madeira. If you complement it with the magnificent Eira do Serrado Viewpoint and Poço dos Chefes, you will have an itinerary for a relaxed day trip. It you are looking for a longer and slightly more difficult trip, you can easily add one more place – Boca dos Namorados. 
I would first like to share with your the story of our trip, and then some pictures and practical tips for planning your own.
Our  Eira do Serrado – Nun's Valley – Poço dos Chefes  trip (December 2018)
Mid-December 2018. We just arrived in Madeira and we were looking for a rather easy walk; a warm-up before our planned hikes and levada walks. It was a spontaneous day trip. The goal of our walk was actually visiting the biggest Christmas Crib of Madeira but we ended doing much more than that.
We were actually staying at Eira do Serrado Hotel for two nights; we visited the hotel to check the amazing wedding ceremony venue, but we stayed longer to explore the area. Eira do Serrado Hotel & Spa is located just next door to the Nun's Valley Viewpoint (Miradouro do Curral das Freiras). Most tourists stop there just for a coffee and a famous chestnut cake on their way to the Nun's Valley. Not many tourists know, that it is actually also one of the wedding venues with the best view in Madeira. 
CHECK RATES AND AVAILABILITY: [Eira dos Serrado Hotel & Spa]
The evening we checked in to the hotel, the entire valley was covered with clouds. You could not see anything except (occasionally) small parts of one the peaks.
We went to the hotel restaurant for dinner, and somewhere halfway the dinner, I looked to my right and… Imagine my surprise when I realized that what I thought were Christmas lights hanging on the deck railing, turned out to be actually street lights of the village in the Valley of the Nuns,  seen from a distance. The sky cleared out at night, and for the first time, we were able to see the beautiful Valley of the Nuns with our own eyes.
On Wednesday, I woke up early and run to the window again. I made it just in time before the sunrise. 
It was so peaceful. The silence was interrupted only by the sound of dogs occasionally barking in the distance, which was strange because the Nun's Valley Village looked very distant. Observing the sun uncovering the valley piece by piece was an unforgettable experience… This was the view from our hotel room:
After a tour of the hotel and a quick coffee at the Eira do Serrado Cafe and buying some chestnut snacks for the way, we packed our backpacks and started our little walk – the descend from Eira do Serrado directly to the Nun's Valley. Strangely enough, this path, known among travellers, is not shown as a walking route on Google Maps. It exists, it is well maintained and it is a great walk. It is an easy, 2.7 km long route. 
See more on the [ OFFICIAL WEBSITE ]
This is where the path connects with Eira do Serrado (next to the blue sign):
The first part of the path was approx. 1 meter wide and comfortable. It was winter, so the wet leaves did make it a bit slippery and we had to walk carefully.  
On our right, we could see the old road, covered in fallen rocks. This road, which is now closed, was used to connect Funchal with Curral das Freiras (Nun's Valley) before the new tunnel was built. It looks magnificent, but thinking about having to drive this road gave me goosebumps.
Somewhere halfway between Eira do Serrado and Curral das Freiras a nice picnicking place is located. Again, it wasn't marked on the map. We stopped there for a while and while we were eating our chestnut pastries and looking below… I noticed something that looked familiar…
It was the famous Poço dos Chefes! I had never been there before, but it was one of the recommended hidden spots of Madeira, which I covered in my article [ Where to swim in Madeira – hidden gems ]  last summer. Poço dos Chefes is a wide stream deep enough in order to swim in it, the summer (a fluvial beach). I had only seen it on the pictures and videos before, but it was enough to get fascinated with the place. I completely forgot about this place, however, there I was.. looking at it from the distance.
"We have to get there" – I told my husband and we continued the walk. With every minute, the shadow of the mountain range was moving and uncovering more and more of the village. The moment we left Eira, the village was fully in shadow, but once we arrived, it was in full sun.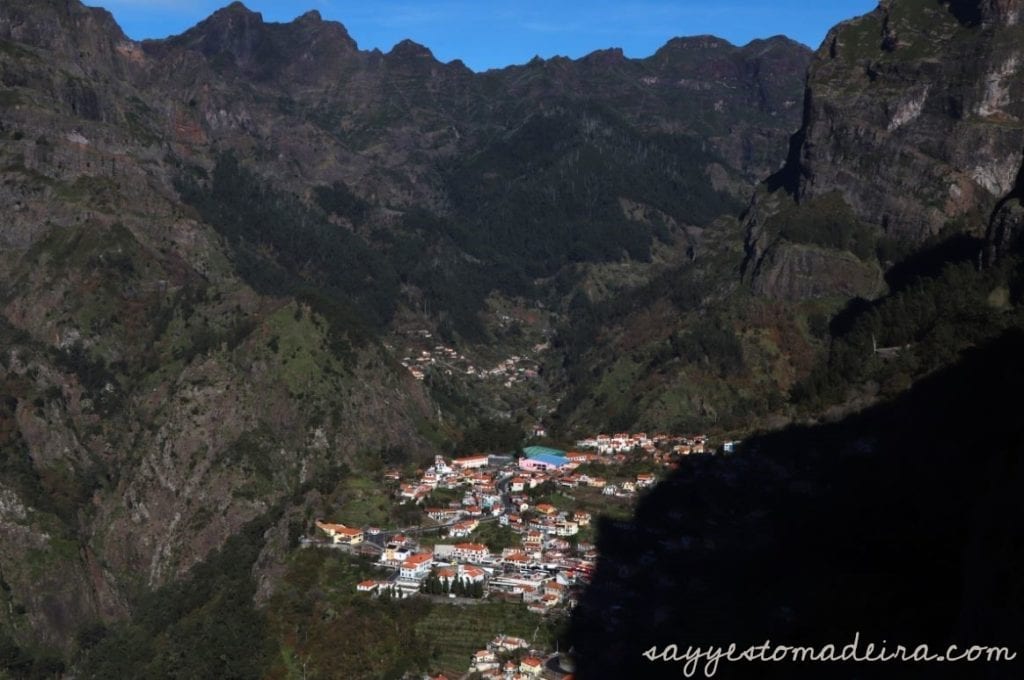 We reached the village very soon. The path connected with the main road, unfortunately without any sidewalks. I think it took us around 30 minutes to get to the centre of the village, but that is only because I was stopping every couple of minutes, to take pictures.. of the waterfall, of the Madeira lizard family of 50 sunbathing on the side of the road… and the magnificent view on the Eira do Serrado mountain from below. It was so funny to on the other side…
We stopped for a coffee at the first cafe we saw. Funny enough, the place seemed to be a cafe, store and a bus stop in one. With our coffees, we received two complimentary shots of a local chestnut liqueur… And soon after we left the store with two additional liqueur bottles in our backpacks… 
Don't let me start about the view… It was actually a funny feeling. Just two hours before we were observing the village from above, thinking about how beautiful the view was. And while we were down in the village we could see the magnificent location of the Eira do Serrado Hotel and the Viewpoint… I am still not sure which view is more beautiful, they are both stunning. 
Then, we walked further and stopped for lunch at the famous restaurant Sabores do Curral.
The weather app showed only 16 degrees, but we had the impression it was much warmer, at least 20 degrees in the sun. The sun was burning, but indeed, there was a big difference between the temperature in the sun and in the shade.
---
During lunch, I asked the waiter about Poço dos Chefes. It was not easy to find the path on Google Maps. To my delight, he told us, that we are just next to a tourist route to Poço and that it takes less than 20 minutes to get there.
Straight after lunch, we went to the centre of the village, to quickly check the famous Christmas Crib "Mega Presepio", and straight after that, started our walk towards Poço.
The first part of the route leads through the village. We saw locals watering their garden plans, doing repairs on their little houses, greeting us with a smile… Besides us, we only saw one other couple of tourists on this route.
After leaving the village, we walked for a while between trees and we even saw a piece of an old dried out levada. The sun was shining, nature was beautiful and it was a great walk. Too bad, it was actually so short.
We quickly arrived at Poço dos Chefes. It was winter, so the temperature was too low to swim. We were there completely alone. The sound of the stream very relaxing. We sat there for a while enjoying the moment and the magnificent view on the rock where we were, just that same morning.
It was getting late. I regretted not being able to leave the hotel earlier that morning. If we had left a bit earlier, we could have continued the trip to another spectacular viewpoint – Boca dos Namorados.
We looked at Google Maps and I noticed a bus scheduled to pass through the village in around 45 minutes. The bus's final destination was Funchal, but it was also passing by Eira do Serrado. Perfect!
We spent the last 30 minutes walking through the southern parts of the village. There were multiple paths in between local houses, and judging by the surprised faces of the locals, they were not used to see tourists often. Most tourists do pass by the Nun's Valley, but they arrive in the centre of the village, visit a bar or two, buy a bottle of chestnut liqueur and leave. Because we went further, visited the Poco and kept walking towards the dead end at Lombo Chão, we saw areas which tourists normally do not visit.
I found this area really fascinating. It was so much different than the Madeira you see in the coastal areas. I was just 30 minutes away from Funchal, but it felt I was on another island.
Ultimately, we decided to wait for the bus at a stop called "Terra Chã-Ponte". The bus arrived on time. The ticket price was close to nothing (1.30 euro) but the experience was priceless. I was looking through the bus windows fascinated with the area, while the bus driver cruised with high speed through the narrow streets of the village, from one dead end to the other, passed the centre, and left the valley. Soon we were back on top of the mountain – in front of our hotel in Eira do Serrado. What an amazing day it was… The walk was not too demanding, but very beautiful. I think it is a great day-trip idea for a more relaxed day and for an entire family.
Your day trip itinerary – Info and tips
If you walk through the villages of Curral das Freiras by yourself, you will be able to see a beautiful, hidden side of Madeira. The views from both the top of the mountain and from below in the valley are both stunning. This is why I recommend visiting and taking at least one hike in this area.
It is a perfect trip to do with a family and small kids since you can adjust the difficulty and duration of the trip. You can hike up to Eira do Serrado if you wish, but if you don't – you can get the bus back to Eira do Serrado or Funchal at multiple times of the day from multiple places across the valley. You can keep walking through the village, you can even take it a step further and walk up to Boca dos Namorados, or you can finish it at Poco dos Chefes. You can either take it easy and make it a day-trip, but if you only have half a day, it should also be doable.
It is a perfect trip for people without a car, relying on public transport. The trip is possible without a car and very affordable, as you will be walking most of the time.
You can also decide whether you come to spend a night at Eira do Serrado, or whether you get there by bus 81 from Funchal.
So to sum up, here is the suggested itinerary: 
***
1. Start at Eira do Serrado Cafe – get a nice chestnut pastry and buy drinks for the tour
2. Walk <5 minutes to the Miradouro do Curral das Freiras Viewpoint – See Nun's Valley (Curral das Freiras) from above
3. Come back to Eira do Serrado Hotel and take the path towards the village ( There is a small viewpoint with a pick-nick table halfway)
4. Eat lunch at one of the Curral das Freiras restaurants. Discover the centre of the village, visit the Church of Nossa Senhora do Livramento, take a picture in a nun's  tintamarresque. If it is Christmas season, visit the biggest Christmas Nativity Scene in Madeira – Mega Presepio
5. Continue to Poço dos Chefes. 
6. Walk around the village towards south (Lombo Chão)
7. Continue to Boca dos Namorados or get the return bus 81 from one of the stops in the village. 
***
Estalagem Eira do Serrado ( Eira do Serrado Hotel and Spa / Cafe / Shop / Restaurant )
A small hotel, recommended to all mountain lovers. The hotel offers stunning views on the valley from all hotel rooms, the restaurant, gym and the spa. There is also a restaurant serving traditional dishes.
The hotel can be also rented out for events, such as weddings; the vows can be exchanged on a the spectacular deck.
In the building of Eira do Serrado Hotel you will also find a souvenir store, small cafe, a restaurant, that's why it is a popular stop during all island tours.
Curral das Freiras Viewpoint (Miradouro do Curral das Freiras)
Located at a height of 1,095 m, it is one of the many Madeira viewpoint offering a stunning panoramic view of the Curral das Freiras Valley and the mountains surrounding it. 
You access this viewpoint via a footpath that starts next to Estalagem Eira do Serrado.
Nun's Valley / Curral das Freiras
The Curral das Freiras, or Nun's Valley / Valley of the Nuns, owes its name to the nuns from the Convent of Santa Clara in Funchal, who chose this secluded and hard to reach valley as a hiding place during a pirate raid in the 16th century.  
It is a beautifully located civil parish in the municipality of Câmara de Lobos, located approximately 20km from Funchal. 
Nun's Valley offers visitors magnificent views and great gastronomy.
Poço dos Chefes is one of the valley's fluvial beaches (swimming holes) – deep streams where locals meet in the summer to swim. Swimming and sunbathing in this setting is quite an experience. 
See post:   [Where to swim in Madeira – Poço dos Chefes] to see a great video of Poço during the summer.
Nuns, liqueurs and chestnuts, chestnuts, chestnuts…
Gastronomy of Curral das Freiras
The local cuisine is famous for dishes made with chestnuts, both savoury as sweet (for example Queijadas de Castanha).
The area is also known for its local liqueurs; the famous Ginja made of cherries or chestnut, eucalyptus and walnut liquors. You will have plenty of spots to buy some chestnut treats and different liqueurs.
We ate lunch at Sabores do Curral and you do have a lot of chestnut options to try there: 
also if you are a vegetarian! 
Recommendation: Chestnut soup (sopa de castanhas)
I am a big roasted chestnuts lover and I had eaten different variations of chestnut creams soups in different restaurants in Funchal before. It was usually very tasty and light.  
During our first dinner at Eira do Serrado restaurant, expecting a similar, light soup, except my chestnut soup (Sopa de castanhas à moda da Madeira) I ordered a second dish. I quickly regretted it. The surprisingly generous portion of a very filling soup costing less than 5 euro was more than enough. 
The soup was delicious, I do recommend trying it at least once. 
For all chestnut lovers – Be sure to visit the area on the 1st of November, when the annual Chestnut Feast is taking place. 
Getting to Eira de Serrado, Curral das Freiras & Poço dos Chefes from Funchal
First of all, see also [Madeira on a budget – public transport in Madeira] 
You can get to Curral das Freiras with the Horarios de Funchal (Interurban service) bus number 81. The ticket price is approx 3-4 euro. The bus will take you from different locations in Funchal all the way to both Eira do Serrado and different places in the villages of Curral das Freiras
For more information on bus line #81, see [ THIS LINK ] Page 39.
The road from Funchal to the Nun's Valley
Driving between Eira do Serrado/Curral das Freiras & Funchal is quite an adventure! Same applies to all valley village roads. Just look at the video I took:
The bus drivers are used to driving these roads, which means they do not drive as slow as tourists would. I found this bus journey an unforgettable experience… 
Apologies for the quality. It is not because of my shaky hands – the bus ride was also "a bit" bumpy. Not all public buses in Madeira are brand new.
To sum up. I really want to encourage everyone to take at least one walk in the parish of Curral das Freiras, whether it is the path Eira do Serrado to Curral das Freiras, Curral das Freiras to Boca dos Namorados, or both.
Have you done any of the walks? Which place in Curral das Freiras is your favourite?
Don't miss our new posts – Follow us!
FIND ACCOMMODATION IN THE AREA: