Most destination weddings take place on a sandy beach or in a sea-view venue. What if you love mountains and are looking for a magnificent mountain wedding venue?
Today we have something for all mountain lovers – an amazing wedding hotel in Madeira Island, Portugal. Can you imagine yourselves exchanging vows in such a place?
Best mountain wedding venue in Madeira…?   
The view from this terrace is simply breathtaking. This is the only wedding hotel with such a view of the Valley of the Nuns (Curral das Freiras). The roof terrace of the Eira do Serrado Hotel will be one of the best options for an outdoor wedding for all those who love mountains.
For hotels with such a view, it is also relatively easily accessible – it is located about 30 minutes by car from Funchal. There is only one road to the venue and it is quite winding and narrow, which adds charm to this place. Driving this road will definitely be unforgettable. 
As the place is rather easily accessible, there will be no issue with getting the civil registry official to conduct a wedding ceremony. 
Weddings at the Eira do Serrado Hotel – a million-dollar view
Undeniably, what attracts the most attention is the hotel terrace where wedding ceremonies take place. It can accommodate up to 110 people, but it is also suitable for small and intimate ceremonies.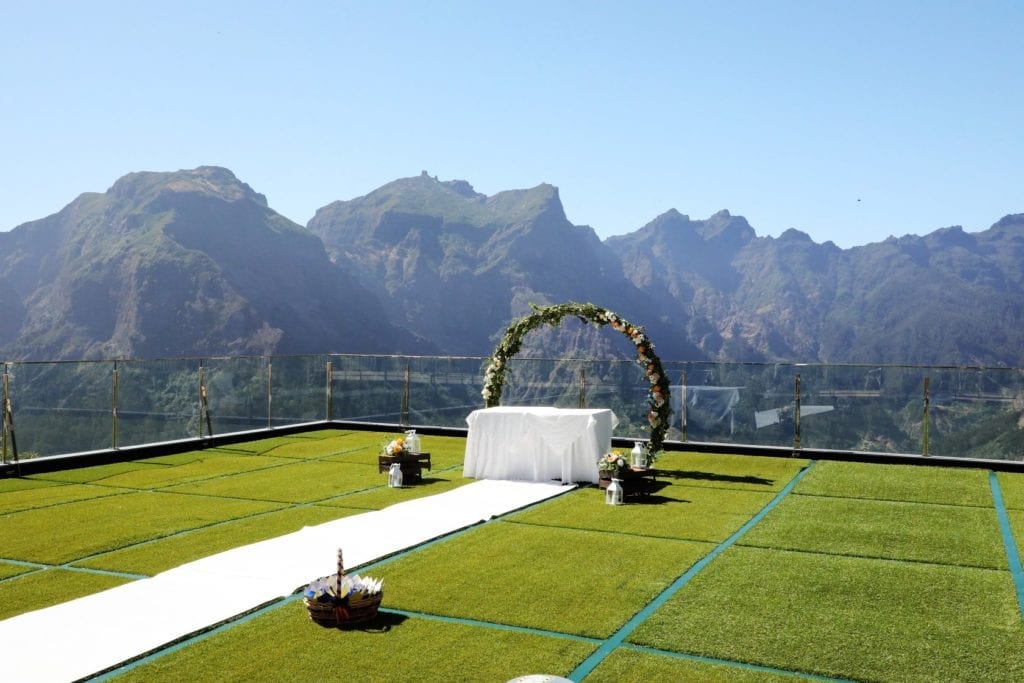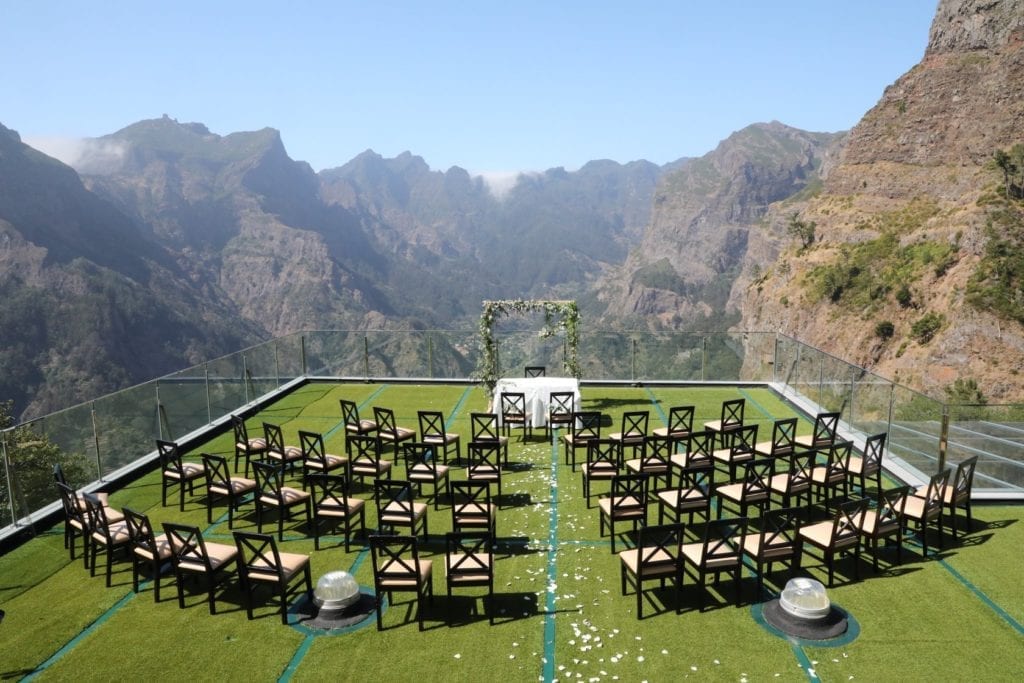 Weddings at the Eira do Serrado Hotel – restaurants
There are two restaurants where you can organize your wedding reception/dinner. The private restaurant at level -4 can accommodate up to 220 guests (or about 150 guests in case of round tables). The room on level 0 has a comparable size. In addition to these two large rooms, the hotel has several smaller areas.
The buffet menu is possible from a minimum of 25 guests. Buffet prices start from 35 euro per person (including drinks during the dinner). In the case of smaller weddings, the hotel will prepare a quotation matching the couple's preferences and budget. 
Bottom floor restaurant – gallery
Top floor restaurant – gallery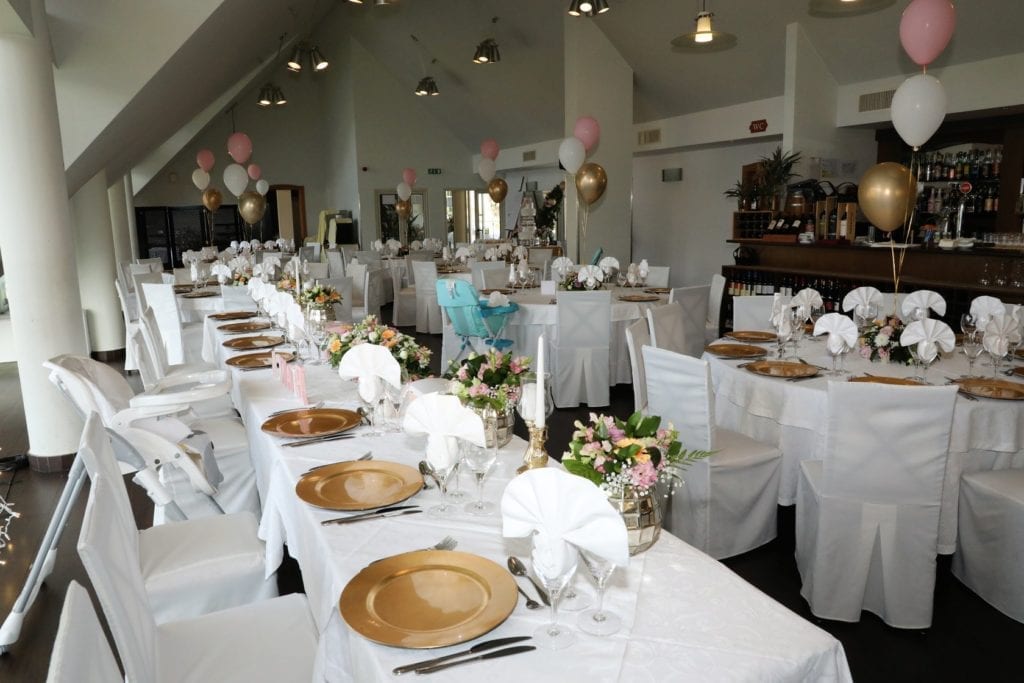 Eira do Serrado – Real 2019 wedding pictures Pictures: Courtesy of The Memory Shop – thememoryshop.pt
The main colour of both rooms is white, so they are easy to decorate according to the preferences of the couple. Both rooms have windows facing the mountains and the beautiful Valley of the Nuns.
Hotel Eira do Serrado is a very affordable and popular wedding hotel in Madeira. It regularly hosts weddings, anniversaries, baptisms and other events. 
It is also becoming more and more in demand among destination wedding guests wishing to exchange vows on the stunning deck. Small and intimate ceremonies without a wedding reception are also welcome at Eira do Serrado Hotel and Spa. 
Local cuisine
The Nun's Valley is known for its dishes made of … chestnuts. If we feel like it, these dishes can always become part of your wedding menu:
Weddings at the Eira do Serrado Hotel – weather
Good weather can never be guaranteed, especially in Madeira. The background of your wedding ceremony can be a clear, sunny sky and beautiful mountains, but it can also become… a wedding in the clouds.
In the event of very bad weather, the ceremony can take place inside the hotel. Optionally, in some cases, with the help of a local wedding consultant, your wedding ceremony can be postponed until the weather slightly improves.
Staying at the Eira do Serrado Hotel & SPA 
Eira do Serrado Hotel & SPA is a small hotel with 26 rooms. You will be able to enjoy stunning views of the mountains and the Nuns Valley from all hotel rooms, restaurants, gym and spa. It is a great option for people who love mountains and try to avoid crowded, modern hotels in hotel districts.
I already described our stay in Eira do Serrado and a visit to the Nuns Valley in a post:
It is not a hotel for people looking for impressive modern interiors and five-star resorts; some parts of the hotel are modern (spa, gym), but some slightly outdated.
It is a hotel for mountain lovers, preferring an unpretentious and relaxed atmosphere, all fans of small mountain hotels. The atmosphere of the hotel can be described as a combination of a perfectly located mountain refuge, with the comfort of a spa, which is a perfect end to a day of hiking.
For more info and pictures, please visit: Eira do Serrado Hotel & SPA
Pictures: Eira do Serrado Hotel & SPA, Say Yes To Madeira & The Memory Shop – Madeira Island Destination Wedding Photographer
Are you interested in getting married in Eira do Serrado Hotel or any other venue in Madeira? Are you looking for a reliable, English-speaking wedding planner who can help you will all aspects of your wedding preparation? Let me know!
Are you interested in Madeira or Porto Santo as a place for your next vacation, destination wedding or a scenic photoshoot? Don't miss new posts – subscribe!
Do you love this venue as much as we do? Share it with the world! Here are some Pinterest pins: