Too early for Christmas posts? The Portuguese Madeira Island is a very popular destination for Christmas and New Year's Eve. Therefore, if you are considering holidays in Madeira during this period, I recommend booking tickets as far in advance as possible.
Is it worth to visit Madeira during the Christmas period?
Yes, it definitely is. Christmas in Madeira can be an interesting experience, and the New Year's Eve fireworks show, which gave Madeira the Guinness World Records title of the "Greatest Fireworks Show in the World" is really spectacular. Also, if you travel to Madeira via Lisbon, you may also want to take a day or two to explore the beautiful Lisbon in winter.
This is what you can expect when visiting Madeira Island in December:
Weather in Madeira in December
What's the weather like on Madeira in December? – is usually the first question tourists ask.
Well, impossible to predict, but the weather in Madeira around Christmas and New Year's Eve is rather pleasant, usually on average around 20 degrees Celsius. This makes Madeira a perfect destination for a short winter escape. It is usually not hot enough to swim in the ocean and the famous lava pools, but hotel pools should be an option. In Funchal, you might need a jumper or a light jacket at night, but around noon, you should be able to wear shorts and T-shirts.
It is important to remember, especially when choosing a hotel, that Madeira is a mountainous island with many microclimates, and the temperatures and weather in various places on the island can vary significantly. The area with the best weather is the lower parts in the south of the island, which is why most of the hotels are located there.
SEE POST: CLIMATE AND WEATHER IN MADEIRA
Levada walks and hiking in Madeira around Christmas and New Year
Can you hike in Madeira in during the winter months? Yes, of course! If the conditions allow it is usually possible to hike. It was the second day of Christmas when we walked a levada for the first time in our lives. It was also two days before New Year's Eve that we hiked from Pico do Arieiro to Pico Ruivo. The guide told us that the previous day visibility was very poor, but we were lucky. During our trip, the weather was great, we quickly took off one of three layers of clothes. We passed the route partly in light jackets over short sleeves and partly just wearing T-shirts.
Flowers in Madeira in December
Fans of flowers won't be impressed. This is not the best time of the year when it comes to flowers. Personally, I do not recommend visiting paid parks during this period. A visit to the Monte Palace Tropical Garden between Christmas and New Year disappointed me, but I expected that. We do not regret the trip: we really enjoyed the cable car ride offering great views of the entire bay of Funchal, as well as seeing the famous starting point of the Toboggan, but the park itself looked rather sad. Around Christmas and NYE in Madeira, we will still see flowers, but it is not the same.
SEE ALSO: MAY FLOWER FESTIVAL
Opening hours and public transport in Funchal during the Christmas and New Year period
Christmas Eve, just as in many other countries is not a public holiday, but institutions and stores close earlier. It is advised to do your grocery shopping early that day.
On the first day of Christmas most store and restaurants are closed, but not all of them and tourists certainly won't starve. Last time, on the second day of Christmas, we went for a very long walk from the eastern part of Funchal to its western regions. Most of the restaurants in Funchal were already open, as were some tourist shops and the little kiosks where they sell tours and excursion tickets. Closing hours of any particular hotel restaurant should be consulted with the hotel in advance.
Public buses in Funchal ("Horários do Funchal") do not run on December 25th, but they do on December 26th. December 25th is, therefore, a great opportunity for long walks through the beautifully decorated city.
On 24th and 31st of December, the city buses in Funchal run according to the Saturday schedule. December 26th, according to the Sunday and holiday schedule.
These bus schedules can be found here:
PDF VERSION    MOBILE VERSION   APP
SEE ALSO: PUBLIC TRANSPORT IN MADEIRA EXPLAINED
Christmas decorations in Madeira
After returning home from our Madeira Christmas and New Year's Eve 2018/2019 trip, I will definitely write a new article with brand-new photos. [Update 2019: SEE THE NEW POST ].
Funchal is beautifully decorated during the Christmas period. Streets, bridges, trees, churches, houses, palms are full of lights, from the beginning of December. Thanks to its location on the hills, the bay of Funchal looks beautiful and colourful. The Funchal Marina also looks very cosy, with its huge Christmas tree made of lamps and large shining stars you can sit on. It also smells like lovely roasted chestnuts… 
Most of the decorations can be found around the port (Funchal Marina), in the Jardim Municipal park, and on Avenida Arriaga street.
It is the Jardim Municipal, where usually the:
Aldeia de Natal – Christmas Village
is being constructed. Great place for kids of all ages.
On Avenida Arriaga street on the other hand, we will most probably find again the: 
Mercadinho de Natal – Christmas Market in Funchal
with open until late hours wooden cottages selling and serving guests food and drinks, for example, multiple types of Poncha or a cherry liqueur called Ginjinha / Ginja served in a chocolate cup. 
SEE ALSO: MADEIRA'S LOCAL DRINKS
That's where you will usually find also folclore performances, live music concerts as well as some Lady Elves and Lady Snowflakes you can take a picture with.  
Shops and shopping malls also do not stay behind. Here, a beautifully decorated shopping mall Forum Madeira on Estrada Monumental:
Presépios –  Christmas Cribs / Christmas Nativity scenes
Christmas cribs are also popular in Madeira. For me personally, they perfectly represent what Madeira is – a wonderful combination of the familiar Catholic traditions, mixed with exotic landscapes and local elements. 
Seeing the cribs, I always feel like during the holidays at my childhood home, but the incorporated local elements, add a touch of exoticism. Figures in these cribs are dressed in local Madeiran costumes, and cribs built on multiple levels, looking like a "mini-Madeira".  As opposed to Northern Europe, the cribs are usually very green and full of flowers. 
One of the biggest Nativity Scenes we saw was located on Avenida Arriaga, opposite to the Bank of Portugal Building. In that area we will probably find also this year a:
Sopa de Trigo stand – a traditional Wheat Soup stand 
The Portuguese Sopa de Trigo is made of wheat, red beans, pumpkin, potatoes and sweet potatoes, boiled with pork ribs and lean meat. I hope that like last time, and entire "historic" soup stand will be dedicated to it. On that stand, just for a couple of euros, we were able to order a portion of soup and a delicious, warm garlic bread "Bolo de Caco" from local cooks dressed in traditional clothes. This was not only a place to eat soup, it was sort of a "mini open-air museum" showing the life of the inhabitants of Madeira villages in the past.
This place starts serving Sopa de Trigo with freshly baked garlic bread Bolo de Caco from 26th of December. It is popular among tourists, but also local residents. At some points, lines to that stand were extremely long and frequently we had to share a table with other tourists.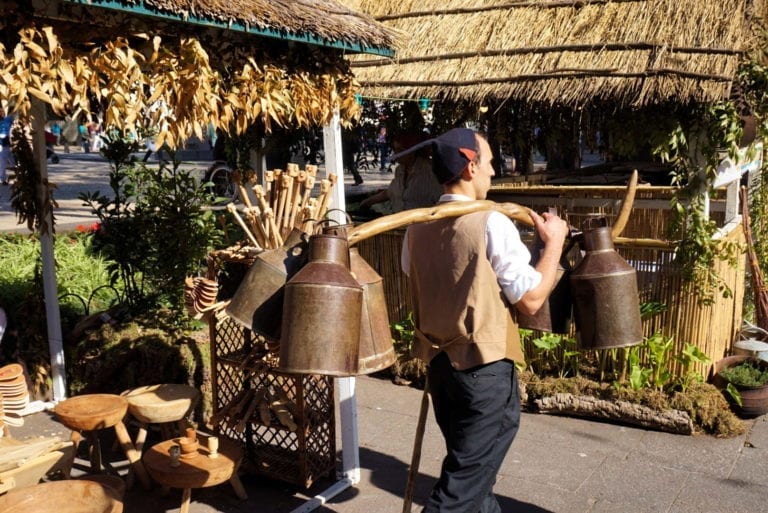 Noite do Mercado – Market Night in Funchal
Market Night is one of the biggest events during which we will really feel the magic of Christmas. It takes place on December 23rd around the Farmers' Market (Mercado dos Lavradores) area, in the Old Town of Funchal.
That night, as the name says, on the streets of Funchal there is a pre-Christmas market, where we can buy the last products for the holidays, but also listen to Christmas carols and meet our friends. The city center is closed to car traffic, concerts and attractions are organized.
Later in the night, the Market Night turns into a party, especially for young people. Many young people live outside of Madeira- working or studying in mainland Portugal or abroad. Therefore, just like in my home country, it is a special and magical time, often the only period of the year, when all friends can finally see each other and spend time together.
Christmas traditions in Madeira & Portugal
A lot of people in Madeira work in tourism, which also means, they will most probably need to work during Christmas. However, Christmas is an important holiday, and whenever its possible, families get together, decorate their houses, prepare family dinners together. The most important dinner takes place on Christmas Eve, December 24th ("Véspera de Natal"). This is also when gifts are exchanged. After that, Christian families go to church to attend a:
Missa do Galo – Midnight Mass
A Midnight Mass in Portugal is called "Missa do Galo" ("Rooster's Mass"). Its name is associated with a legend that says that the only night when the rooster crowed at midnight was the night when Jesus was born.
An interesting aspect of Christmas in Madeira, which I never experienced in other countries are also:
Missas do Parto
which are nine Holy Masses preceding Christmas Eve (so from 16/12 to 24/12) symbolizing the nine months of Mary's pregnancy.
During Christmas period in Madeira, you can often find folk bands in traditional costumes marching through the city and giving performances.
Christmas dishes in Madeira
In this respect, I felt the biggest difference between holidays in Poland, where I am from, and holidays in Madeira. In Poland, we have a Christmas Eve tradition of cooking twelve dishes. Dishes which are not only delicious (oh my beloved pierogi…), but also unusual and are not usually cooked outside the holiday season. On Christmas Eve and during Christmas in Madeira, meat, fish and seafood dishes are usually served. Although delicious, these dishes are not as unusual, you can often eat them throughout the year, which does not give a sense of "uniqueness" of these dishes as much as I am used to in my home country.
Examples of Christmas dishes in Madeira are:
Carne vinha D'alhos "- "Meat in wine and garlic": pork in a sauce of white wine, garlic with vinegar, bay leaf and spices; marinated for at least 2 days. This dish can be found in many bars and street stands in Madeira.
Perù assado com batatas assadas – "Roasted turkey with roasted potatoes"
On New Year's Eve a Canja de galinha – Portuguese chicken soup – is usually served
When it comes to desserts, our hosts usually serve:
Bolo Rei (King's Cake) – Sweet and colourful cake resembling a wreath or crown, filled and sprinkled with caramelized and dried fruits, raisins and nuts.
Bolo de Mel (Honey cake)
Broas de Mel (Cane honey cookies)
Arroz Dolce (Sweet rice) – rice pudding
The Christmas period is also a great opportunity to drink liqueurs and home-made Poncha.
City Run Volta à Cidade do Funchal /  São Silvestre Race Funchal
We can burn all the Christmas calories straigth away – on 28th of December –  during the famous city run  "Volta à Cidade do Funchal". Registration for the race is already open and possible until December 27th. 
This race, organized by the Athletics Association of the Autonomous Region of Madeira, also has a long history – it is one of the oldest runs in Europe. The first edition of this run was organized in 1958.
The event starts with the participation of wheelchairs, children, a charity walk and ends with a 6-kilometre run through the beautifully decorated streets of Funchal.
For more information and to enlist, please check the  [OFFICIAL WEBSITE] .
New Year's Eve in Madeira Island
It is definitely worth choosing a slightly more expensive return ticket and staying in Madeira until after the New Year's Eve.
Did you know, that the Guinness World Records title of the "Greatest Fireworks Show in the World" belonged for several years to Funchal..? It is amazing that such a small city on such a small island held this title since the winning show of 2006/200 until year 2012.
Although Funchal has already been dethroned, and despite the fact that the fireworks display is no longer officially the "Greatest Fireworks Show in the World" Madeira still remains famous for its spectacular New Year's shows. Mainly thanks to Funchal's location  in a bay and being surrounded by hills, the shows are truly beautiful. Fireworks explode at the same time in various places spread over the hills of the island- fired literally from every corner around the whole Funchal Bay, also from the deck of ships. 
Fireworks are fired all around you; from the hills and from boats and platforms offshore. Multiple cruise ships arrive to Funchal for that night exactly, and many tourists had the pleasure of watching the show from their cruise ships lined up around the Port of Funchal.
The echo of fireworks, especially the "final stomp", as I call it, [7:50 on the video below] really left me speechless and very impressed. It was by far the loudest and the most spectacular fireworks show I've ever seen, and I've seen quite a few of them, including some 4th of July shows.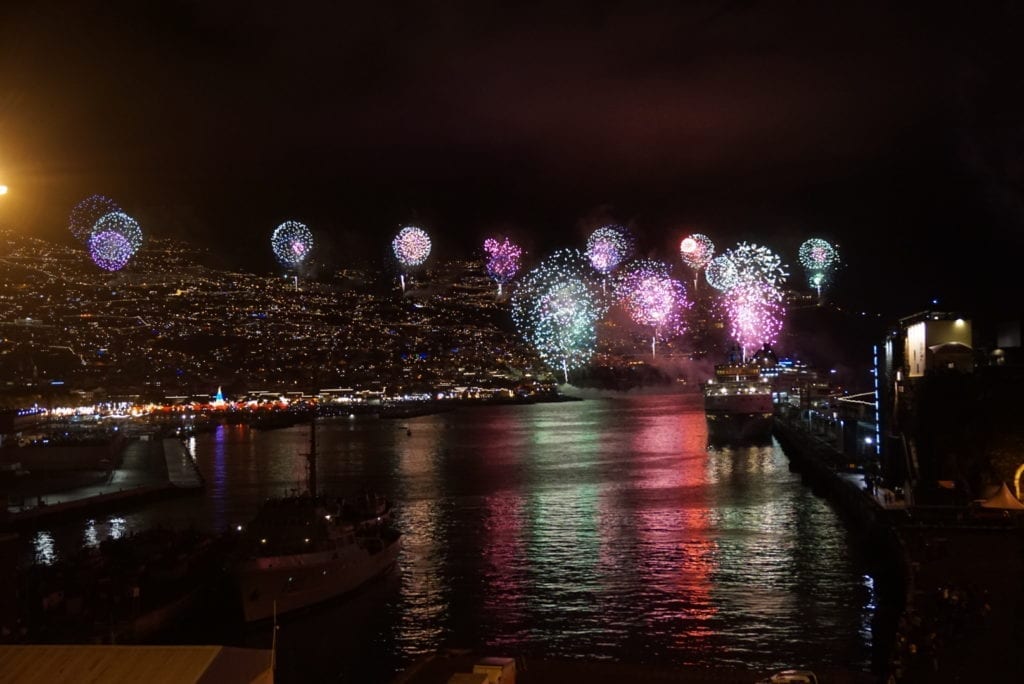 Hotels & ticket prices around Christmas and NYE
We always book our Christmas tickets to Madeira as early as in the summer. This way, we can still find reasonably priced options. It does not change the fact that the prices are higher than in the high summer season, and several times higher than in the low season.
The same applies to hotels and Airbnb rentals. Do not be too late & BOOK NOW.
Feliz Natal! 
Which a simple phrase we should learn to wish our local hosts in Madeira Merry Christmas. Another way to say it is "Boas Festas!" To wish them a"Happy New Year" we should say: "Feliz Ano Novo! / Próspero Ano Novo!".  
If you are reading this post in December – Feliz Natal 2018 e próspero Ano Novo, my dear readers! 
AS WELL AS OUR FREE TRAVEL GUIDE:
I hope that this post was useful and encouraged you to visit Madeira during the Christmas season. My husband and I are already counting down the days until our Christmas trip… 
And you? Have you already visited Madeira during Christmas or New Year's Eve? Tell us about it!
Would you like to organize a wedding on Madeira Island or Porto Santo?
Do not miss our latest posts, follow us: