I have recently posted a short inspirational post – gallery Beautiful boho style wedding in Madeira in which I promised to get back to you with more backstage information about this unusual and beautiful wedding. I am very grateful that the bride, Marika from Finland, agreed to share her story and tell us more about her fantastic rustic/boho/hippie style wedding. She also gave some important tips to those dreaming about organizing a similar wedding. Enjoy the interview!
SYTM: Thank you for willing to tell us more about your wedding. I was impressed by the pictures. I can see it was an authentic, beautiful in its simplicity event, full of love and real emotions…  Could you tell us a bit more? What kind of ceremony was it? Would I be correct to call it a boho-style wedding? 
MÁRIKA: Yes, I suppose you could call it a boho style wedding, or even a hippie-style wedding. We did not want it to be formal, we did not want to have regular tables, where guests were assigned a fixed seat. We had some pillows on the grass as well as some chairs and our guest could decide where they would prefer to sit. They were also free to switch seats during the evening – we wanted our guests to feel comfortable and at ease.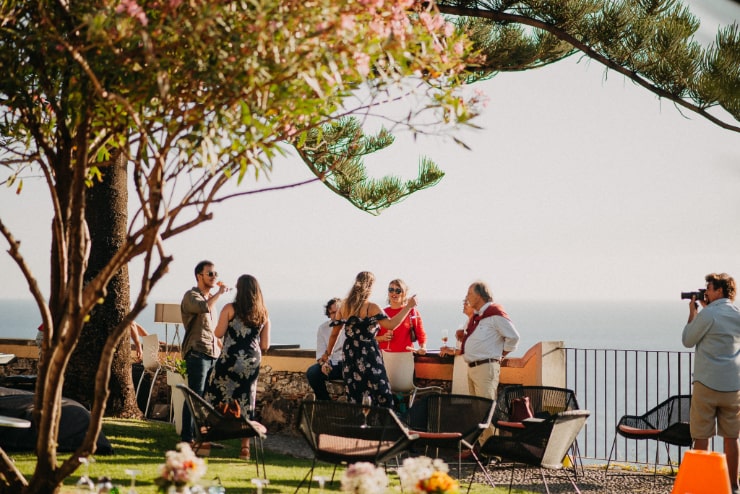 It was a truly nice wedding, very heartwarming, full of laughter, music and singing, and as you say- authentic.
It was our own kind of ceremony, which followed our formal wedding in the Portuguese civil registry. We had no other exchange of vows ceremony at the venue. 
SYTM: How many guests did you have? Was it an international group?
MÁRIKA: It was a small group, approximately 50 guests. The size of the wedding was just right, we were not aiming for a big gala- we just wanted to celebrate our day with the people closest to our hearts.
The wedding was not very international, but we did have some guests from Finland, where I am originally from. I have three sisters, who were not able to come to Madeira. They did something that truly brought tears of joy to my eyes – they created a video with messages from them and all my friends who couldn't make it.  It was a very beautiful and emotional moment of the wedding.
SYTM: How long were you planning your wedding?
MÁRIKA: We were planning our wedding for around 1 year. Or rather: it took around a year from the moment my husband proposed, till we exchanged vows, but we were not extremely busy with planning throughout the entire year. I would say we were really busy with it only in the last 6 months prior to the wedding. We had some specific ideas, we did not rush, and we took it slow… trying to put everything together. We put a lot of attention to details such as personalizing our wedding invitations… 
SYTM: Why did you choose this venue? Were you considering other places or ways to get married?
MÁRIKA: We were looking for a rather intimate place, so big hotels located in the touristic areas of Funchal, were not an option for us. We were looking for something rather informal, intimate, so that all our guests would feel happy, comfortable and at ease, where they would feel at home. We also considered the Porto Santo beach wedding option, but we decided not to trouble our guests with additional travel time to another island. We knew that Madeira Island had enough spectacular wedding venues and the place we chose had all what we were looking for. 
The view from this venue is spectacular, especially during the sunset. It is an extremely romantic location.
The location we chose was simply the best among all the wedding venues in Madeira which we visited, perfect for our type of wedding. Thanks to its garden, it is very suitable for such small, informal, hippie/boho style weddings like ours. Although I believe it would be suitable for more formal and traditional weddings as well, it would just require different sort of decorations. I believe it could host twice as many guests as we had.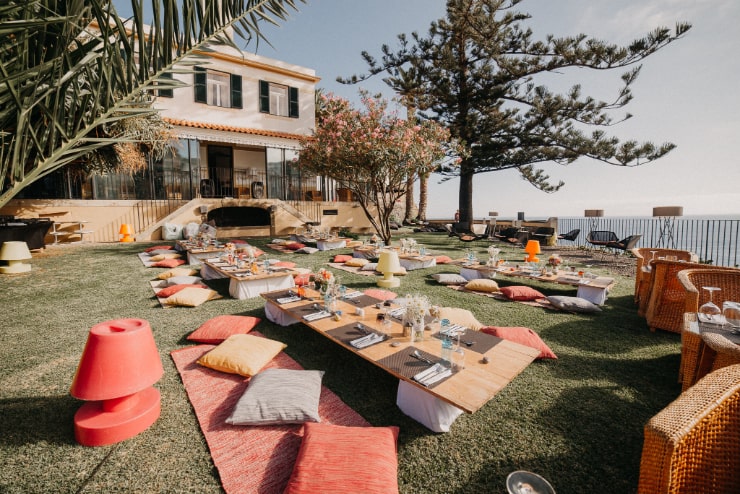 SYTM: Who prepared the decorations? The low tables, the pillows? Did the hotel provide all that, or is there any company offering rustic and boho wedding decorations in Madeira? I am asking on behalf of the couples who come to Madeira from other countries and can not take care of the decorations themselves.
MÁRIKA: My good friend took care of the flowers & centrepieces. It was important for me that, the centrepieces were made exclusively of wildflowers, very natural looking, and she helped me with that.
The lighting, the pillows and low wooden tables were provided by the hotel. We met with them a couple of times to discuss how we wanted everything to be set up, and they really worked with us on that. I got most of my ideas from my Pinterest boards. They helped me turn these into reality, and… for no additional costs. The set up was included in the price of the dinner, which is so convenient. 
So, if someone comes from abroad, I believe the hotel can take care of all that for them, I would not worry about that. 
SYTM: Exactly, talking about costs, which is an important starting point for many couples planning a destination wedding abroad. Probably some couples are wondering, what is the cost of a similar boho/hippie style wedding in Madeira, or even a wedding at the same location. 
MÁRIKA: If I remember correctly, our fully vegetarian wedding dinner provided by the hotel cost us around 35 euro per person, excluding drinks.
SYTM: You just answered my next question– I was going to ask if the food was provided by the same hotel.
MÁRIKA: The catering was a part of the hotel's service. We put a lot of attention to the food during our wedding, as we wanted all the dishes to be vegetarian. We met with the hotel chef a couple of times before the wedding, to make sure that it was just as we wanted. The hotel did an amazing job, the food turned out to be delicious.
SYTM: What is the story of those beautiful colourful stones I see on your pictures?
MÁRIKA: The stones are actually not only a table decoration, but they are also our handmade wedding favours. At the end of the night, each guest was free to take home one stone, which he/she liked the most.
Around 2 months before the wedding, we gathered together with our closest family, and we had a great time painting these stones with messages about love. I turned out to be a great family activity, and we had a lot of fun painting them. Our house was full of stones and paint, but it doesn't matter, I really enjoyed that part!
SYTM: It was an outdoor wedding – weren't you afraid of rain and bad weather? What was your safety option? Are there any places indoors where the event could be moved to in case of bad weather? 
MÁRIKA: Yes, there was an indoor safety option for us in case of rain. However, we chose July and in July in Madeira, the weather is usually very nice. The risk of rain was very low, so we were pretty confident about the weather. At some point during our wedding, it got a bit windy (all in all we were at the edge of a cliff), but we were also prepared for that. We offered our guests cosy blankets for the late evening hours. The windy weather, however, passed very fast and the weather was pleasant again.
SYTM: What would you advise; do you have any tips for foreign couples, who dream about organizing a boho/rustic/hippie style wedding in Madeira, or even a wedding at the same venue?
MÁRIKA: My best advice – be true to yourself. You know best what will make you happy and what kind of celebration will suit you best. It is YOUR special day… Do not feel pressed that you HAVE TO incorporate some customs or ceremony elements, which you do not like. Do not listen to negative remarks. If you don't feel happy and at ease during your wedding, your guests won't either. 
SYTM: Is there anything you wish you had known, something you would have done differently?
MÁRIKA: I can not think of anything… I would not change anything I think. We were true to ourselves while organizing the event, and we organized it the way we wanted, so as a result, it worked out perfectly.
We loved it and enjoyed every second of it. We avoided all the typical wedding elements/customs, which we did not like. We always focused on true emotions, love, laughter, being with our loved ones… Everything was very natural, with lots of surprises by our guest, with lots of love and laughter.
From the feedback we received, sometimes even with tears of joy in their eyes, I know that our guests enjoyed our wedding as well. We received a lot of hugs and compliments about our wedding being one of the best they had ever attended.
Our guests also enjoyed the wedding- we heard it, we could see it, and we could feel it. 
That makes us also extremely happy.
Are you looking for a perfect place and venue for your dream destination wedding? Are you interested in getting married in Madeira, Portugal? 
If you would like to get an offer, please send your [wedding inquiry] or contact us: