Where on Madeira Islands, Portugal can you get married? Wherever your heart tells you and your wallet allows you! Madeira offers unlimited options for the wedding ceremony and a great wedding party, for all budgets.
See our ideas listed thematically and check out our detailed venue catalog below the page.
Madeira Wedding Venues: Hotels & Restaurants
The most convenient solution will be a wedding at a hotel, especially one of the hotels specializing in weddings & events. These places usually have offers suitable for various budgets. Most hotels have a beautiful view and one or more spots for the ceremony. There is, for example, a hotel with a beautiful oceanview altar:
In Madeira, you will find both luxurious and modern wedding venues…
… as well as venues for rustic, informal and boho style weddings:
Many hotels offer beautiful ceremony views and are able to accommodate outdoor weddings in their beautiful tropical gardens. We have already presented a couple of popular hotels and restaurants below.
Madeira Wedding Venues: Mountains
Most destination weddings take place in ocean view gardens, but mountain lovers definitely won't be disappointed either. Madeira has a specialized hotel with an amazing green terrace offering a magical view of the high mountains and the Nuns Valley. [MORE]
Would you like to get married in a scenic spot that isn't a hotel? No problem, please contact the wedding planner.
Madeira Wedding Venues: A yacht
If you wish, the ceremony can also be organized, for example, on a yacht, and immediately after the ceremony, you can set off on a cruise. It is also a surprisingly inexpensive option. The boat can depart either from Funchal or Porto Santo.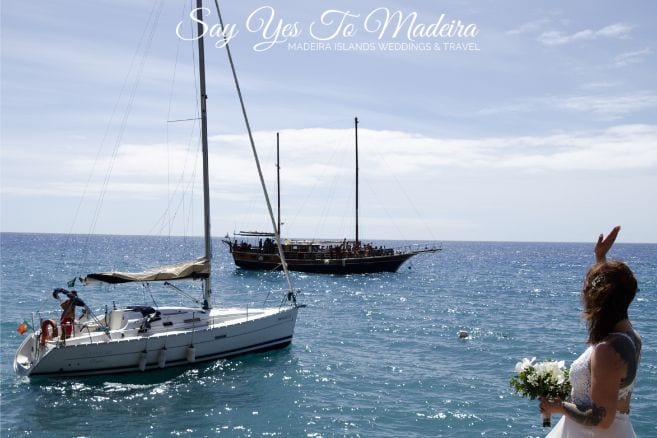 Madeira Wedding Venues: Vineyard
For vineyard and wine lovers (or simply anyone who would enjoy beautiful views of the green, northern coast of Madeira), we recommend this quiet, unique and incredibly charming country house /vineyard type hotel: [MORE]
Madeira Wedding Venues: Wedding houses and private villas
Besides wedding hotels in Madeira, another good option are wedding houses – so-called "Quintas para casamentos". If you prefer a small and informal ceremony, you can also organize a wedding in a rented villa, in which you can also stay with your entire group.
Madeira Wedding Venues: This secluded spot…
Eloping couples also love this secluded place, which can only be reached by boat or a cable car. Where else in the world can you reach your wedding venue by a cable car?
This spot is very relaxed, unique and it is a perfect setting for a small, affordable, off-the-beaten-path, and informal ceremony combined with dinner. Here is a short movie of one of autumn 2019 weddings:
Beach weddings? Porto Santo!
If you dream of exchanging vows on a beuatiful sandy beach, the island of Madeira itself has little to offer. Beaches aren't the strongest point of Madeira Island, see our post: BEACHES ON MADEIRA. However! The belonging to Madeira Archipelago island of Porto Santo is just made for it. You can get to Porto Santo by plane or with a ferry from Madeira, which takes just over two hours.
One of the Porto Santo hotels specializes in weddings at the beach and beautiful, though very affordable, wedding receptions: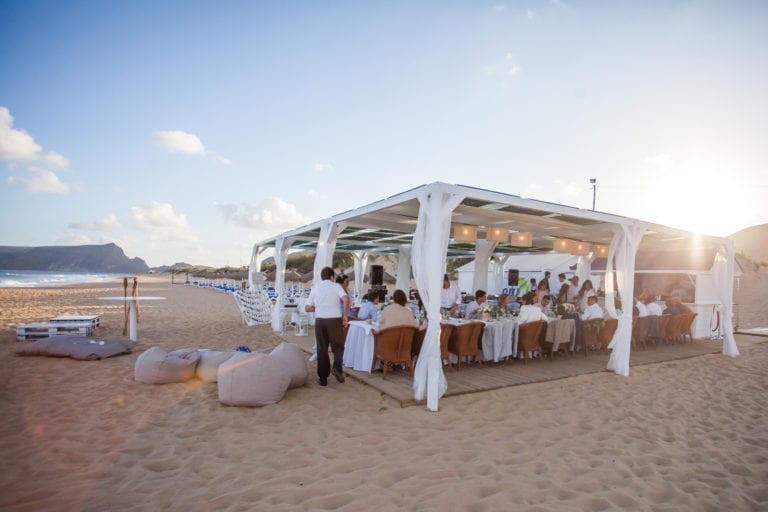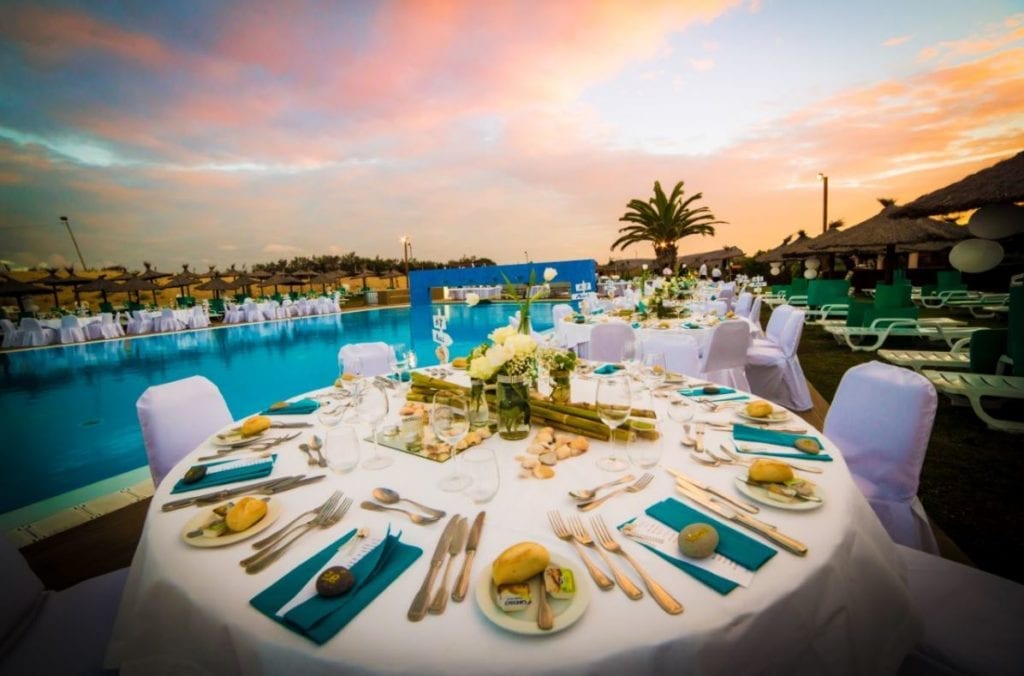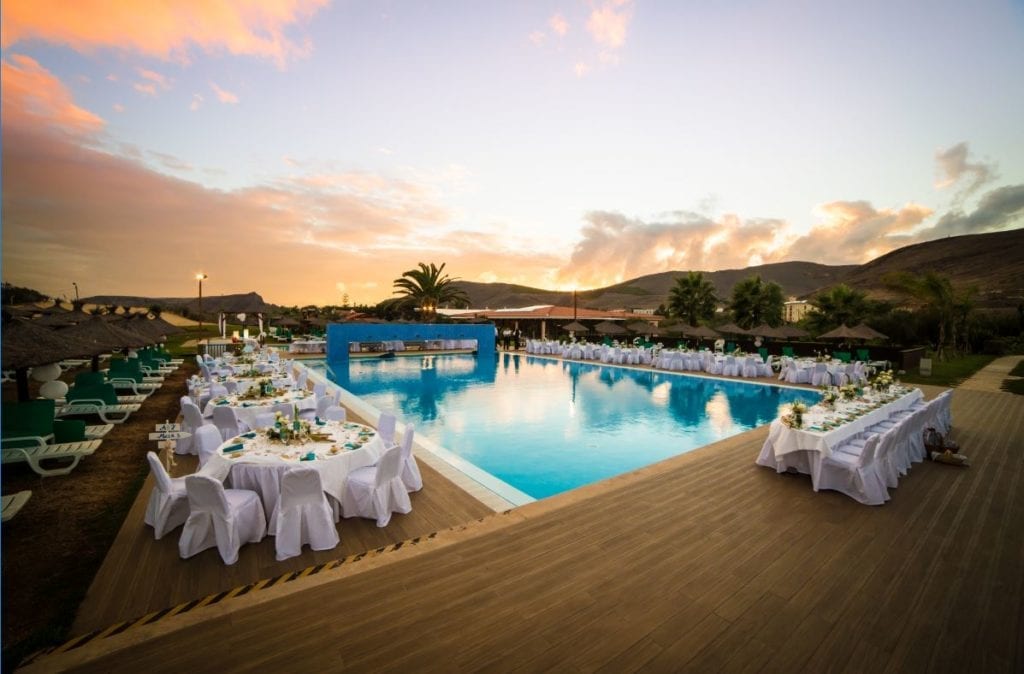 Registry office weddings
Of course, you can also get married in a registry office. This option is less spectacular, but cheaper (in this case you save on outdoor wedding fees and the eventual cost of renting a venue). This is an option for couples organizing a destination wedding on a budget. If you are getting married at the registry office, we do recommend a scenic photo shoot in the beautiful landscapes of Madeira.
*NEW* Madeira Islands Wedding Venues – Catalogue
Here are the wedding venues in Madeira and Porto Santo which we have been able to present, film and photograph so far. Remember, these aren't the only options available. We keep reviewing new venues regularly, so be sure to follow us and subscribe to our newsletter. If none of these options is your dream option, please contact the wedding planner and describe what you are looking for: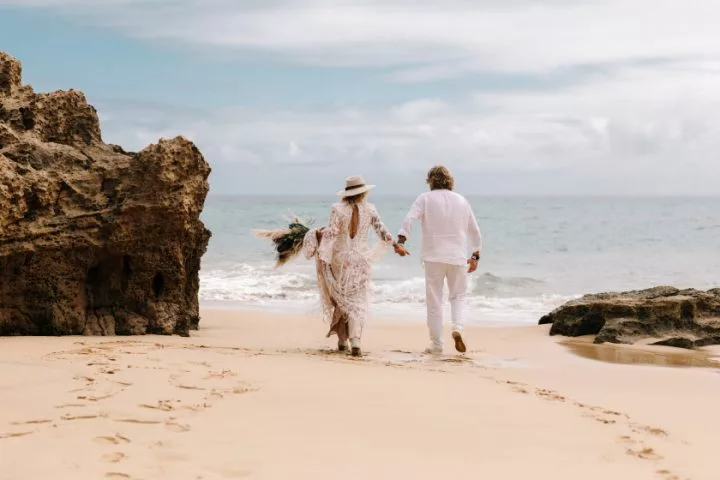 Their original plan was a boho wedding in Greece, but they ended up exchanging vows on a beach in Porto…
*NEW* Madeira Island Wedding venues – Video Playlist
Recently, we have also started filming wedding venues in Madeira and Porto Santo. The first couple of venues have already been uploaded to our playlist: WEDDING VENUES IN MADERA.
We hope that this post gave you a better picture of options available on Porto Santo and Madeira. Feel free to browse through all our wedding posts or vistit our IG account to get inspired. Or, simply send an inquiry and help the wedding planner suggest the best options.
Weddings or photo shoots on Madeira? Contact
Do not miss our new posts – follow us: