I saw the pictures of Ania and Sam's wedding on my wedding photographer's Facebook page. He captioned the album with "One of my favourite weddings of the year".
Let's try to find out what a wedding should be like, to deserve such a complimentary comment… Today, an interview with Ania from Poland and Sam from the UK, who got married in Funchal in Madeira in September 2018.
SYTM: Tell us your wedding story. When did it take place and how many guests did you have?
A&S: Our wedding was very intimate, only 21 guests. We wanted a small wedding with our "nearest and dearest". We were dreaming of an outdoor ceremony in a beautiful setting, but we were afraid that the weather in Poland or Great Britain would make it impossible.
SYTM: Why Madeira? I guess that it was a destination wedding for both of you, because none of you comes from or lives in Madeira?
A&S: We had never been to Madeira before, and the first time we came to Funchal was the week of our wedding. It was my father who came up with this idea, as he had always wanted to visit Madeira.
At the start of the wedding planning process (during summer/autumn 2017) we were in contact with wedding consultants from Poland, Greece, Italy and Madeira. The costs of a wedding party in Poland turned out to be so high that we gave up on that idea quickly.  In Italy, it was difficult for us to find a consultant who would want to organise such a small wedding as ours. Additionally, Italy is extremely popular and we often received answers that they do not organize last minute weddings (while our wedding date was 1.5 years away…). In Greece, we did not succeed in finding a hotel that we liked and we also had problems finding a consultant there. When we saw the pictures of the Belmond Reid's hotel in Funchal, we knew right away that this was the right place for our wedding.
Besides, it was Madeira where we managed to find a really great team of musicians, florists and of course – our consultant who made the day really special.
SYTM: How long were you planning your wedding? You already mentioned that you organised everything on a distance.
A&S: We exchanged the first e-mails with our consultant one year before the wedding. We were even advised to wait a bit because it was too early. A consultant from Madeira, and later also a hotel coordinator, helped us with the entire wedding planning process. We organised everything via Skype and e-mails, which was really easy. We sent them messages describing our dream wedding, budget, shared some YouTube links and photos.
SYTM: How many other venues were you considering before you made the decision to choose Belmond Reid's Palace in Funchal?
A&S: We considered only one other option (Palheiro Gardens), but we quickly decided on Belmond Reid's because of the fabulous views and gardens.
We fell in love with this hotel at first sight. Beautiful views, palm gardens, Michelin star food and service at the highest level.
SYTM: Where did the ceremony take place and where was the wedding dinner? Did you have a lot of options on the hotel's premises to choose from and, if so, which ones?
A&S: We had several options to choose from, and most importantly the coordinator in the hotel was very flexible. Our ceremony and cocktails took place in the palm garden, with a wonderful view of the ocean. The dinner took place on the terrace, right on the shore. We also had a safety option in case of a bad weather.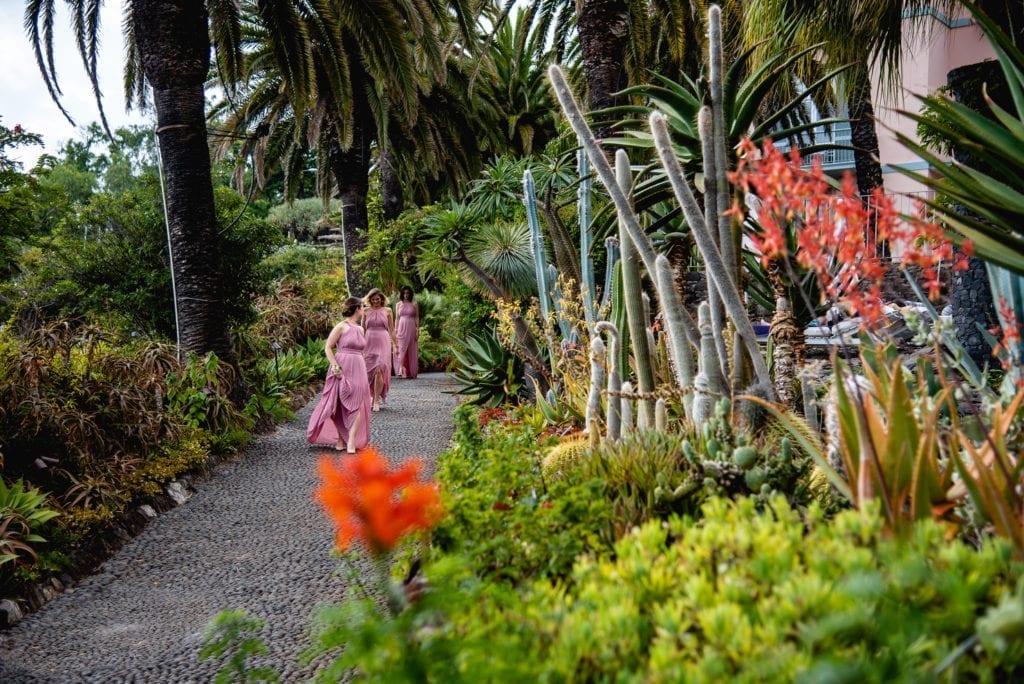 SYTM: Were these areas only at your and your guests' disposal, or did you have to share them with regular hotel guests? Do you have to pay extra for the privatisation of certain areas of the Belmond hotel?
A&S: The garden and the terrace were reserved only for our ceremony, from an agreed time. We also had a separate entrance to the garden. We did not have to pay extra for the privatisation.
SYTM: What caught my eye during watching your wedding album is the beautiful dinner table decoration. Was it the hotel or another local company who decorated your wedding table?
A&S: Thank you for the compliment. Since the beginning I had a clear vision for the wedding decorations. I wanted all the elements to go well together, so we opted for very few flowers. The table decoration is made of eucalyptus leaves, which were provided by our florists (I remember that the price was very low) and the candles were bought by the hotel.
SYTM: Did you bring all the wedding accessories with you, or did you have to buy anything on the island? If so, was it easy to find them?
A&S: We brought with us little fans for our guests and a print of the day planning. The rest was taken care of by the hotel. Madeira is a very developed island and you can buy everything locally.
SYTM: Is Belmond Reid's Palace an affordable wedding venue, or would you recommend it exclusively for couples with a high wedding budget? Are you able to say what the lowest price per person is for a wedding dinner at Reid's?
A&S: The Belmond Reid's restaurant has a Michelin star and the quality of their food is amazing. The hotel had prepared several dinner options, which started at around 70 euros per person for four dishes, excluding drinks. We decided to start the party with a cocktail and cake, for which we had to pay extra. Most importantly, the food was really delicious and beautifully served.
SYTM: Would you like to share how much you spent in total on your wedding in Madeira?
A&S: The total cost of our wedding, including decorations, consultant's fee, a wedding dinner, appetisers, alcohol, hairdresser and make-up artist for six people, a photographer, musicians (pianist, saxophone), a private catamaran cruise for our guests (including catering) was Euro 10,000. The wedding dinner alone (including drinks) was around Euro 4,000. We loved the fact that the costs were completely transparent, there were no surprises.
At Palheiro, the cost would be lower (dinner would be around Euro 2,000 for 20 people).
SYTM: Did you have a bachelorette party in Madeira as well? If so, did you do something memorable?
A&S: Our consultant recommended us a dolphin-watching catamaran cruise (three hours with catering) and it was a great idea.
The cruise began with a champagne toast. For most of the trip, we were accompanied not only by dolphins but also by whales – it was an amazing experience. We highly recommend it!!! Moreover, at the end of the great tour, the crew surprised us with a cake.
SYTM: Did you travel or spend time with your guests on other days? If so, which places or moments were most memorable?
A&S: Yes, we spent every free moment with our guests or family, the hardest part was to find time for everyone. Fortunately, there were only 21 people.
SYTM: What about the weather in Madeira in September?
A&S: The weather was very pleasant. The temperature fluctuated around 24C, but it was also cloudy.
SYTM: Scenic photoshoot in Madeira – have you done that as well? Which places and sceneries did you choose?
A&S: Yes, we had a few-hour photo session with our photographer Miguel Ponte. Miguel took us to some beautiful places, we fully trusted his suggestions.
SYTM: The most beautiful moment of your day was…?
A&S: I think that the most beautiful moment was the dinner and my husband's touching speech. Although we also enjoyed the wonderful music (piano and saxophone) during the ceremony and cocktails, as well as the moment of serving a wedding cake on the terrace with a beautiful view of Funchal.
SYTM: Belmond Reid's is a very popular wedding venue, chosen by many foreign couples. How do you rate Belmond Reid's Palace as a wedding venue?
A&S: I am a very critical person, but I cannot name even one thing that we did not like. We have never experienced such great service as in this hotel. Nothing was ever a problem, waiters seemed to have the ability to read our thoughts – we could relax and concentrate on what was most important. It's a really special place. During our wedding, we were assisted by more employees than we had guests…
One of our guests was my sister with a 8-month-old infant, for whom the cooks prepared a special meal according to the instructions. My sister also had a special feeding corner prepared for her.
SYTM: Your final thoughts…  Are you satisfied with your wedding? Is there something you regret and would do differently if you could? Any tips for brides planning a wedding at Belmond Reid's Palace in Funchal?
A&S: It was the most beautiful day of our life. Everything was 100% successful.
Belmond Reid's is a really special place and we would choose it again. Service, scenery and amazing food created a fairytale atmosphere.
Photo credits:
MIGUEL PONTE PHOTOGRAPHY:  //www.miguelpontephotography.com/
THE MEMORY SHOP:  //thememoryshop.pt/
And of course: The biggest thanks to Ania and Sam for sharing their pictures and details of their beautiful wedding. I am sure that their story will be an invaluable source of information to many engaged couples! 
Are you also dreaming of a wedding at Belmond Reid's Palace, or any other spectacular venue in Madeira? Do not hesitate to send us a message.