Why is Madeira archipelago a perfect place to elope or host your destination wedding? 
From all the available places and settings for your dream destination wedding in Europe– why should you consider Madeira or Porto Santo?
The Portuguese archipelago Madeira is a fabulous place for an exotic destination wedding and elopements.  
Madeira offers breathtaking views and many beautiful wedding locations in the open air. And although the landscape and nature within Madeira are very exotic, the western culture of Portugal makes us feel at home. 
In addition, a wedding in Madeira is not an option reserved only for people with a large budget. Depending on your requirements, a wedding in Madeira can cost less than in other European countries. Can, but of course does not have to; if the budget does not play a role, you will easily find a dream location that meets your requirements.
Starting from what is most important – formalities. Portugal is one of the few European countries where non-citizens or residents are allowed to marry. 
Also, same sex marriages in Portugal are legal and have been recognised since 2010. Portugal was the 6th country in Europe and the 8th country in the world to allow same sex marriages.
In many countries the wedding official is not allowed to leave the civil registry office in order to conduct the ceremony in your chosen venue. In Madeira, however, this is not an issue at all – another advantage of Madeira for the couples wishing to have a scenic outdoor ceremony.
Apart from the spectacular scenery, great weather is yet another aspect which attracts foreign couples. The weather in Madeira is very comfortable throughout the year on this "island of eternal spring". Therefore, we are not limited by a short wedding season and the chance to find a location for a spontaneous wedding, without the need to book years in advance, is higher than in colder countries.
On the islands you will find plenty of great locations for your dream wedding.
If you are only interested in a civil ceremony, then outdoor wedding options are rather unlimited. With the spectacular views found in Madeira, very few couples choose to marry at a registry office.
You can choose between specialised hotels, small villas, restaurants; we can organise a wedding at the edge of the ocean, in a garden full of exotic flowers, in an old fort, on a yacht, or on the beach…
If you are looking for a beautiful beach wedding, the island of Porto Santo with its beautiful, snow-white beaches is the perfect place.
[Here] you can read more about beach weddings in Porto Santo, including the costs you could expect. 
Many of the hotels and villas in Madeira offer several spots for an outdoor ceremony, along with emergency options indoors in case of bad weather.
Examples of wedding venues in Madeira
In Madeira you will easily find spectacular locations both for luxurious & modern weddings:
All mountain lovers will probably be interested in this mountain venue with a beautiful terrace with a stunning view on Madeira mountains and the Curral das Freiras Valley:
While all couples trying to avoid hotels… and instead, looking for simple and unique locations in nature might be interested in this secluded location: 
This secluded piece of land in between banana fields is a perfect venue for small, relaxed and intimate ceremonies. What makes it unique, is that you can only get there only by boat or using a cable car.
FOR MORE INFO ABOUT THIS PLACE SEE: [FAJA DOS PADRES]
Madeira is commonly referred to as "Hawaii of Europe" or "Pearl of the Atlantic". If you live in Europe, a wedding in Madeira will cost much less than any other popular exotic location, while the island is just as beautiful.
Madeira is a great compromise – a wedding in a warm, beautiful and exotic setting, famous for its great cuisine, while at the same time located very close to Europe and without experiencing a culture shock. For EU citizens, only an ID card is needed to cross the border, and no preparations are necessary. There are many convenient flight connections between Cristiano Ronaldo Madeira International Airport (yes, you read it correctly) and the main airports of Europe. Chartered flights are also an option.
Even couples with a small budget should be able to have a beautiful wedding of their dreams. Some hotels and restaurants, especially those outside the capital of Madeira- Funchal, offer prices per person comparable or even much, much lower than in most countries of northern Europe. Plane tickets to Madeira itself are also quite affordable, so more guests will be able to reach the ceremony on Madeira than long haul destinations such as Hawaii or Thailand. For me personally it was a very important reason [post] – I could not imagine that day without my loved ones and my Dad who walked me down the aisle.
Of course, the wedding trip should not last just one day. Both you and your wedding guests should stay for at least a few days and discover what the island has to offer. A multitude of trekking routes, flower parks, wonderful nature, beautiful mountains, dolphins, delicious cuisine – there is something for everyone in Madeira.
If you have already had or booked your wedding elsewhere, you can definitely choose Madeira as a destination for your honeymoon. It is also a great idea to take your wedding dress and suit to arrange a wedding photography session on the island. There are many great local English-speaking photographers in Madeira, so absolutely no need to fly anyone over. See [THIS] article for more pictures of engagement and wedding sessions in the beautiful scenery of Madeira.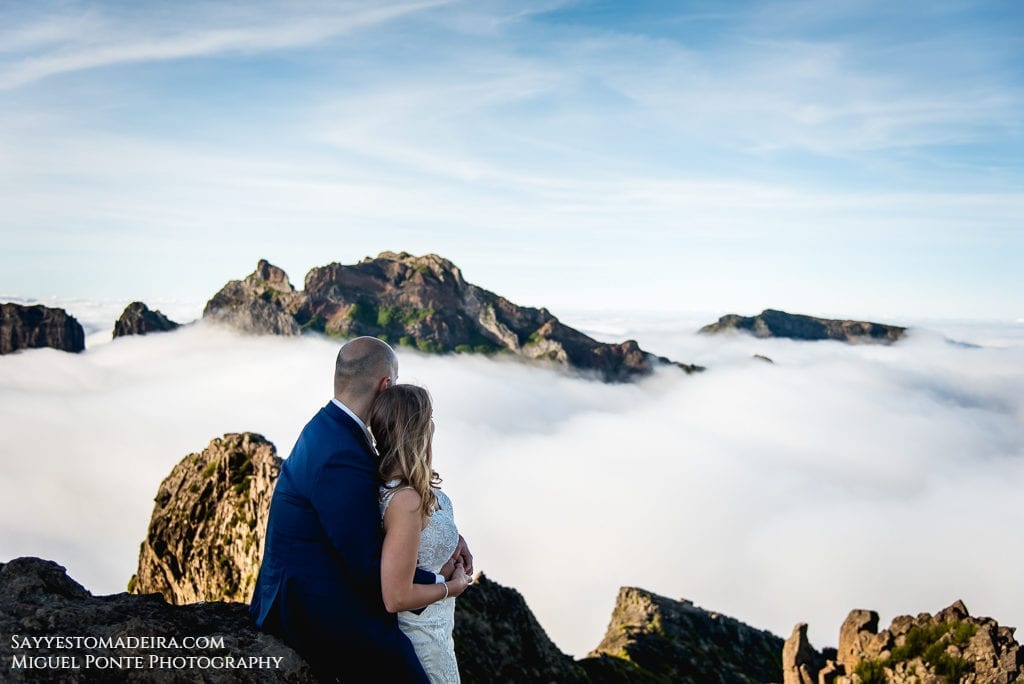 When the weather is good, your wedding or engagement photo session just can not go wrong… I am sure you will not only have a lot of fun, but you will end up with some really beautiful shots. 
An experienced local wedding planner can assist you in finding the perfect location, wedding suppliers and will help in arranging all formalities. Whether it is a long-planned wedding or a spontaneous decision, it is worth using her services.
Would you like to hear more and get in touch with the English-speaking wedding planner? 
SEND US AN E-MAIL OR ASK FOR AN OFFER
You will also find us on: