You do not need to spend a fortune to organize an unforgettable wedding…
I recently received a link to a photo gallery from one of the wedding photographers based in Madeira. I watched the entire gallery a couple of times, and absolutely adored the pictures. I fell in love with the place, the venue, the decor, the people, with how beautiful in its simplicity was this wedding.
Weddings such as this one confirm that it is not how much we spend on the party that makes a wedding successful.
Weddings such as this one also beautifully reflect one of the greatest advantages of destination weddings…
One of the advantages of weddings abroad / destination weddings in beautiful locations is that with less time and less money spent, we can achieve a beautiful, unforgettable result.
When organizing a wedding in a beautiful place, we do not have to spend a fortune on decorating the venue, the flowers and accessories. A beautiful location, such as this garden in Madeira, with a great view of the ocean or cliff, will be a decoration in itself.
For those, who look for inspiration for their outdoor informal/rustic/boho weddings, hereby a small gallery: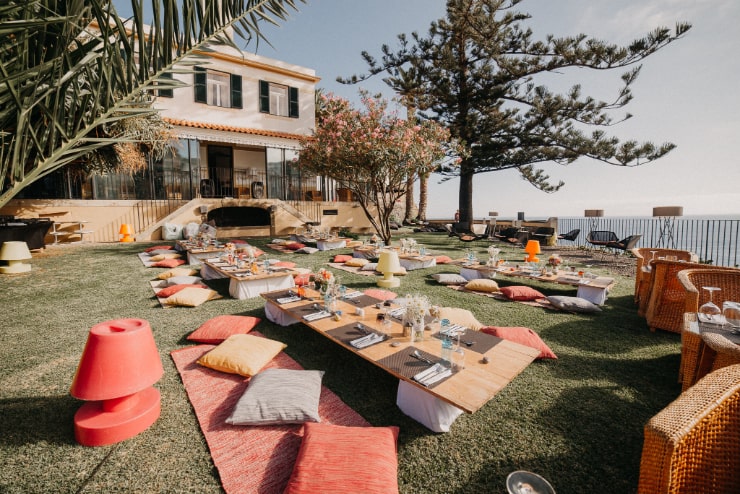 When organizing such a rustic wedding with this table set-up, we must remember about our older guests..
Some people might not be fit enough to enjoy such low tables. In this case, several regular armchairs and tables were prepared as well as a couple of high tables.
If we have among our guests people, for whom even such tables would cause discomfort, it is worth setting up at least one regular size table.
Are you interested in getting to know the story of this beautiful wedding? See also our interview with the beautiful couple:
Are you looking for a perfect place and venue for your dream destination wedding? Are you interested in getting married in Madeira, Portugal?
Do not hesitate and send your [wedding inquiry] or contact us: