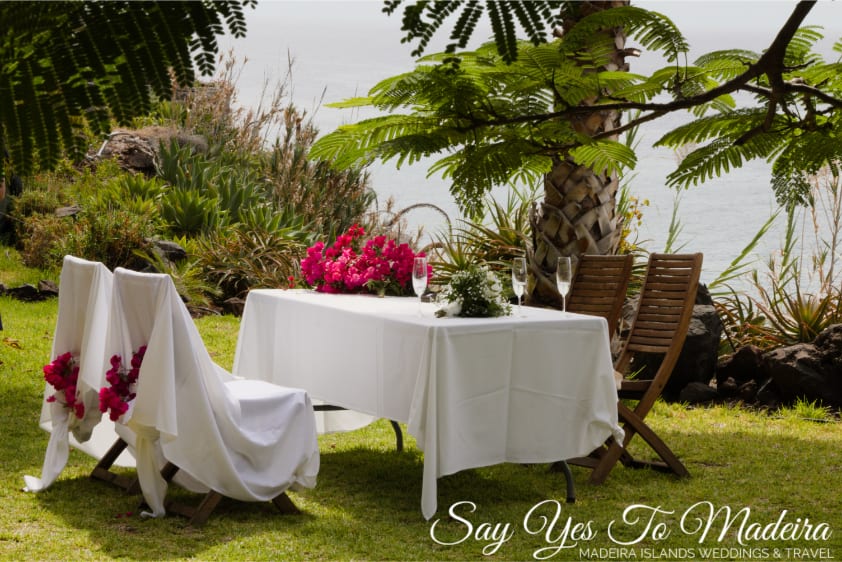 Marta was one of the first brides who contacted me regarding getting married in Madeira. A year later, I was really happy to participate in their small and informal wedding on one of my favourite spots on Madeira Island – beautiful, secluded, unique and intimate Fajã dos Padres…
One of the most off-the-beaten-path wedding locations: Fajã dos Padres on Madeira Island, Portugal
What is it and what is so unique about Fajã dos Padres?
Everything about the place is unique. Fajã dos Padres is a secluded and quiet piece of land covered almost entirely with banana trees and fruit and vegetable gardens, located at the bottom of a high cliff, cut off on one side by the cliff, on the other by water. You can only get there by boat or using a cable car. 
I have already described the place in my post:  Best of Madeira: Fajã dos Padres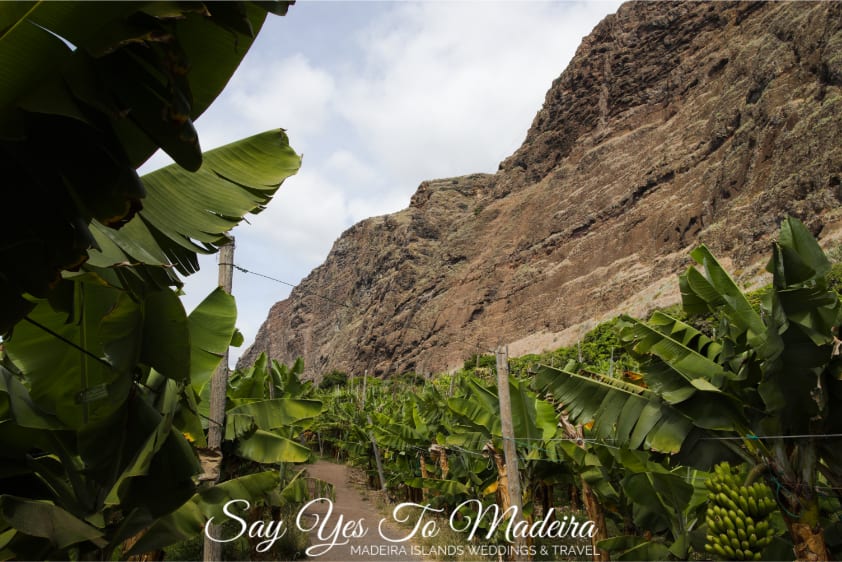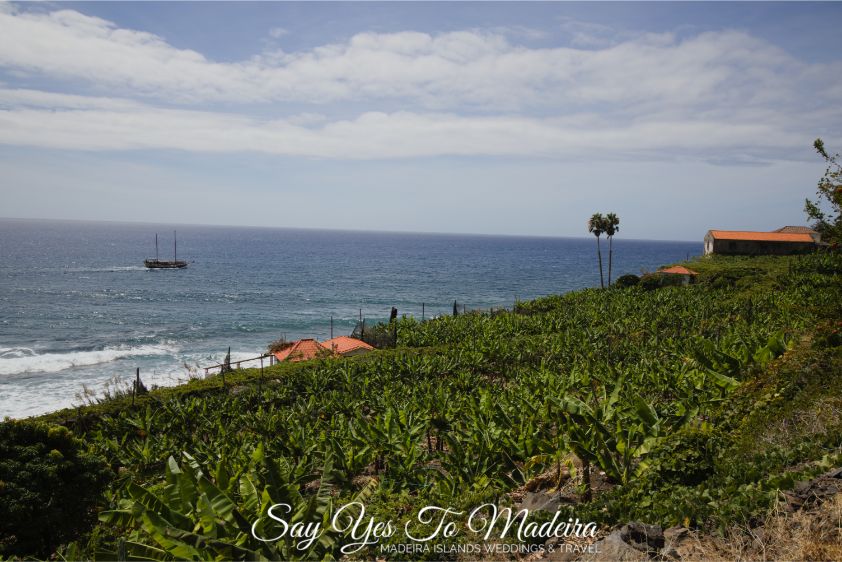 Watch this video of one of our relaxed Sunday afternoon visits on Fajã dos Padres to get an impression:
There are no roads, but there is a beach, one restaurant carrying the same name and a couple of houses which can be rented out. 
Unique and off the beaten path wedding ceremony place
One of the houses is used to host small and intimate events and is perfect for everyone looking for a small, intimate and "off the beaten track" destination wedding/elopement venue. The place is truly unique and is a perfect location for everyone who would like to get married surrounded by nature, in a quiet and unique setting- alone, or just with their dearest and nearest.
The garden is full of beautiful plants, has a sea view and can accommodate a small group of guests. If you wish, it can be decorated, but in my opinion, the place is so special in itself, that no expensive decorations are needed. A table and a couple of chairs will be enough.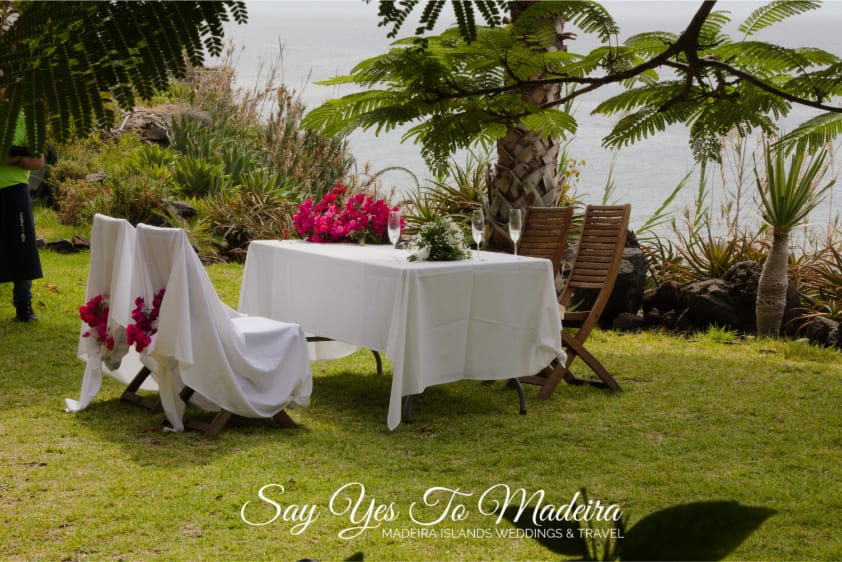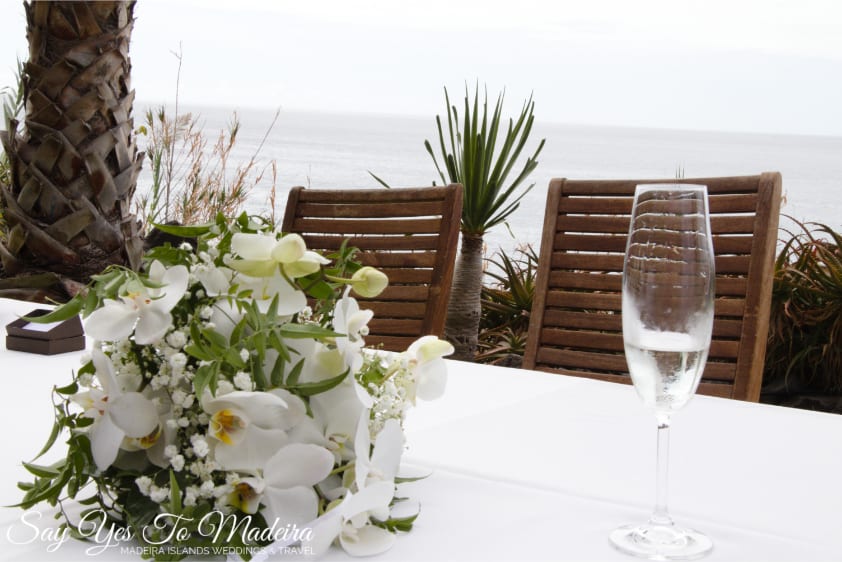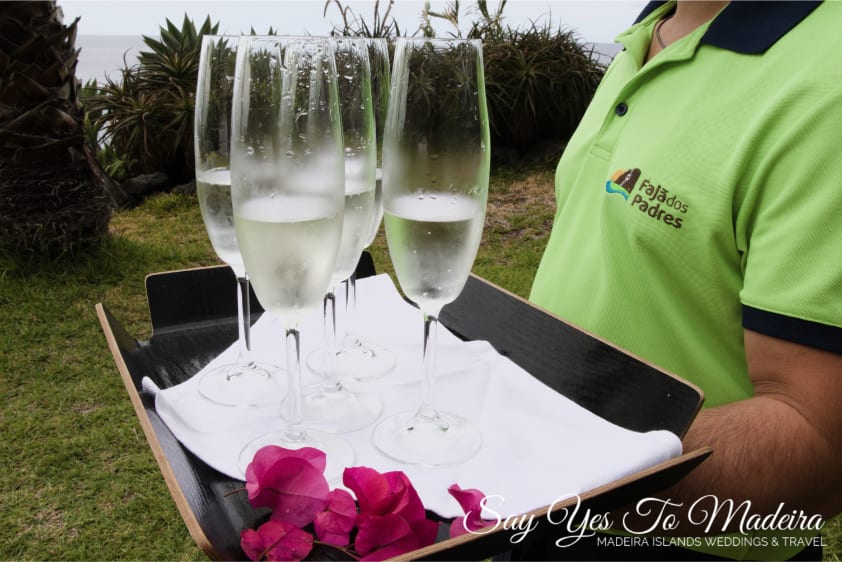 Wedding dinners at the Fajã dos Padres restaurant
After the ceremony and a champagne toast provided by the venue, you are free to book an informal dinner at the Fajã dos Padres restaurant. To get to the restaurant you will need to walk for a couple of minutes through the banana fields and vegetable and fruit gardens.
How to get there with your guests?
Most couples and their guests use the Fajã dos Padres Cable Car to get to the wedding ceremony place. The couple usually meets the registrar and the wedding planner next to the cable car station on top of the cliff, and they bring the couple to the exact wedding location. 
Cable car tickets cost 5 euro one way, but for the newly-weds, the register, the wedding planner and the photographer (up to 10 people in total) cable car tickets are included in the price of the venue. Would you prefer to arrive by boat or yacht instead? This is something you can arrange with our [wedding planner]. 
Would you like to #trashthedress straight after your wedding by jumping into the beautiful blue ocean? You can, but don't forget to ask the planner for a reliable local wedding photo/videographer to capture this awesome moment 🙂
Here is another video of us swimming and snorkelling on Fajã dos Padres:
How to move around on the Faja itself?
Walking. There are a couple of main paths through banana fields and flower, fruit and vegetable gardens. This is the way between the ceremony location and the restaurant: 
The only vehicles on Fajã dos Padres are small golf carts, which could be used to assist your guests with mobility issues. 
How much does this unique venue cost?
That is the best part. Fajã dos Padres as a wedding venue is not only unique but also very affordable. The venue is suitable for couples trying to elope on a budget. The price includes a table/chairs set up in the garden, basic flower decorations, champagne toast and cable car tickets. The dinner is optional, however, very affordable as well. If you would like to stay in the rental house for the night, it is also possible, subject to availability.
Fajã dos Padres wedding story – M&K – September 2019
As I already mentioned, Marta was one of the first brides who contacted me regarding getting married in Madeira. Primarily, she had more traditional venues in mind, but ultimately, they decided that Fajã dos Padres was a perfect place for their small, intimate wedding.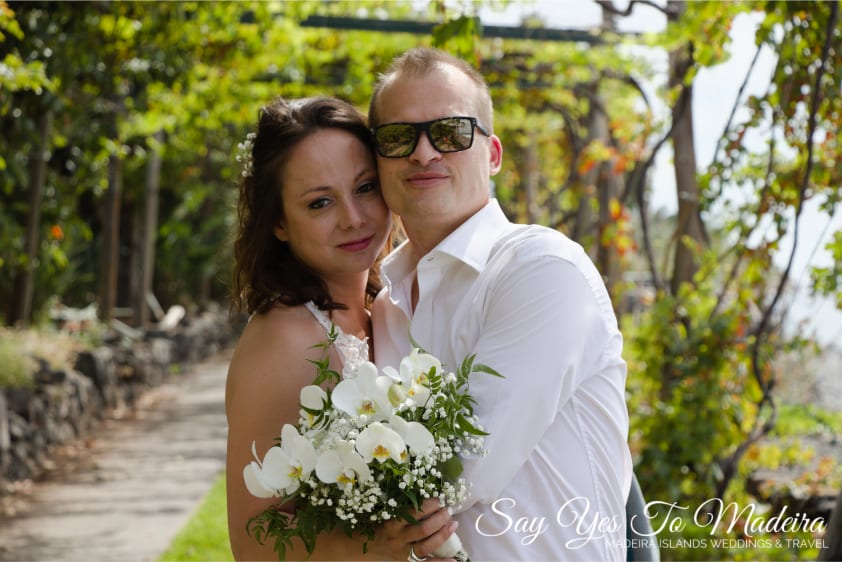 During their wedding, they had only one quest, but the guest was really special… It was their adorable baby boy. When the wedding registrar asked about objections to the marriage, he did not make a sound… It was great to be able to participate in this important moment for the entire loving family.
After the ceremony and toasts, I joined them for everything but formal and traditional wedding dinner. Here is a short video of their big day:
I would like to thank M&K for allowing me to share their pictures & wish them lots of love and luck in their new life together  ♥
Fajã dos Padres is a very popular elopements' venue among foreign couples. 
Does this place sound like a dream venue also for your elopement or a small destination wedding? Vow renewal? Surprise engagement? Contact us if you would like to have your event organized here or any other place on Madeira.
[E-mail]  [Wedding Inquiry Form]
Don't miss our new wedding and travel posts – subscribe to our newsletter & follow us!