Did you know that on Madeira Island you can find a number of interesting live webcams? Installed in the most popular spots around the island, they help tourists quickly check the weather conditions and optionally adjust their travel plans.
Here is my list of the most useful for tourists webcams close to popular attractions, with maps and links to interesting places nearby.
* Click on the selected cameras for full size*
1. Pico do Arieiro Webcam
Probably the most popular webcam in Madeira – installed at an altitude of 1,818 m, i.e. the third highest peak of the island, allows tourists to easily check the weather conditions in the mountains and at the beginning of the PR1 route. It is the only webcam installed on the highest peaks of Madeira.
Related posts: Pico do Arieiro and the PR1 trail & Sunset photo shoot Madeira Island & Sunrise around Pico Ruivo
2. Porto Santo Island Webcam
Facing the pier and the beach, it gives a good overview of the sunbathing conditions on Porto Santo.
Related posts: Madeira & Porto Santo beaches I Porto Santo Kayaks I Porto Santo boho beach wedding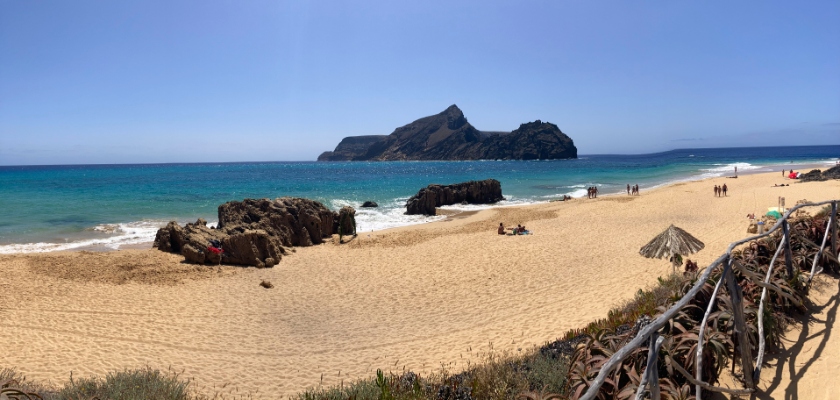 3. Nun's Valley (Eira do Serrado) Webcam
More specifically a webcam "above" the Nuns Valley. Installed at the Eira do Serrado viewpoint, it gives a great view of the weather in the valley.
Related posts: Valley of the Nuns – day trip plan I Hotel overlooking the Valley of the Nuns
4. Seixal Webcam (black sand beach)
Seixal is a place where the most beautiful black beach in Madeira is located. This webcam does not cover the beach itself (it is located to the right of the visible pier), but its vicinity – Clube Naval do Seixal. In Seixal we also find volcanic lava pools.
Related posts: Seixal Beach and Seixal Volcanic Pools
5. Machico Webcam (sand beach)
Machico is a historic town with one of the two artificial sand beaches available in Madeira. The camera is placed perfectly – you can see both the rocky and sandy part of the Machico beach, the town, and the Pico de Facho viewpoint.
Related posts: Machico Beach and Pico de Facho Viewpoint I Street art in Machico

There is also something for golf fans in the same area – a webcam with a view of the Santo da Serra Golf Course:
Weather permitting, you can see as far as the easternmost point on Madeira – Ponta de São Lourenço.
6. Ponta do Sol Webcam
The camera installed on the pier in Ponta do Sol beautifully shows the beach and the town centre. In this area, you will find the famous Anjos waterfall falling on moving cars and the Levada do Moinho – Nova hiking trail with a beautiful waterfall carved in a rock.
Related posts: Levada do Moinho – Levada Nova Hike I Hotel Estalgem da Ponta do Sol and Ponta do Sol attractions
You will also find webcams in the nearby towns of Ribeira Brava and the surfer's town Paul do Mar.
7. Caniçal Webcam (Ponta de São Lourenço)
Thanks to the camera in Caniçal, we have a wonderful view of the Ponta de São Lourenço Peninsula, beloved by all tourists.
8. Portela Webcam (Penha d'Águia)
Placed on the marvelous Miradouro da Portela viewpoint, this webcam offers a great view of the north of the island, the emblematic Penha d'Águia rock, Porto da Cruz and part of Santana at its feet.
Related posts: Budget hotel in Porto da Cruz I Vineyard hotel Quinta do Furão
Even better view of Santana, famous for its traditional triangular houses, is streamed via this webcam. In this area you will find two of the most popular levadas in Madeira – Levada do Rei (PR18) and Levada do Caldeirão Verde (PR9).
9. Funchal Webcams
In Funchal itself, you will find multiple webcams showing the city from different perspectives:
Funchal – City Centre & Praça do Município Square
Funchal Lido – hotel district
View on the Port of Funchal from Nini Design Center
But that's not all. In addition to these webcams from NetMadeira, Funchal also has many others available on MadeiraWeb, including a panoramic promenade cam, multiple street-view cameras in the city centre and a small surprise – more about it in the last paragraph.
Related: All posts about Funchal I Funchal's painted doors
10. Câmara de LobosWebcams
Câmara de Lobos is a colourful fishing village often visited by tourists. Just like Funchal and Machico, it also has interesting art installations, trash art and street art. There is also the pebble beach called Vigario.
Related posts: Street art in Câmara de Lobos I Interesting spots in Câmara de Lobos I Promenade Funchal-Câmara de Lobos
All NetMadeira webcams
A beautiful view of the island from anywhere in the world was made possible thanks to NetMadeira. The presented webcams are in my opinion the most interesting options, but these are not the only ones. Take a look at the official website, where you will find a full list of not only cameras, but also timelapses.
* EXTRA * Surprise from MadeiraWeb
As we mentioned, there are more webcams, provided by MadeiraWeb. A unique option is the "PEOPLE CAM" in the Santa Catarina Park, from which you can wave online to your loved ones at home.
This particular camera zooms in regularly to one exact spot in the park (see photo above), from where it transmits live video online. Locate the spot, send the link to your loved ones, get ready and the camera will send your smile to the world!
Enjoy!
What are your experiences? Which webcam turned out the most helpful during your Madeira holidays?
Like this post? Help others find it & share it! ▼
Weddings or photo shoots on Madeira? We can definitely help: Contact
Do not miss our new posts – follow us:
Madeira Island Bucket List – 20 Awesome things to do in Madeira
Get inspired with our Madeira Island bucket list for all first-time visitors. 20 awesome places, attractions and ideas.
Madeira hidden gems: Calhau da Lapa
Madeira less travelled – the unique hidden spot called Calhau da Lapa. What is it and how to get there?
Where to swim in Madeira – part III – Best hotel pools in Madeira [2020]
After Beaches in Madeira (part I), and Lava pools, bathing complexes & a water park (part II) in Madeira, it is time for part III and last – our ranking…
13 x CR7 – 13 places on Madeira associated with Ronaldo
Are you a fan of CR7? Are you visiting Ronaldo's birthplace island and would you like to visit places associated with him? This post is for you!