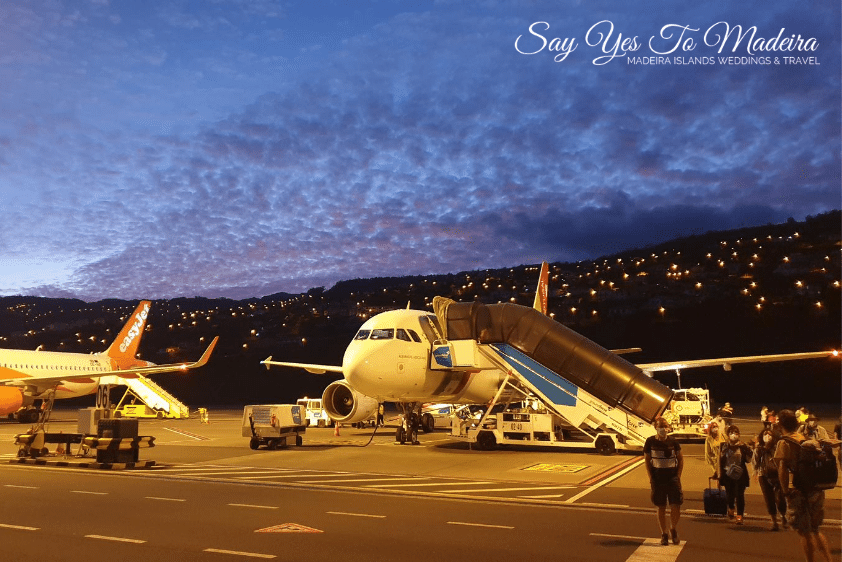 Coronavirus on Madeira Island, Portugal
Visiting Madeira in the first half of 2020 was not possible for a long time. The island has isolated itself from the rest of the world, and most flights have been cancelled. The first step towards opening was allowing some EU travellers to enter, but with the obligation of a 14-day quarantine. This solution was not very encouraging to tourists, and as there were few cases, the Madeira government decided to come up with another solution:
Current Covid-19 measures (applicable from July 1st 2020)
If you would like to visit Madeira this summer/autumn, you can either:
a) Arrive in Madeira with a negative test certificate (PCR test for SARS-CoV-2) made in the country of your residence no longer than 72 hours before arrival. In many countries, such a test is not free, so usually, you as a tourist will need to cover this cost. The advantage of this solution is no test and any sort of quarantine upon arrival. After landing on Madeira, we can immediately start executing your holiday plans.
b) The second option is to board without a negative Covid-19 test certificate and undergo a free test at the Madeira Airport. To support the local economy and encourage tourists to come, the local government will pay the costs of the test (approx. 160 euro each). However, there is one "but"; upon arrival, you are required to go directly to your accommodation and do not leave it until you obtain the negative test. The official time frame for receiving results is 6 to 12 hours and most visitors do get their results within this period. Most of them receive it within hours, although there were also rare instances of individual tourists stuck for longer periods.
It comes without saying, that while waiting for the result, you absolutely cannot have contact with others, you cannot go to the hotel restaurant, let alone go outside. So do pack a bite just in case.
A dedicated website – Madeira Safe – has also been created. You will need to visit this site to fill out a simple health form 12-24 hours before arrival. This is a page you will definitely need to remember.
A couple of other important questions travellers usually ask about:
What if we are tested positive on arrival?
According to the official websites, you will be sent to a mandatory 14-day quarantine. After 7 days, the test will be repeated and if the result is negative, your quarantine will end ad you will be able to enjoy the rest of your holidays.
Do children also need to be tested for Covid-19?
Children under 12 do not require a test.
What about the language of the certificate? Can the corona test certificate be issued in my own language?
This is a very good question, answer to which is not specified on any of the official websites. According to the e-mail response received from the Unidade de Emergência em Saúde Pública (UESP) "The test and certificate has to be issued by a certificated laboratory, but the certificate does NOT have to be in Portuguese".
We have other questions – whom shall we contact?
For all other questions regarding the coronavirus situation in Madeira you shall contact uesp.madeira@iasaude.madeira.gov.pt .
If you are already in Madeira and you have any disease symptoms, please call 800 24 24 20.
Travelling to Madeira during the Coronavirus pandemic (August 2020) – our story
We decided to book flights to Madeira right after the compulsory quarantine was lifted. This is how travelling to Madeira looks like currently, what is it like to get tested on arrival and how Madeira looks like.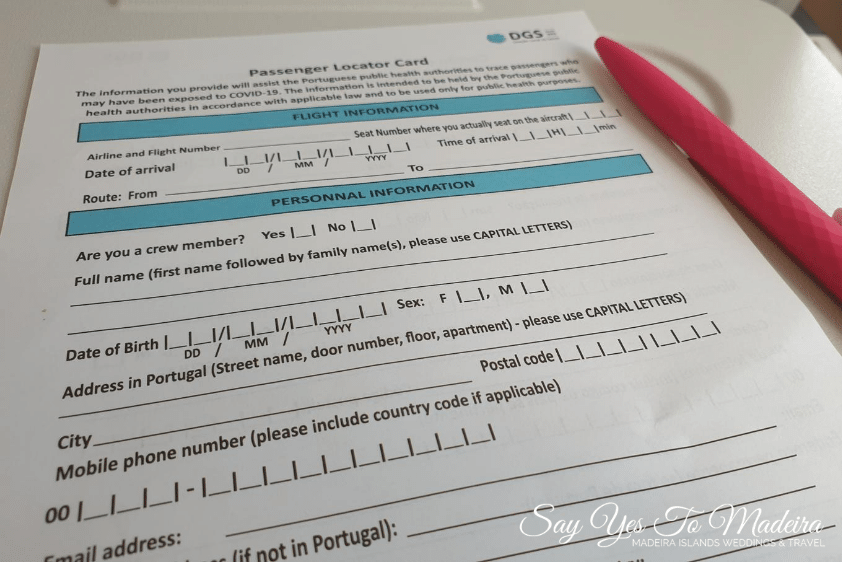 I arrived in Madeira on a TAP flight via Lisbon, using the voucher that was offered to me in exchange for the canceled flights in May 2020.
You had to cover your nose and mouth both at airports and during all the time on board, except while eating and drinking. The flight attendants wore masks and gloves and handed out disinfectant wipes. We were also given short contact forms called "Passenger Locator Cards" in English and Portuguese:
Apart from the masks requirement and the above form, the flight was no different from normal flights. There were no blocked seats between passengers, and the flight to Lisbon was as good as fully booked. During the TP2367 flight from Lisbon to Madeira (19.30-21.15), however, only half of the seats were occupied.
Free Covid-19 tests on Madeira Island
What is it like to arrive at the Madeira Airport in August 2020?
Special signs and stickers on the airport floor will be hard to notice since the moment you arrive at the baggage pick-up. You can see that if you have already been tested, you need to follow the green signs. Those who still have to take the test should follow the blue colour. Anyway, you will also find many helpful assistants ready to answer your questions. Everything seems very well organized.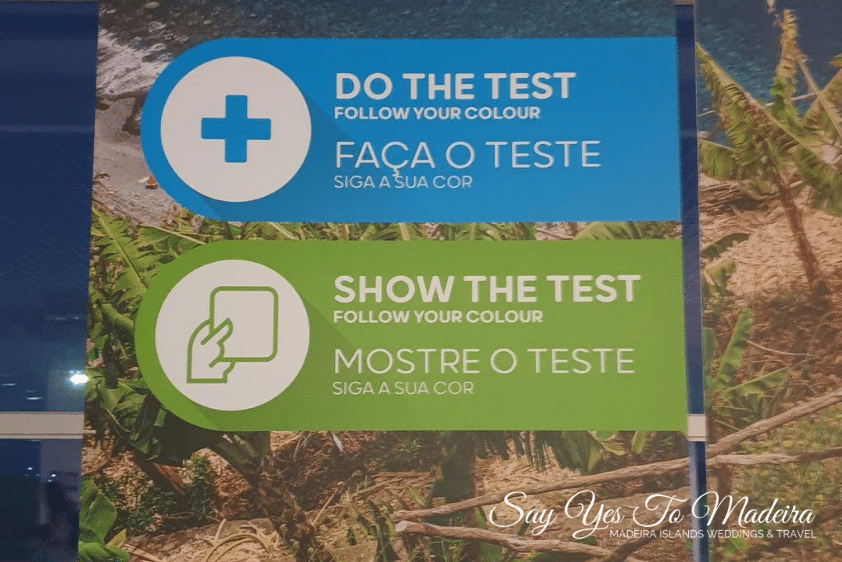 The first stand (still in the arrivals' hall) looked like the first "filter" for those who for some reason did not register on the Madeira Safe website as requested. After showing the ready code on my mobile phone, I was immediately told to proceed with the registration and go outside, where I was welcomed with a complimentary banana and a bottle of water (small gesture, but much appreciated!).
The second step is registration and pick-up of the sample stickers. Unfortunately, my code did not want to work, so without unnecessary dragging, I was asked for a phone number, and it how I was quickly identified. Immediately afterward, a confirmation SMS arrived, and I was referred one step further, to the third and final stations – nurses performing the actual tests.
This was the longest wait of the entire evening. About 25 temporary testing rooms were set up next to the airport building, half of which were open during the evening hours.
Unfortunately, the Covid-19 tests are no fun at all. Luckily it only took a while and after that, we could proceed directly to the taxi stand located nearby.
So to sum up: the entire process took around 45 minutes – from the plane door to the taxi door, or less than half an hour from baggage claim. We were promised that the results would be sent by e-mail within 6 to 12 hours, when we are obliged to remain indoor.
At 5 am the following morning I was awakened by a notification sound. When I read the email about the negative test result, I could finally relax…
After going through the entire process, I am really impressed with how quickly and efficiently the whole process went, and how well Madeira approached it by building the Madeira Safe portal to stay in touch and monitor every single visitor. There was no chaos at the airport, everything was well marked and every employee seemed to be in control, trying to help travellers fast and efficiently. Kudos!
Is the Covid-19 test painful?
It was the second test I had to do this summer, and both were absolutely no fun. Taking samples from the nostrils can be a bit painful for many (but not for everyone!). However, it only takes a few seconds.
Tips for travelling to Madeira during the pandeminc
Here are a couple of simple, but useful tips
First of all: Choose afternoon and evening flights and you won't feel the waiting and quarantine at all! When you arrive at your hotel/accommodation in the evening, you will go immediately to bed, and in the morning you should have your results and be ready to go.
Don't forget to register on the Madeira Safe website in advance. It will save you a lot of time at Madeira Airport.
If you are staying at an Airbnb or apartment, do not forget to advise your host. The owner of my flat has prepared and took some special measures prior to my arrival. For example, he did not hand over the keys to me personally but left them for collection at a designated place.
Take a snack with you in case your results get delayed.
Compulsory face masks on Madeira Island since August 1st
The coronavirus test is not all you need to keep in mind. From August 1, 2020, you must also take into account that you will need to cover our nose and mouth in public places, even outdoor. According to the official website, this does not apply to:
children under 10;
people with disabilities and incapable / having difficulties putting on / taking off the mask without the help of others;
in your own car, if you travel with relatives / family / household members
And, but provided that a safe distance from others is possible:
people doing sports; during any physical or recreational activity;
people during recreational and sports activities in forest areas and on trails,
people relaxing on beaches, bathing complexes, except for facilities where wearing a mask is compulsory
Here is a short summary of where the masks are not always required:
Source: Visit Madeira
So, no, you are not required to wear a mask when sunbathing or hiking, but make sure there is a safe distance from others.
Sources & important websites
Especially if you are reading this post long after it has been published, I encourage you to check whether the information provided is still valid. Here are all the official sites that would be your best source of information:
Madeira Safe – Compulsory registration prior to arrival
Visit Madeira – Latest Covid-19 updates, regulations and statistics
Madeira Safe to Discover – Frequently Asked Questions
Covid Madeira – Madeira Island Covid-19 statistics dashboard, measures, publications & more
TUI Travelers might also find this site helpful:
When can I go to Portugal and Madeira?
What is it like to travel to Madeira post-Covid lockdown?
There are noticeably fewer tourists in Funchal. Streets are not empty, but there are also no crowds of tourists in places that are usually very crowded. Most people comply with the order and wear face masks. Some restaurants are still closed, but you can easily find other open places to eat.
Of course, large cruise ships have yet been allowed to enter the port of Funchal, and lifting this ban will be the next step in reopening Madeira. In my humble opinion, however, it will not happen anytime soon. So the silver lining is that until that happens, we can enjoy Madeira without crowded hiking trails & attractions.
SEE ALSO: 20 X BEST OF MADEIRA GUIDE
I hope you found this information useful. If so, please help others find it and share it:
Despite all the restrictions, we wish you relaxed and safe holidays in Madeira!
Weddings or photo shoots on Madeira? Contact
Do not miss our new posts – follow us:
Funchal's gem for all creative souls, nomad workers & visitors. Get inspired & explore the…