Ponta de São Lourenço is a popular hiking spot, one of the most beloved tourist attractions…. and next to Pico do Arieiro one of the most wanted wedding and engagement photo shoot locations on the island. 
I love tagging along with the couples during their scenic shoots on Madeira Island. I am definitely not a professional photographer, but I enjoy documenting all behind-the-stage adventures.
Today I would like to share with you some of my pictures of a beautiful wedding shoot which took place at Ponta de São Lourenço in September 2019.
The couple
I had a pleasure to attend the wedding of a lovely German couple who got married in Canico using services of our wedding planner. Since they hired a photographer, but no videographer, I decided to help them out and record the most important moments of the ceremony. And in the meantime, I took some nice shot of them and their lovely guests. 
The wedding ceremony
It was a small wedding, but it was obvious how close the family was, how strong were the bonds and how happy all the guests were for the newlyweds. I loved the moment when the bride came in and their families hummed the sound of the wedding march while she walked down the aisle with her father.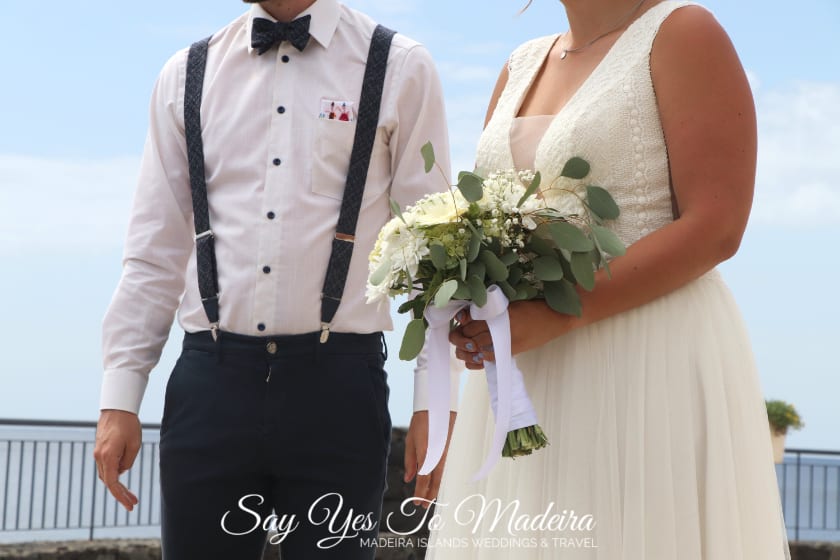 I also absolutely adored how they incorporated a bit o Madeira in their wedding attire:
And last but not least…
The shoot at Ponta de São Lourenço
After the ceremony, I was invited by the couple and their photographer Rodolfo from TheMemoryShop to join them during a photo shoot at the nearby Ponta de São Lourenço.
We drove for less than 10 minutes and parked the car at the first quick stop…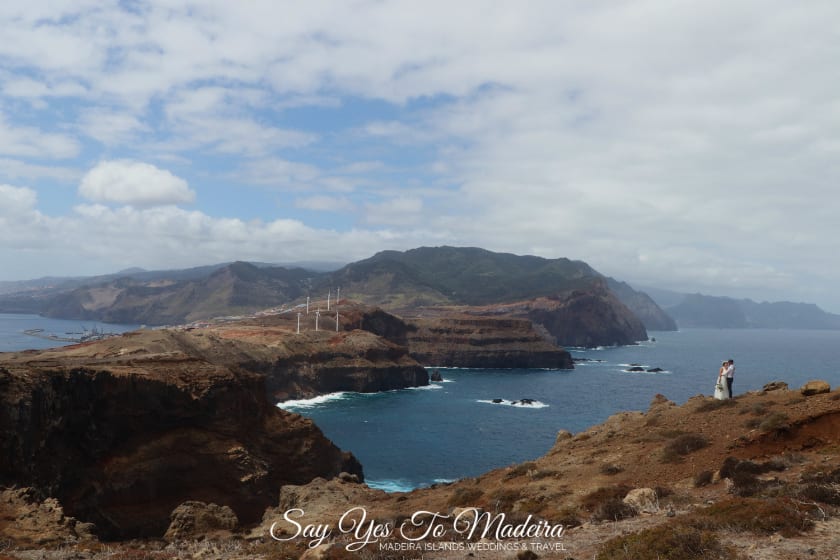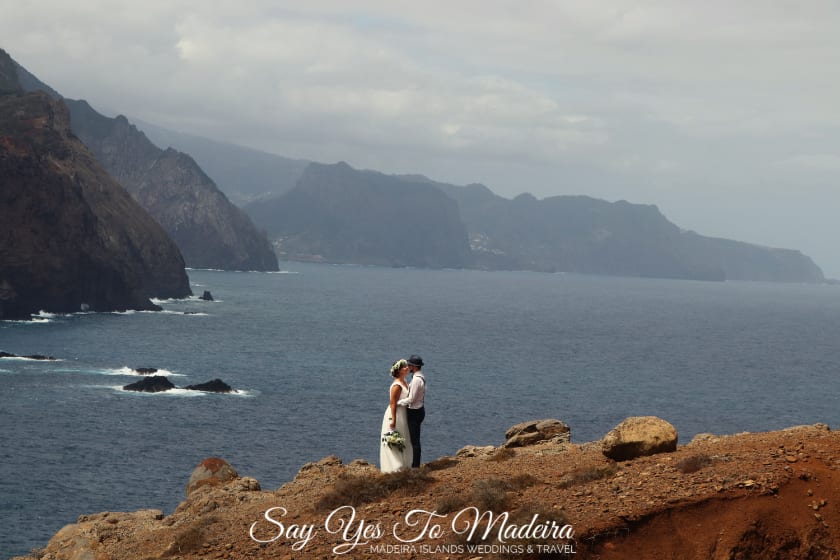 If you are not able or willing to hike during your wedding photo shoot, this is the view you will get by not entering the official hiking path. This spot is located just by the main road and requires only a couple of minutes walk.
You must also keep in mind that Ponta de São Lourenço is often a very windy place…  So you should be careful, but it will also help your flowy wedding dress look amazing… 
This is yet another danger of having a wedding shoot at Ponta de São Lourenço 😉 Luckily for your, the photographer is already skilled in releasing the brides 🙂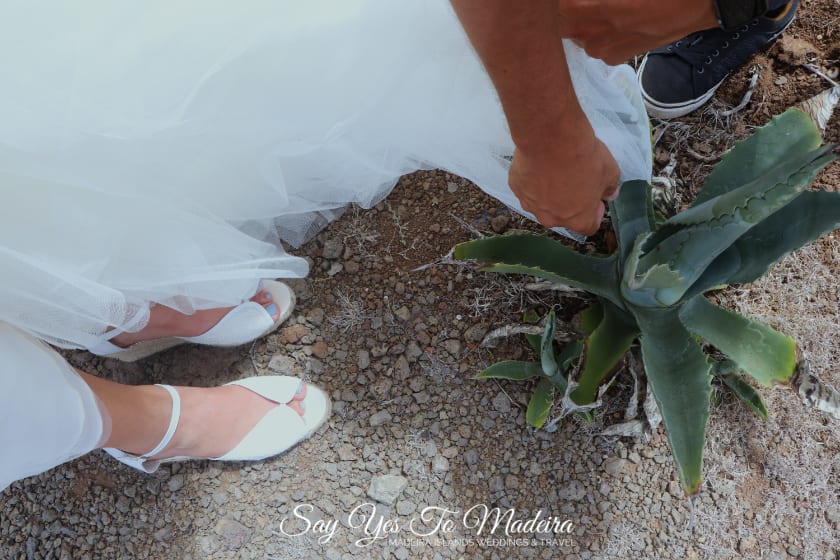 A couple of warm-up pictures with just the couple, a small fight with a cactus holding up the bride's dress, and we were able to get to the actual shoot location…
We parked our car the main parking lot of Ponta de São Lourenço trail, where we met the rest of the family. They had a great idea to take their family photos in this beautiful setting. Ponta de São Lourenço was a great scenery for their family wedding pictures.
Not all guests were fit enough to proceed with the hike, so they returned to the venue, while the photographer, me and the couple kept on following the route Vereda da Ponta de São Lourenço (PR8).
The first part of Vereda da Ponta de São Lourenço (PR8) isn't the most photogenic part of the hike. It makes you feel like you are on the moon, but if you want to see some really stunning views, you need to keep walking….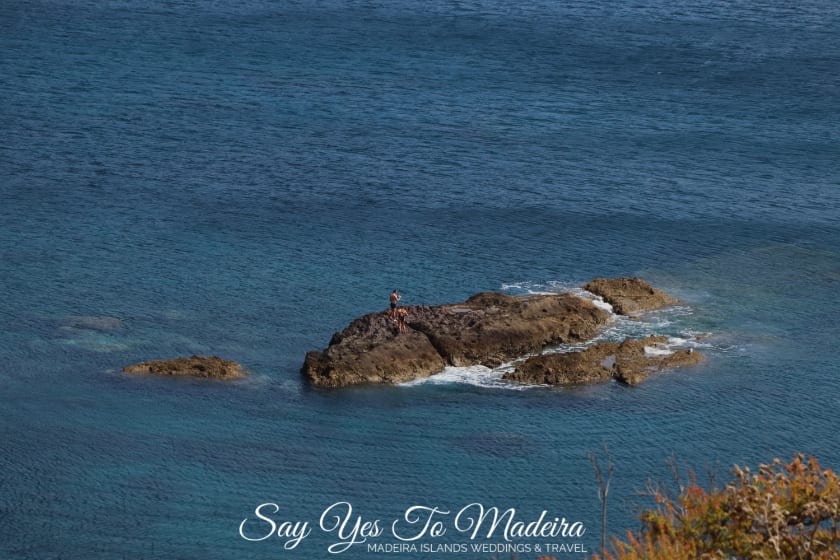 Somewhere halfway you will reach stunning viewpoints Ponto de Vista and Ponta do Castelo, which look beautiful on all pictures…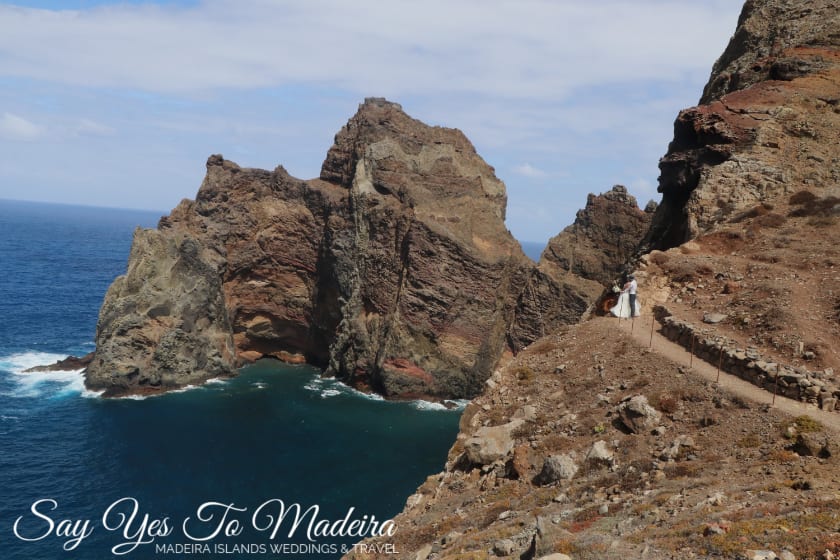 The weather improved as we hiked east. The energy was good, and the scenery more and more beautiful as we walked. It was hard to stop and go back… but once we discovered that we were way behind a half of the hike, we decided it would be smart to start walking back.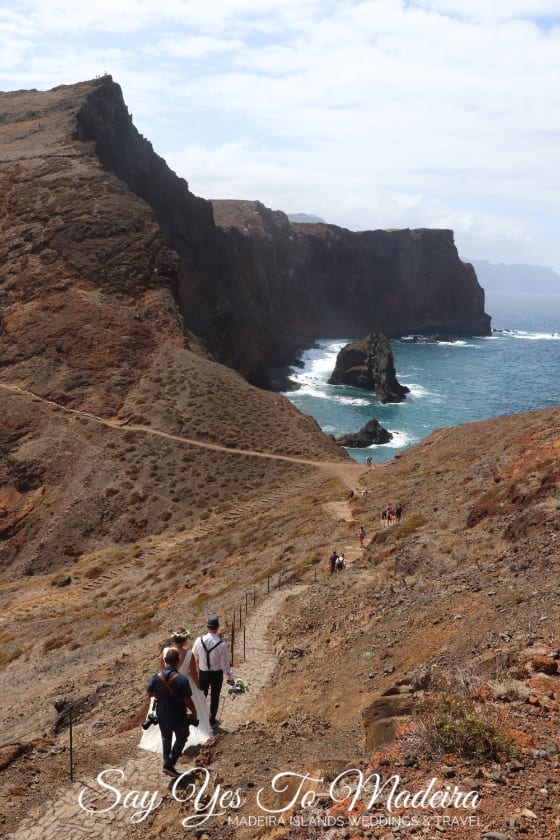 Bloopers!
It would not be a real behind-the-scenes post if there were no bloopers. 
Except for a couple of fights with shrubs and cactuses, here is an important lesson for me: Going shooting at a windy location? Tie your long hair up 🙂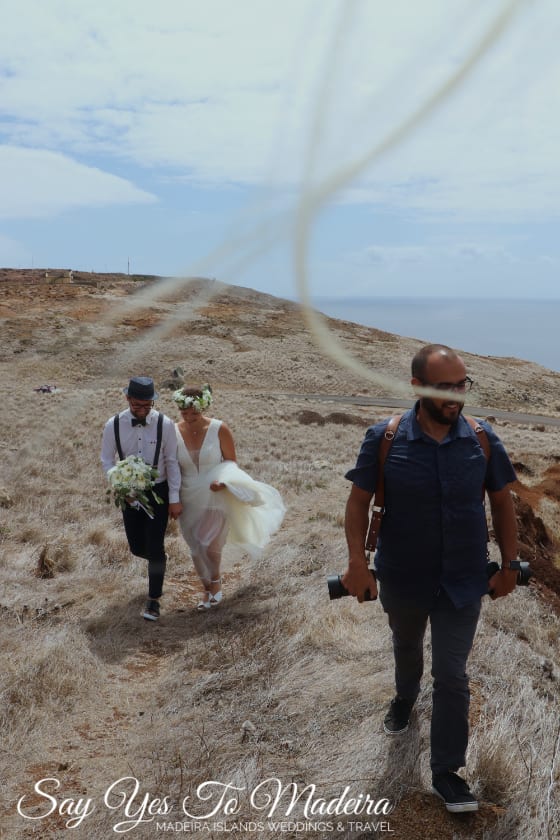 All in all, it was a lovely day which resulted in hundreds of beautiful, genuine wedding pictures. 
The couple was greeted and received tons of smiles and wedding wishes from tens of hikers met on the way… 
It wasn't the only photo shoot I had a chance to attend with the photographer Rodolfo. Soon I will publish another behind-the-scenes post of a scenic photo shoot in the enchanted forests of Fanal, Seixal beach and Ribeira Da Janela.  
The results of this shoot à la The Memory Shop and tons of other beautiful pictures of couples in different landscapes of Madeira, please visit Rodolfo's FB or Instagram account.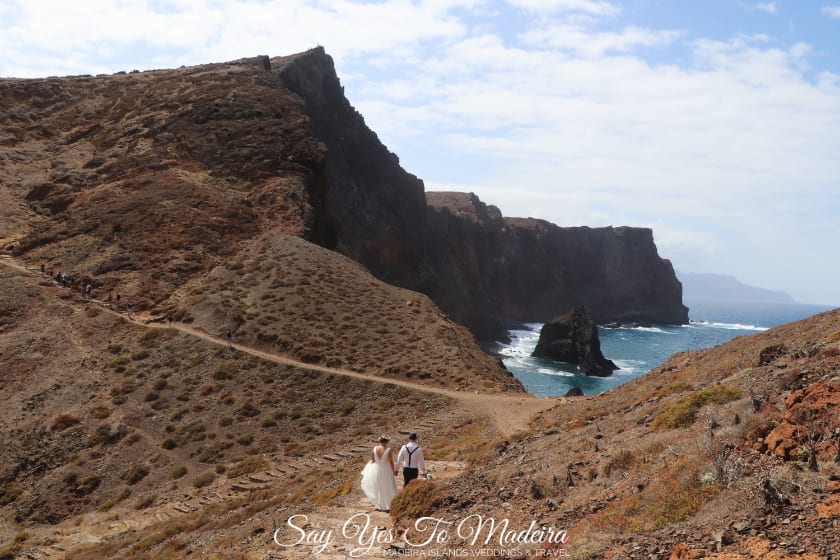 Would you like to get married in Madeira or Porto Santo? Would you like to get in touch with a reliable local wedding planner? Do you have any wedding-related questions? Feel free to contact us!
[E-MAIL]    [WEDDING INQUIRY FORM]
Not planning to get married, but interested in Madeira and Porto Santo? Do not miss our new travel posts – follow us!