Trouwen in Portugal?
Het speciale moment wanneer je "JA" zegt, verdient een speciale en magische plek. Met het hele gezin, een kleine groep vrienden of helemaal jullie alleen samen: Een strandhuwelijk of een bruiloft op een adembenemende locatie in het buitenland kan het moment nog specialer maken. En heel vaak zijn de kosten van zo'n bruiloft veel lager dan bij een bruiloft in Nederland.
De twee kleine eilanden, Madeira en Porto Santo, die behoren tot Portugal, zijn een geweldige plek voor een bruiloft in het buitenland.
Ik ben Pools, ik woon in Nederland en ben zelf in Oktober vorig jaar getrouwd op Madeira, Portugal. Na het zien van wat een geweldige ervaring bestemming bruiloften kunnen zijn ben ik begonnen met mijn blog:    www.sayyestomadeira.com/en/   waar ik graag bestemming bruiloften in Madeira wil promoten en anderen wil helpen hun dromen van een magische bruiloft in het buitenland te vervullen.
Waarom adviseer ik een bruiloft op Madeira?
Formaliteiten
Het is simpleweg makkelijk! Portugal is een van de weinige Europese landen dat huwelijken van personen die geen burgers of inwoners zijn toelaat. Sinds 2010 is het ook mogelijk om te trouwen met mensen van hetzelfde geslacht. Niet in alle Zuid-Europeese landen is het mogelijk om buiten het gemeentehuis te trouwen. In Madeira is het heel gemakkelijk om dit te regelen en nauwelijks iemand trouwt in een stadhuis. Daarom is Madeira zelfs gekozen als een uitgelezen bestemming waar mensen kunnen trouwen tijdens de zeer korte stop in Funchal tijdens de cruise die ze maken.
Om het nog makkelijker the makken: Kunnen jullie eenvoudig een weddingplanner/ wedding organizer op Madeira inhuren. Niet alleen kan zij de ceremonie uitvoeren (samen met de Portugese ambtenar, indien hij/zij geen Engels spreekt), maar ze kan ook voor al het papierwerk en de vertalingen zorgen zodat alles snel en goed geregeld is. Indien gewenst, kan zij jullie helpen met andere dingen, zoals het boeken van een locatie, auto, bakker, kapper, etc. Jullie hoeven dan op voorhand niet eens naar Madeira te vliegen om alles te regelen.
Top trouwlocaties in Madeira

Op het eiland vind je veel veel veel verschillende, geweldige locaties voor een droombruiloft. 
Zowel voor een moderne, luxe bruiloft …..
als voor een informeel, rustiek of boho bruiloft….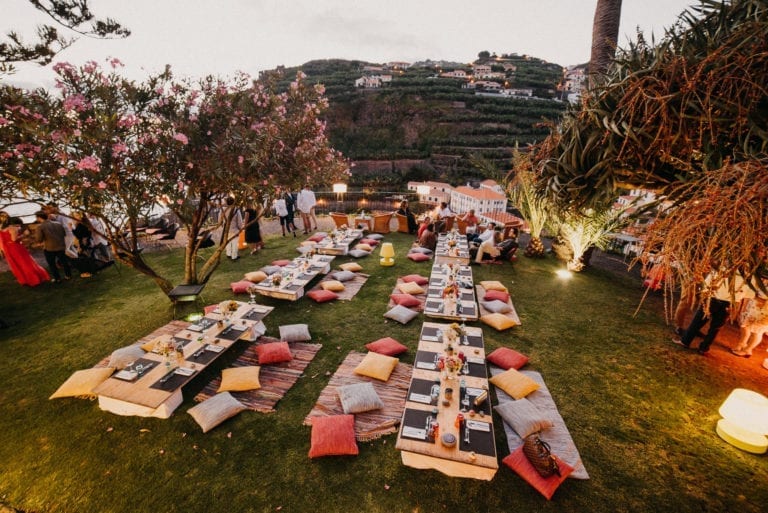 In elk geval zijn openlucht bruiloften veel populairder dan trouwen in een stadhuis.
Wil je een katholiek huwelijk in Portugal? Op Madeira, dat overwegend katholiek is, heb je de keuze uit vele kerken en kapellen.
Als je alleen geïnteresseerd bent in een burgerlijke huwelijksceremonie op Madeira of Porto Santo, kan je kiezen tussen gespecialiseerde hotels, kleine villa's, restaurants etc. De bruiloft kan ook plaats vinden op een klif, in een tuin vol met exotische bloemen, in een oud fort, op een yacht, op het strand, naast een lavapool, tijdens het duiken, paragliden, of waar dan ook en hoe je het maar wilt… 
Als je droomt van een bruiloft op op een sneeuwwit strand, dan is trouwen op Porto Santo-eiland iets voor jou.
Trouwhotels en trouwvilla's op Madeira hebben meestal meerdere plekken voor een buitenceremonie, samen met noodopties onder het dak in geval van slecht weer. Veel hotels hebben adembenemende uitzichten vanaf de balkons, terrassen of platforms naast overloopzwembaden met zeezicht. Voor degenen die liever in de tuin trouwen, kan het hotel een romantisch bruiloftsgazebo verzorgen, te midden van bloemen en palmbomen.
Madeira is gewoon een geweldige oplossing voor een bestemming bruiloft op een prachtige en exotische plek die toch dicht bij Nederland ligt. Rechtstreekse Transavia vluchten naar Madeira duren slechts 4 uur en de prijzen zijn veel aantrekkelijker dan Hawaï of Thailand. Lange voorbereiding op vertrek is ook niet nodig; je hebt alleen een ID kaart nodig.
Het landschap en het weer op Madeira
Madeira biedt een adembenemend landschap en prachtige trouwlocaties in de open lucht. Hoewel het landschap en de natuur van Madeira erg exotisch zijn, is het cultureel gezien heel herkenbaar. Het weer op Madeira, dat eigenlijk het 'eiland van de eeuwige lente' wordt genoemd, is het grootste deel van het jaar goed, wat ook een groot pluspunt is. Ze zijn niet beperkt door enkel een kort seizoen mooi weer en de kans om een geweldige trouwlocatie in Madeira te vinden voor een spontane bruiloft met mooi weer, zonder een aantal maanden/jaren van tevoren te boeken, is een stuk groter dan in Nederland.
Lage kosten van een bestemming bruiloft op Madeira
Een bruiloft op Madeira kost veel minder dan een andere exotische of modieuze locatie, terwijl het eiland even mooi is. Ook mensen met een heel klein budget kunnen hier een gepaste oplossing  vinden. Sommige hotels en restaurants, vooral die buiten de hoofdstad van Madeira- Funchal, bieden prijzen per persoon vergelijkbaar of veel lager dan in Nederland. Bijvoorbeeld, het bruiloftmenu in een hotel waar je kan trouwen op een zonnig zandstrand begint vanaf 30 euro per persoon, per zesgangendiner!
PHOTO: Courtesy of Vila Baleira
Een Bestemming bruiloft is een onvergetelijk avontuur!
Niet alleen voor jullie, maar ook voor jullie gasten.
Natuurlijk mag je reis om te trouwen in Madeira niet één dag duren. Wanneer jullie ( en de gasten) naar Madeira vliegen, moeten jullie daar minimaal een paar dagen blijven en ontdekken wat het eiland te bieden heeft. Trekkingroutes, bloemparken, prachtige natuur, prachtige bergen, dolfijnen, heerlijke gerechten – er is voor elk wat wils op Madeira.
Niet veel mensen kunnen het zich veroorloven om vakantie te nemen met al hun vrienden en familieleden. Stel je nu eens voor – vakantie op een warme, spectaculaire plek … samen met je geliefden het eiland ontdekken … alle drankjes en heerlijke diners samen met hen… in een traditioneel Portugees restaurant in een klein charmant straatje van een oude stad. Terwijl het weer net zo goed is als ieders humeur!
Als het gaat om bestemmingsbruiloften op een prachtige locatie – misschien is het een grotere inspanning om een reis naar een ander land te organiseren, maar dan automatisch, wordt de hele reis een dagenlang huwelijksavontuur en iedereen die daar komt, komt er voor jullie.
Dit zijn de momenten die de moeite waard zijn om voor te leven.
Als jullie voor een bestemming bruiloft kiezen, hoef jullie je nog minder zorgen te maken om het feestje. Wanneer de bruiloft plaatsvindt in de stad waarin jullie wonen, besteden mensen veel aandacht aan de decoraties, kleuren, en zijn ze meestal een stuk kritischer. Als het gaat om bestemming bruiloften, wordt er een stuk minder gelet op de handgemaakte decoraties, als ze een spectaculaire klif of zeezicht van dichtbij te zien krijgen. Het is dus ook een goede optie als je een persoon bent die meer geeft om ware schoonheid, ware emoties en ervaringen.
Onvergetelijke trouwfotoshoot op Madeira

Het beste onderdeel van de bestemming bruiloften zijn de magische trouwfotoshoots. Ik raad iedereen aan, om een goede lokale fotograaf te boeken en een outdoor fotoshoot te regelen tijdens de trouwreis op Madeira. Madeira heeft heel veel spectaculaire plekken voor geweldige photoshoots. 

Fotosessies op plaatsen zoals oude natuurlijke bossen (Laurissilva bos) of de bergtop van Pico do Arieiro, bedekt met witte wolken, kunnen niet fout gaan en jullie zullen zeker blij zijn met de fantastische effecten.
Willen jullie samen koffie halen?
Ik reis heel vaak naar Madeira en ik hoop daar ooit naar toe te verhuizen, maar voorlopig bevind ons mooie huisje zich nog in de regio Rotterdam.
Ik ben gepassioneerd over Europese bestemmingsbruiloften en ik zou graag zien dat meer mensen de stap zetten om gemakkelijk en moeiteloos een droombestemming huwelijk in Portugal te organiseren.
Ik werk samen met een van de bekendste weddingplanners op Madeira, die meer dan 800 bruiloften heeft georganiseerd op Madeira en Porto Santo. (Inclusief onze speciale dag).
Zij kan jullie met alles helpen:
– formaliteiten
– vertalingen
– vinden van de perfecte locatie
– regelen van alle diensten
– onderhandelen voor de beste prijzen en voorwaarden (ze heeft een goed netwerk van levaranciers)
– hulp met je verblijf (en dat van je gasten)
– .. wat je maar nodig heeft?
Ze is gespecialiseerd in bruiloften in de Madeira-archipel, maar het is ook geen probleem om jullie verlovingsfeest, vernieuwing van de huwelijks geloften, een jubileum of ander soort feest in Madeira te organiseren.
Jullie zijn van harte welkom op mijn (Engelstalige) blog: 
Gedeelte "SAY YES IN MADEIRA" richt zich op bestemmingshuwelijken en huwelijksreizen op Madeira. Je kunt daar ons trouwverhaal lezen en meer informatie vinden over het organiseren van je eigen bruiloft.
In gedeelte "SAY YES TO MADEIRA" zie je vaker en regelmatig iets nieuws; deze gedeelte bestaat voornamelijk uit reistips op Madeira, maar af en toe zal ik ook schrijven over huwelijksideeën en trouwlocaties op Madeira.
U kunt ons volgen op:
Ben je getrouwd op Madeira? Wilt u uw ervaringen en foto's delen?
Ken je iemand die geïnteresseerd zou zijn in een Europese bestemmingsbruiloft op Madeira? Deel dit artikel met hen!